Best Big Display Screen Smartwatch 2021 (Updated Guide)
Big, wide display screen, this is the best selling factor for our top 5 smartwatches for 2021, some are manufactured year 2019-2020 but still a hot sell this year. They have this unique advantage compared to traditionally designed smartwatches whether circular or rectangular. Wide screen means, easy access to menus, easy to read information and more. The widescreen display for smartwatches started with the Gear S by Samsung and remember the Neptune Pine? They describe as awkward wearables, but now after several years, they are now the trend. After that it was a followed by several companies releasing their own wide display screen for smartwatches.
This 2020, here we list our  best big screen smartwatches for 2021. Some has been introduced last in the third quarter of 2019 and some are new wearables for 2020. There are a lot of offerings in the market but here are our top favorites.
DM100 Smartwatch
DM100 Smartwatch, is the latest widescreen smartwatch that hit the market this 2021. The smartwatch has a widescreen display, full color 2.86" inch IPS LCD with full touch screen support. You will never get disappointed with its wide screen, sharp color display with its 640 x 480 pixel resolution. Looking at the design, it has a slim zinc alloy body with two physical button on the side, the smartwatch seems like a mini smartphone on your wrist.
With its wide screen display, more information can be shown on the screen. It is much more easier to navigate on the menus of the smartwatch. As we have stated, the smartwatch look like a mini smartphone. It is wide and light with its zinc alloy body with two physical button on the side.
When it comes to its hardware, the DM100 smartwatch is powered by an MTK6739 Quadcore processor and runs the Android 7.1 operating system. Choices for the smartwatch are 16 GB storage space and 32 GB storage space. The two variant only differs in storage space but still having the same design and features.
The smartwatch is a standalone smartwatch with its nano SIM card support. You can independently calls and send messages in the smartwatch. Browse the web with its WIFI and built-in browser. Sensors included are g-sensor, heart rate monitoring, GPS. It has a big battery capacity having 2700 mAh lithium polymer battery with 1-2 days of battery life depending on the usage. Read our initial review of the DM100 smartwatch here
Features
Wide screen display with sharp, and crisp color screen
Long battery life
Upgraded Bluetooth connectivity
Slim design, and lightweight
LEMFO LEM T Smartwatch phone
The latest wide screen smartwatch from LEMFO, started with LEMFO 4 smartwatch and followed by several improvements and versions. And now we have one of the best in the market. It was even featured in one of the popular Youtube channel in the U.S. Wide body, wide screen a smartphone on your wrist.
The LEMFO LEM T has a steel body looking like a small premium smartphone. Similar to a smartphone, the LEM T has several physical buttons on the side a power button as well as volume buttons.  When it was introduced, it was once the first smartwatch with the biggest display screen, having a 2.86" inch 640 x 480 pixel resolution. Easy access to menus, more information on the screen, and you can really appreciate the photos, much better than a 1.2" inch screen. Running Android 7.1 O.S the smartwatch is equipped with an MT6739 processor and a 32 GB of storage space, a 3 GB of RAM. It has a nano SIM slot that supports 4G LTE connectivity. It is also equipped with WIFI, GPS and Bluetooth network.
The smartwatch phone has a large capacity battery having a 2700 mAh with standby time of about 4 days and normal usage of 2 days. See full specifications
Features
Fast 4G network
Longer Battery life
Equipped with Personal Trainer
Preloaded with High quality Watch faces
TicWris Max 4G Smartwatch
Similar to LEMFO LEM T, the TICWRIS Max 4G boast its 2.86" inch display, with 640 x 480 pixel resolution. According to the company, the TICWRIS MAX is the biggest smartwatch with the largest battery in the world. The large screen display provides immersive experience, vivid, bright colors and to enjoy this, it is accompanied by a large capacity battery, it has a 2880 mAh battery providing long usage of the smartwatch phone. Enjoy taking photos with its 8.0 MP camera, store it in a 32 GB ROM, store photos and videos without the worries of storage space.
The smartwatch is equipped with nano SIM functionality, it supports worldwide network from 3G to 4G LTE. It also ahs a WIFI, Bluetooth as well as built-in GPS. Running Android 7.1. and with MT66739 Quad core processor, enjoy unlimited downloaded of compatible apps. A large selection of apps, popular social apps, games and more. See Full Specifications
Features
Fast 4G network
Biggest Capacity Battery in Smartwatches
Quick Face ID unlocking
Nubia Alpha Smartwatch
Its new, it is unique, it is revolutionary as well as brave. This is the Nubia Alpha smartwatch. A wearable with a flexible display. The device is a smartwatch that acts as a smartphone. It has a unique design that separates it from the rest of smartwatch phone. ZTE is brave enough to go with the design, it has a wide rectangular flexible screen that goes all the way to almost half of your screen.
It is a 4.01" inch AMOLED screen with 192 x 960 pixel resolution. It is a full color, full touch screen display, looking at the watch, it feels like it was a smartwatch from a sci-fi movie. The smartwatch runs a fast processor, a Qualcomm Snapdragon Wear 2100 Quad Core processor. It has an 8 GB of ROM and 1 GB of RAM. When it comes to connectivity, the wearable has a 4G LTE network, with its eSIM, a WIFI, Bluetooth 5.0 and a built-in GPS. ZTE also loaded the smartwatch with accelerometer, gyro, HR Monitor and compass.
It is a unique smartwatch that has a futuristic design, loved by fans, applaud by experts as being bold. We don't know if the design serve its purpose such as comfort and ease of use, or it is just purely aesthetics. But one thing is for sure, this smartwatch is certainly unique. The Nubia Alpha smartwatch has 500 mAh Lithium iOn battery with up to 48 hours of standby time. See Full Specifications
Features
Unique and Futuristic Design
Flexible Wide Display screen
Fast Processor
Loaded with different sensors
i5s Smartwatch Phone
The company behind the i5S marketed it as a cellphone and a smartwatch. Checking its specs and features, the i5S smartwatch phone is  more of a smartphone with an extrap strap accessory. The strap allows you to wear your phone like a smartwatch. The i5S has a smartphone design, it is somewhat like a mini version of Apple iPhone 3. Having a metal alloy bezel on the side, giving it a rigged make. The rectangular smartwatch measures 58 mm in width and 11 mm in thickness. The strap is removable, without the strap, you might mistaken the device as a mini smartphone. It also has a wide display screen having a 2.2" inch IPS LCD with 240 x 320 pixel resolution.
It runs the MTK2502C processor and with 128 MB of memory and 64 MB of RAM. Network included are 2G, Bluetooth Network. The internal storage is very low, the good thing is that the device supports up to 32 GB of storage space with its TF card support. The i5S smartwatch has a 500 mAh lithium polymer battery with several days of standby time.
Functions and features included in the i5S smartwatch are preloaded social apps, health assistant, video recording options, music player, calculator, remote camera control, preloaded watch faces and more. See Full Specifications
Features
Can be removed from its strap
Support Extra Storage Card
Dual Mode camera
Kospet Prime Smartwatch Phone
We included this wearable from Kospet, as it is of the latest and only few circular display smartwatch with a big screen as well as big battery capacity. The Kospet Prime Smartwatch  has a rugged design, dual camera set-up and with beautiful ceramic bezel and alloy body. Choose from leather strap, or silicon strap, either way still the smartwatch looks good and premium. It also has an exclusive 1.6" inch super retina full round screen display. A 13% much larger screen compared to other wearables, with circular screen.
The IPS LCD display has a 400 x 400 pixel resolution with 354 PPI giving it a sharp, bright crystal display. It runs the MT6739 processor with 32 GB of storage space and 3 GB of RAM. It has 2.0 MP front camera that supports fast face ID unlocking and an 8.0 MP side camera for taking beautiful photos. Functions included are multi-sport mode, variety of popular apps available for download with its Google Play Store app. The Kospet Prime is equipped with nano SIM slot for 4G LTE communication, Bluetooth connectivity, Built-in GPS. Features included are multi-sport mode, built-in music player,  and intelligent assistant, Bluetooth music, remote photo capture, find my device and more.
On top of these features is the latest Android 7.1 operating system, the smartwatch has the largest capacity battery in the world, it has a 1260 mAh lithium polymer battery with 3-5 days of standby time. See Full Specifications
Features
Large Battery Capacity
Beautiful Sharp AMOLED Screen
Fast Face Unlocking
Premium Materials and Design
TicWris Max S Smartwatch
We have the DM100, the TicWris Max, all have a wide display screen. Large body looking like a mini phone. But there are some that want a larger screen smartwatch but not with the same size of the DM100, sort of a medium-size smartwatch.
Here is the TicWris Max S smartwatch, wearable with a medium-size body and display screen. It has a 2.4" inch IPS LCD screen with a 480 x 640 pixel resolution. The wearable is also much lighter having 120 grams in weight only.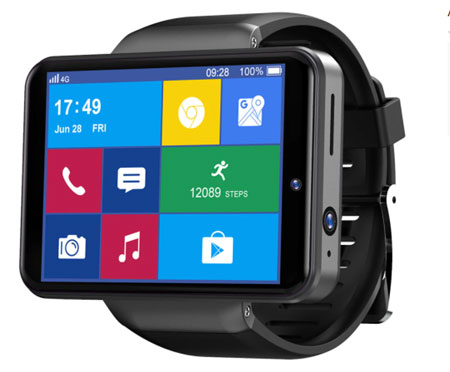 Despite its decrease in size, the TicWris Max S smartwatch has good hardware specs, it has an MTK6739 Quadcore processor. With 32 GB of storage space and 3 GB of RAM. It also has a huge battery, having 2000 mAh with a standby time of about 5.7 days.
For its connectivity, the wearable has a nano-SIM slot, a Bluetooth 4.0, WIFI as well as built-in GPS. It also has a dual-camera having a 2MP front camera and 8 MP side camera. For its software features, it runs the Android platform, with it you can download different apps from Google Play. Download popular apps, from social apps to sports apps and entertainment apps.
Features
Medium size Super retina display with full touch
Dual Camera
Light and much comfortable to wear
Face Unlocking
If you have any idea on other wide screen wearables, please drop a comment below and we will include it in the next page update.