These past few months in the world of wearable, all eyes on the Android Wear smartwatches,  smartwatches like LG Watch Sport, Huawei Watch 2, Tag Heuer Connected, Nixon Mission and among others,  we can't deny the fact that they are really getting better, new hardware, new O.S (Android Wear 2.0).
But if you are a fan of wearables, the world of smartwatches doesn't evolve only on Android Wear, Tizen or Apple Watch. The world of Android based wearables is still alive and the list of amazing cool looking Android smartwatches is growing, having a high end specs, more features and options. Plus in the look department it's getting better, but unlike the Android Wear smartwatches where price goes up along with the specs. Android smartwatches is still in the affordable price range, yes they are getting better but the price is still affordable compared to the branded smartwatches.
Anyways if you have been planning to get one and having a hard time keeping track of the newest and the best in the market, here we have rounded the best and the newest Android smartwatch that you can buy right now.
No.1 D7 Smartwatch – this smartwatch by No.1 is one of the best circular Android smartwatch under $100 dollars. This smartwatch has a stainless steel body with a gear type bezel. The No.1 D7 has a 1.3" inch screen with good display resolution of 360 x 360 pixels, so far I love the display quality, it is far more better compared to other smartwatches in its price ranger. Running MTK6572 processor and with 1 GB of RAM and 8 GB if internal memory, the smartwatch is fast and smooth, no lag at all, I also like the UI of the D7, it is easy to navigate and set if you want to a certain options in particular. It also includes pedometer, heart rate monitor, sleep monitoring. Connectivity includes WIFI, Bluetooth, and 3G functionality.
SIM: Nano SIM 2G GSM   850 / 900 / 1800 / 1900, 3G WCDMA 850/2100
Notable features: Double Battery standby time, NFC support, Google Play integration, Intuitive UI, fast and smooth UI operation.
Price: $82.99
Zeblaze THOR – simply called the THOR smartwatch, the Zeblaze THOR a Chinese smartwatch with one of the highest specs so far in the market. Zeblaze put a lot of effort in this new Android smartwatch. Its 1.4 inch screen is Super AMOLED display with 400 x 400 pixel screen resolution and protected by Corning Gorilla Glass. It is fast and smooth with is Quad core processor, 16 GB internal memory and 1 GB of RAM. So far a lot of users who already bought this smartwatch do have a positive review. So far in the looks department, got the thumbs up of users, the good specs that could par with high end smartwatch makes the Zeblaze THOR a contender for the best Android smartwatch this year.
SIM: Nano SIM 2G GSM   850 / 900 / 1800 / 1900, 3G WCDMA 850/2100
Notable Features:  Uses Samsung Heart Rate cheap, Corning Gorilla Glass scree, Super AMOLED display, 16 B of storage space.
Price: $109.99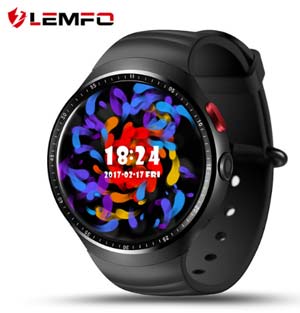 LEMFO LES1 – it's a smartwatch that is pretty similar to Zeblaze THOR, the look is almost the same as well as the specs. It has a 1.4" inch AMOLED display screen, with 400 x 400 pixel resolution. It also has 16 GB , and 1 GB of RAM and equipped with Nano SIM compatible with 2G/3G network. The smartwatch has a camera on the side which is 2 MP resolutions. Just like the Thor, the Les1 do have a lot of positive reviews, with good ratings.
There is a current battle between the LES1 and THOR, which should you buy?  So far the specifications are pretty similar, topics/thread has been set-up to answer this question, even a youtube video comparing the two smartwatch. But in the end still the decision is yours, but to help you out check this topic in XDA forums.
See our comparison specs: http://smartwatchspecifications.com/comparison/lemfo-les1-vs-zeblaze-thor/
SIM: Nano SIM 2G GSM   850 / 900 / 1800 / 1900, 3G WCDMA 850/2100
Notable Features: Arc HD screen, 16 GB storage space, AMOLED screen
Price: $119.00
DM368 3G Smartwatch – here is another cool looking smartwatch, I love the bezel of this one somewhat similar to the Gear S3, the stainless steel bezel do have a tick marks adding cool finish to the sporty look of the DM368, it doesn't have replaceable strap as the antenna is embedded in the sport silicon strap.
The DM368 screen is good with 1.39 inch 400 x 400 pixel screen resolution, it also Super AMOLED which makes it far more better compared to other smartwatch display, plus it is protected by Gorilla Glass screen which we seldom see in it price range. Features heart rate monitor, pedometer, GPS and 3G connecitivity. I think the only drawback with this, is the 512 MB of memory which in our own experienced is slow; it lags especially in UI transition.
SIM: Nano SIM 2G GSM   850 / 900 / 1800 / 1900, 3G WCDMA 850/2100
Notable Features: Gorilla Glass Screen, Super AMOLED, Sporty Look
Price: $110.00
OurTime X200 3G – we are used to see a rectangular smartwatch from OurTime, the X200 3G is one of the newest circular smartwatch by OurTime. It has a simple design, slim bezel, with 1.39" inch IPS display screen, it also runs the current Android 5.1 O.S. Unlike the above smartwatches, the OurTime X200 has a much lower RAM having only 512 MB of memory.
SIM: Nano SIM 2G GSM   850 / 900 / 1800 / 1900, 3G WCDMA 850/2100
Notable Features: IP67 Waterproof, slim profile
Price: $89.99
This is the first batch of cool looking Android smartwatches, in the next few months the list will keep growing , so stay tuned, bookmark this page for more udpates.