Best Apps for Samsung Galaxy Watch Active 2, Gear (2020 Update)
The collection of Samsung Galaxy Watch apps is increasing almost every month, featured pack apps are added to the Galaxy Store app and other app store. According to Samsung, the latest smartwatch (Galaxy Watch Active 2) supports up to 60,000 apps and more is added very month, from watch faces, utilities, games and photos apps.
Anyways, here at smartwatchspecifications.com, we sort out the best and the popular apps for Galaxy Watch Active 2. If you just recently brought your Samsung Galaxy Watch Active, get started by downloading these popular and premium apps for your wearables. Well, without further delay here are the top 10 best Samsung Galaxy Watch Active 2 apps.
Facer for Galaxy Watch Active, Gar, Gear S2 and S2
When it comes to watch faces for your Galaxy Watch Active 2 nothing beats the Facer app. Available to popular wearables, it is also made available for Tizen wearables platform. It is the number one watch face platform. It is the premium watch face customization app, with its own tools to create your own watch face. If you don't have the talent you can download from thousands of submitted watch faces downloadable for FREE. Or you can purchase from the list of premium watch faces from a well known watch faces graphic artist and brands.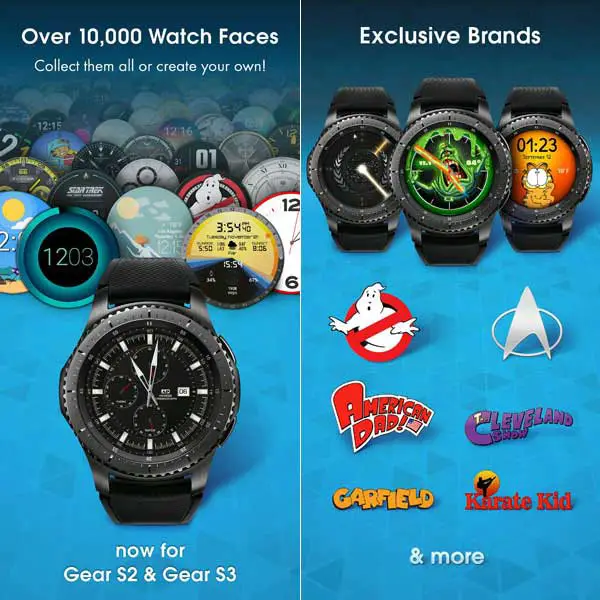 It is easy to search and download watch faces, with thousands of watch faces in its collection, categorized and with new search feature.
Spotify
It is the leading music app for wearables, Spotify makes it easy for you to control your list of Spotify music right on your wrist. Available for Galaxy Watch Active 2 , the app allows you to organize, search, track, and stream the music directly on your smartwatch. With the app on your wrist, you can play, stop, toggle or repeat your favorite music.
Although there is a function like this on your smartwatch, with the Spotify app, it is easy and direct access of Spotify app on your phone, you can do this option with Spotify free. You can get more features and functionality with a "Premium Account". With the premium account you can text and voice search, stream over WIFI or LTE, or download your favorite music and play it offline. With Spotify Connect you can use the app as a remote to play on different music player.
SmartThings
If you are hook into the Smarthings ecosystems, I'm pretty sure you enjoy the freedom of controlling different devices on your home via the smartphone app, that is SmartThings compatible. Well, you can make it easier and more direct by controlling it directly right on your wrist. Connect and manage your devices with the IoT. So far, the app supports a lot of devices, from TV to air-condition, control your devices quickly with your watch, the best thing about the Galaxy Watch Active 2 is its bezel, making it easy to control the device by just taking advantage of its touch sensitive bezel.
MapMyRun
A great fitness tracking app from Under Armor. The MapMyRun has been in the forefront of fitness tracking app for wearables. One of the partner apps of Samsung since Gear S2. And now still it continuous to support the Tizen for wearables platform for Galaxy Active series. The MapMyRun app takes advantage of the built-in GPS of Galaxy Watch Active smartwatch. It is able to give detailed data on your duration of exercise, the steps, the distance, speed and accompanied by heart rate monitoring.
Keep track of you progress with MapMyRun, I just don't know if the offer still stands, where 1 year premium membership is free for every Galaxy watch that you can buy.
Uber
I'm not a fan of this, I think your phone is still the best way to book a ride in Uber, it is much easy to drag and set you location on the phone than in the watch. I just add this to the list as it shows how the far your smartwatch can do if its loaded with premium apps. With the Uber app you can set a location for pick-up, select your drop point and book ride with your Galaxy Watch Active.
Gear Voice Memo
Need I say more on this? Taking notes on Samsung Galaxy Watch Active by typing text is a daunting task. It is difficult and time consuming. With this handy app for Watch Active 2, you can record your voice and transfer it to your phone for translation. Or you can translate it right away. It's a useful tool to record short notes on the fly. Take note that you can only record just up to 5 minutes at a time.
FlipBoard (News Briefing)
It is one of our favorite app in our Android phone. And one of the must have app for Galaxy Active 2 smartwatch. It is a magazine app, keeping you updated on the topics that you are interested to. From science, sports, health, world news and more. Real time news update right on your wrist. The app shows you a preview of the topic with thumbnails for a previous.

You can scroll to read a summary of the news and if you want more information, you can just select "Show On the Device", to read more information on your mobile phone.
ESPN for Gear
Fan of sports? Well, if that is the case, there is no need to convince you that you need this for your Galaxy Watch Active. The ESPN app provide you real time information on your favorite sports. Get live, upcoming and game results right on your wrist. At least several popular games are on the list, from NBA, MLB, Football, FIFA, Premier Leagues and more. Please take not that the app requires a companion app for your Galaxy Active, available in Google Play.
Check some of the great Tool Apps Below
Camera One for Samsung Galaxy Watch Active 2
One of the few apps for Watch Active for controlling the camera app on your phone. It just not take photos but also videos, a two in one app for your Galaxy Watch Active 2. Unlike other smartwatch app, the Camera One app has a live preview on your smartwatch not just on your phone. A very light app but has a lot of features including adjusting its settings using the bezel of the smartwatch.
You Might Be Interested: Best Games for Samsung Galaxy Watch Active 2
HERE WeGo App
The best navigation app for Galaxy Watch Active, with the app you can navigate easily right on your wrist. It provides you a turn by turn navigation right on your smartwatch. A turn by turn voice guidance, no hassle on looking at your phone every now and then, the direction is already shown directly on your smartwatch.
Samsung Internet for Galaxy Watch
App developed by Samsung for their Galaxy Watch. Download this app to allow you to browse the web right on your smartwatch. The browser is more than just surfing the web, you can also add bookmarks, quick search, voice and text input. With the small text on the smartwatch, the browser allow you to pinch and zoom for a clearer information.
It also features a widget on the home screen, the app has a lot of feature and option that makes the Samsung Internet for Galaxy Watch an ultimate browser app for your Samsung Galaxy Watch Active. It is also compatible with Gear Spot, Gear S3 and other Samsung smartwatches running Tizen 3.0 and 4. Version.
Watch Translator
Don't forget to download this app on your Samsung Galaxy Watch Active. Watch Translator, an app that allows you to translate the conversation between 2 languages. Powered by Google Translate, you can speak to translate, the words and the app will automatically translate it. It has an auto detect feature with human like language( natural voice). Just flip the text for easy viewing, it supports at least 20 languages, from English, Chinese, Spanish, French, German, Japanese and more.
Player4Youtube App
Want to watch Youtube videos right on your Samsung Galaxy Watch Active/Active 2 smartwatch? Check out this lightweight Youtube player available free from Galaxy Store. "Player4Youtube", a handy Youtube player where you can watch Youtube videos quick.
The Player4Youtube features a search function to let you search any videos from Youtube. The search function shows the 5 top results and you can scroll and pick from the list.