Lenovo HW01 is becoming popular due to its affordability and features.  This first smartwatch of Lenovo is intended for health and fitness, it includes pedometer, distance counter, calorie counter, as well sleep monitoring. Other than fitness and health options, the Lenovo HW01 smartwatch includes notification features from popular social apps. Based on my experienced using the smartband, the Lenovo HW01 has a good display as well as long standby time.
Anyways if you want to get more out of your Lenovo HW01 learn the basic tips and tricks below of this new smartband from Lenovo.
Activate the Wrist Up Time Display to ON – select on the menu, select the Smart Bracelet, on the list of options, select "Wear Habit", and set the wrist up time to display to ON.
Unbind your Lenovo HW01 from your smartphone   – Select Menu, Choose "Unbind", then Tap the "Unbind" button.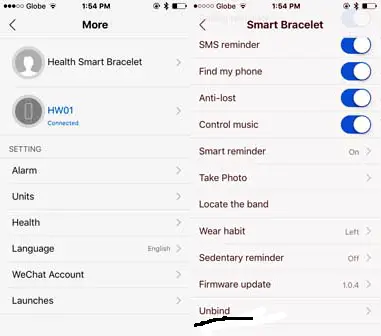 Set your Band to Fitness and Running Mode
Tap the "Running" icon on the activity page of the app, a new page shows the "Running" section. Tap on the circular button to start your fitness activity.
The "Fitness Running Mode", page shows up the distance ran, the time duration, the pace as well as the calories burned. It also shows the BPM during the duration of your workout. You can also activate the running mode in the smartband. see photo below:
Use Map Mode during Running
If you want to see your location, you can activate the MAP mode, it works with GPS to show your location during workout outdoors.
4. Choose the Social Notifications that you receive
Unlike other cheap smartband that there is only one option that you can set, (on or off) for receiving social app notification. The Lenovo HW01 support app allows you to set and personalized the notifications via its Smart Reminder.
You can set at least 9 apps to allow the band to receive notifications: WeChat, QQ, Email, Facebook, Twitter, WhatsApp,Instagram, LINE, Skype. On the menu, choose the Lenovo HW01 band, on the list of options, Select "Smart Reminder", set to on or off on the list of social apps.