Here we are again to bring you the latest news from the world of wearables, this time it's all about watch faces for Android smartwatches. As we approach the second half of 2017, we spotted some cool looking watch faces for Android smartwatches, beautiful, creative, some are simple but they will all surely look good on your Android smartwatch.
We already compiled before some of the best looking smartwatch watch faces for popular smartwatch brand like Lemfo, KingWear, No.1 etc. But for the past several months the web has been flooded by amazing watch faces developed and designed by fans. Of course here at smartwatch specs we are obliged to compile the list of these amazing watch faces for our fans. Well enough said already let's go to the list of Android watch faces/clock skin for smartwatches, that will sure look good on your smartwatch.
Ruler Clock Skin By Lucian Adrian Enache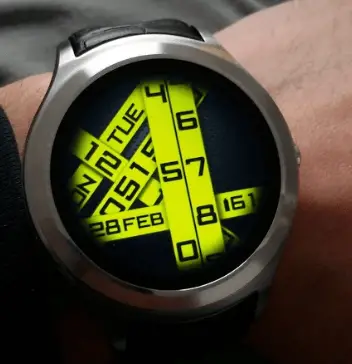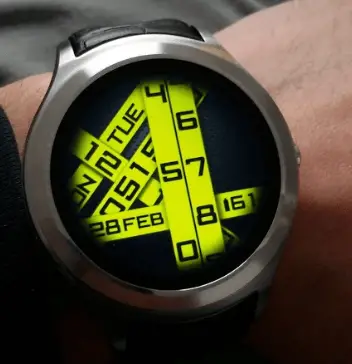 Here is a new clock skin for your circular Android smartwatch, the design is certainly unique. Instead of a typical LCD digital design or an analog type, the Ruler Clock skin has a yellow strip ruler design to show the date of time on your watch face.
The Rolex Milgauss Clock Face ClockSkin design by David Teboul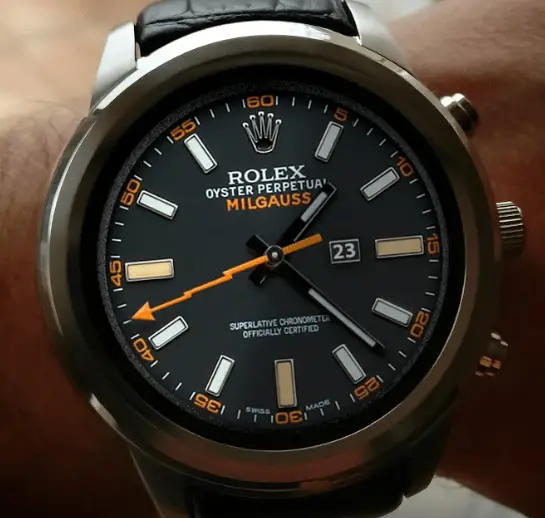 If you are a fan of Rolex and can't afford one, you might want to try this Rolex type watch face, designed by David Teboul. The watch face is a Rolex Milgauss Clock Face, simple clean professional looking design.
CronoSurf Theme by ESuchanek
This is a crono style watch face, the watch face is a bit crowded. The Crono surf includes 12 hour time, date surrounding the clock face as well as other details. If you are a fan of a minimalistic design I guess the Cronosurf is not for you.  But for those who love a detailed clock skin the CronoSurf by Esuchanek might be a good watch face to download.
TAG HEUER CARRERA NISMO CALIBRE 16 Watch Face
Here is another smartwatch clock face based on a popular branded watch, the TAG Heuer Carrera Nismo Calibre 16, the watch face is based on this sporty wrist watch of TAG Heuer in partnership with Nissan Motorsport International. The watch face has been updated by its designer adding battery level and month.
S3 Sports by AI Rod
This watch face is made for KW88,but it will also work with other Android smartwatches with the same screen size. It has a unique way of telling time as well as date, heart rate, step counter, weather, and battery status.
Ferrari Style Clock Skin
Bright Yellow color for this Ferrari concept clock skin, it has the details for heart rate, weather, pedometer, battery stats as well as the 24 hour time. I love the color combination of the clock skin, it is very sporty and with good graphic design.
If you have an additional clock skin, that you think is good enough to be added to this list please feel free to comment below or just send me the information in the contact page.