The smartband/fitness band other called it smart bracelet is so far one of the most indemand wearable right now. The market for this wearable keeps growing as more and more people goes into fitness and wants to keep track of their fitness routine. I is a big fan of the smartband, are easy to use, light weight and a good fitness tracker not yet to mention the long battery life.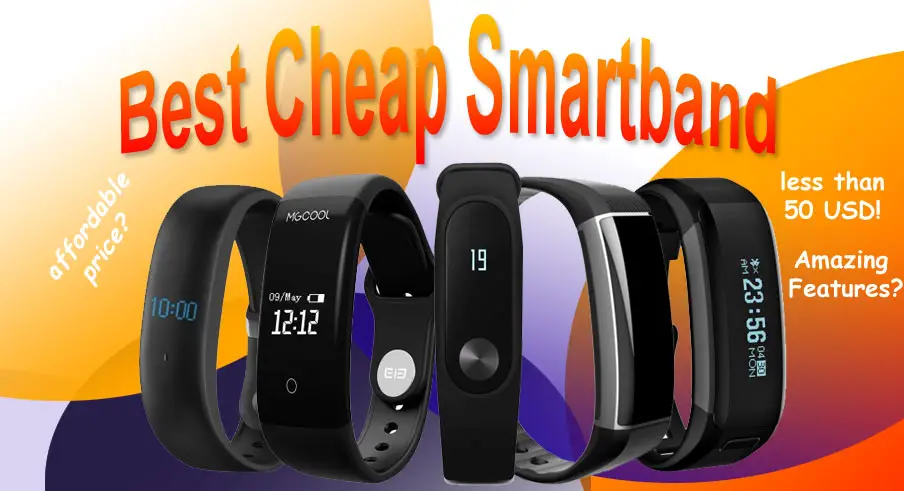 So far the smartband market is dominated by Fitbit with their list of smartband with a tested and proven track record. Followed by other wearables such as Gear fit series and Garmin wearables.
These are all amazing smartbands, but some of the consumers who would love to also have smartband avoids to buy popular brands due to its high price. Users especially those who are just starting to enter into wearable, want a packed featured smartband but still is in the price range that will  not put a hole in their pocket.
Well here in smartwatchspecifications.com we are in search for the best affordable smartwatch in the market, and below are the top list of the best cheap fitness tracker that you can buy.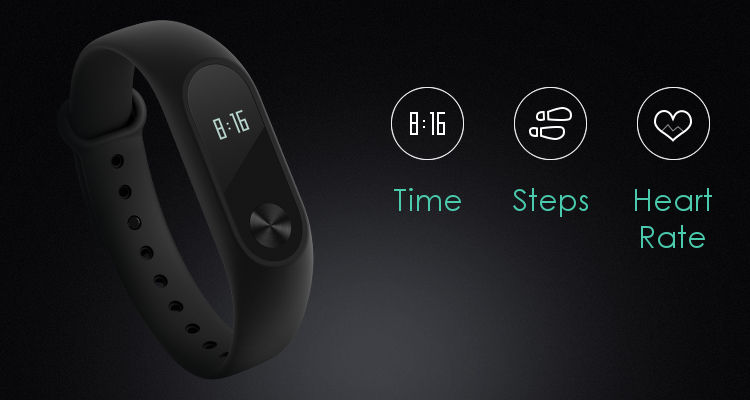 Xiaomi Mi Band 2 –thi smartband was unveiled last June 2016, and so far so good for the wearable, it's the most love smartband by fans, its affordable, long battery life and with variety of fitness features such as pedometer and heart rate monitor. It also has a great support app available for iOS and Android.
Depends on the store sale or promos, the smartband price ranges from $24- $36 dollars, compared to other well-known brands that cost around 50 to 100 U.S dollars. We also have seen this fitness band goes as low as $19.00 U.S dollars.
Price Range: $23-$26 U.S

Pros: great support app, longer battery life, band accessories choices

Cons: Small Screen, limited info displayed

Features:

Sleep management, Calories burned measuring, ,Distance recording, Sedentary reminder, Pedometer,Heart Rate Monitor 
Zeblaze Zeband 2 – another contender in the affordable smartband war, the Zeblaze's entry is still new in the area, yet there are already a lot of fans with this wearable, it's a cool smartband especially in the look section, it's beautiful somewhat like a Fibit Alta just wider, its better looking than the Xiaomi Mi Band 2, wider screen with more information that can be displayed, great notification feature.  There is just an issue with the app support and the locking mechanism of the strap, the app support could be fix with the update or Zeblaze releasing their own dedicated app for Zeband 2.
Price Range: : $24-$29 U.S

Pros: Wide screen display, beautiful design

Cons: Limited viewing angle, poor app support, locking mechanism of strap not good

Features: Sedentary reminder, Sleep monitor, notifications from Facebook, G-mail, Twitter, WhatsApp, Pedometer, Heart Rate Monitor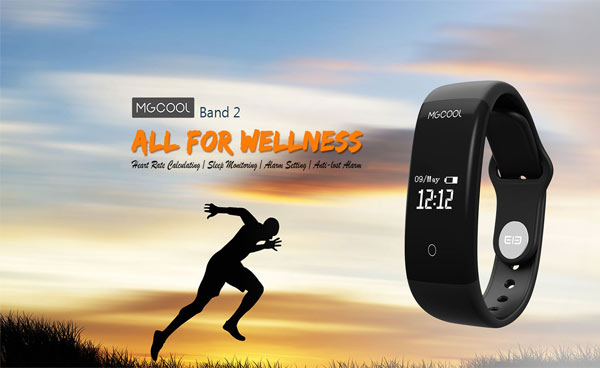 MGCOOL Band 2 – it's the second generation entry of Elephone and MGCOOL a subrand of Elephone, the MGCOOL Band 2, so far it is one of the most beautiful designed smartband in the list, it is not unibody design but has a curve screen that seamlessly connects to the band making it look beautiful and sporty.
The wide OLED screen has a 64 x 48 pixel resolution, the smartband features an IP67 waterproof rating, a pedometer and heart rate monitor. It's a fully featured fitness band with additional features such as controlling the camera of your phone and music player. The smartband can also receive notifications from social messaging site. Just like the Mi Band 2, the MGCOOL has its own dedicated app available for both iOS and Android.
Price Range: : $24-$29 U.S

Pros: Wide screen display, beautiful design

Cons: battery life and a bit bulky

Features: Remote Camera, Remote music, Facebook,G-mailPedometer, Heart Rate Monitor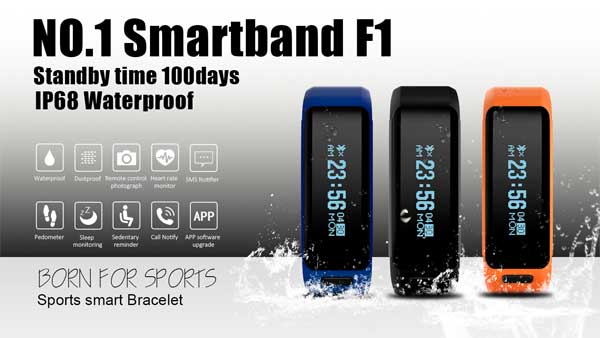 NO.1 F1 Smartband – NO.1 one of the Chinese companies that is leading the race when it comes to cheap affordable smartwatches, they just recently released the smartband that may end the domination of Xiaomi Mi Band 2, dubbed as the Mi Band 2 killer, the smartband boast its 100 days of standby time compared to Mi Band 2 which is only 20 days. It has also a wide screen, a waterproof feature. Of course these benefits comes with a trade, it is much wider, bigger and heavier than Xiaomi Mi Band 2. If this is not an issue to you, the NO.1 F1 could be a good pick for you.
Price Range: : $21-$25 U.S

Pros: Long battery life, good waterproof rating, wide screen

Cons: big and heavy,

Features:  calorie consumption, movement mileage record, sleep monitoring, sedentary reminder, Caller, SMS Messenger, Pedometer, Heart Rate Monitor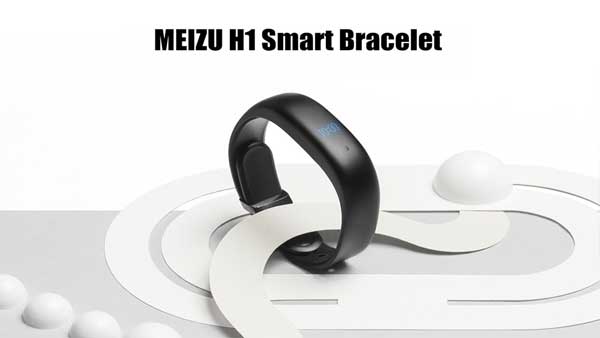 Meizu H1 Smartband – with all the smartband listed here, the Meizu H1 smartband, has the most unique design, it is also has the smallest screen. Instead  of a separate screen and a strap, Meizu goes with the unibody design, embedding the display in the band itself. It is a fitness band with a unique look, a small OLED display, with IP67 waterproof rating, it features notifications such as incoming call or text, anti-lost, and with 80 mAh battery with 15 days of standby time. It is also being compared to Xiaomi Mi Band 2 and also being projected to topple the Mi Band 2 in its top position, will it able to do it?
Price Range: $33 U.S

Pros: Good battery life,

Cons: Small screen, limited display of info

Features:

Calorie consumption, sleep monitoring (Support Enron dream), call reminder, message reminder, heart rate monitor, pedometer