Best Accessories for Amazfit 2 Stratos – Screen Protector, Straps, Tempered Glass etc.
Got an Amazfit 2 smartwatch? Well, if you got one, congrats as the Amazfit 2 from Amazfit is such a beautiful smartwatch with amazing specs and multi-mode features. The Amazfit 2 Stratos has a carbon fiber body in combination of steel with tempered glass screen. It also has an interchangeable strap with quick release pin. See full specs.
If you want more protection or don't want the stock strap that comes with the stratos, you can replace it with  other third party compatible straps. There is also an available screen protector for your  Amazfit 2. Note: the Amazfit 2S Stratos might not need a screen protector, as it is using a premium glass sapphire screen known to be durable and can withstand scratches and chipping. See also our article for best accessories for Amazfit Pace and Pace
We scout the web and here are so far some of the available accessories for your Amazfit 2 Stratos Smartwatch.
Screen Protector it is the first defense of your Amazfit 2, although the 2 Stratos is already using a tempered glass screen, but even though it is durable, still it is not an assurance that the screen will be free from scratches or chipping. If you want an additional protection, you will need a screen protector, below are some of the few available brands for screen protector for your Amazfit 2 smartwatch.
Tamister Screen Film for Amazfit 2
An ultra HD film protection, it is also a scratch resistant and with anti-fingerprint coating. The product cost 1.88 USD and comes into 2 films.
Features:
9H Hardness
9% transparency
Ultra HD clarity
Anti-finger print coating
Rounded edges
Smooth Glass touch
Easy to Install
Tamister 22 mm Silicon Strap
This strap from Tamister is a 2 tone strap with breathable design for a comfortable wear, it has a handcrafted stitch that is durable and with stainless steel buckle. If you want a sporty look, the Tamister .22 mm silicon strap will suit your Huami Amazfit 2.
Silicone material detailed with hollow out design
Size: 21 x 2.2 x 0.25cm
Pin buckle, easy to wear and take off
22mm Leather Strap for HUAMI Amazfit Smartwatch
If you are into a classic corporate look, go for the leather strap for your Amazfit 2, the strap is made from a genuine leather with a high-grade stitching craft and with stainless steel buckle. No worries about installing it to your Amazfit 2, this leather strap has a quick release pin for easy attachement.
Genuine Leather
Compatible with Huami Amazfit
Genuine Leather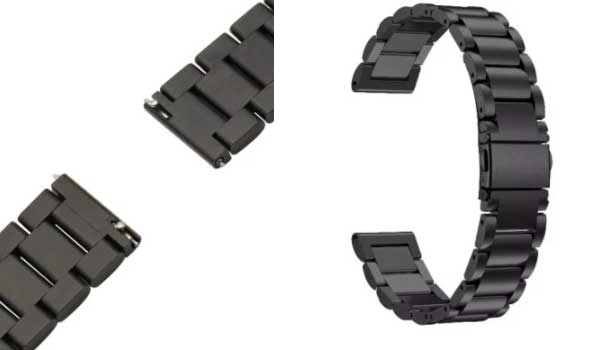 22mm Stainless Steel Wristband for Xiaomi Huami AMAZFIT
If you want a more durable strap and sort of an office type look, the steel wrist band is the strap to have for your Amazfit 2 Stratos. The strap is made from durable material with contact pins and safety buckle for easy lock and unlocked. The strap is available in popular black and silver colors. I guess the issue with the steel strap is the weight but if this is not an issue for you go for the stainless steel strap for your Amazfit 2 Stratos smartwatch.
More updates and accessories for Amazfit 2, so stay tuned… bros