Zeblaze is back again with a smartwatch that has a long battery life. After the successful Vibe 1st gen, a classic casual design and Vibe 3 a sporty smartwatch, the Zeblaze is back again with another version of Vibe smartwatch. Check out the Zeblaze Vibe 3, a smartwatch that is more of a rugged style/sporty.
Well, we are fortunate to have one in our arsenal and has a chance to review it, so far here is our take on the Vibe 3.
Design
The Zeblaze Vibe 3 is designed as a rugged smartwatch, the body is a durable metal (carbon coated) fastened with screws making it tightly sealed. Just like the Vibe 2, the Vibe 3 has 4 physical buttons to operate the smartwatch, making it ideal for outdoor especially in a situation where touchscreen is unreliable.
The overall body is IP67 waterproof and can withstand up to 50 meters underwater. It has a removable silicon strap with stainless steel buckle which is also dustproof and waterproof. Overall, the Zeblaze Vibe 3 has a masculine look and with premium design, yes it's big, abit heavy and thick but it is perfect for those who are looking for a rugged designed smartwatch. The style looks like one of the smartwatch from Garmin, the bezel and the overall body do have a similarity to one of its wearables.
Display
As expected with the Vibe series, the Zeblaze Vibe 3 smartwatch uses an FSTN display, a power saving display providing the Vibe 3 a much longer battery life. The screen is much bigger compared to Vibe 2 which is only 1.1 inch, while the Vibe 3 has a 1.24" inch. It is viewable in most angles and outdoor, even in direct sunlight, at night time there is a physical button to activate the backlight of the smartwatch but I found the backlight to be a bit dim compared to the Vibe 2 that has a much brighter backlight.
Notifications
Due to screen display technology, there is a limitation on how the Vibe 3 shows notifications. Instead of showing text messages or graphics regarding your notifications, the Vibe 3 has an icons that blinks and with beeping sound to notify you. It doesn't provide meaningful information, but if you want a non-intrusive way of providing notifications for both calls and messages, the Zeblaze Vibe 3 is for you. I thought that the smartwatch do have a vibrating motor for notifications, but sadly the Vibe 3 doesn't have which is disappointing.
Features
The smartwatch has the basic features such as call and message notifications (via icon notifications). Other information that you can check directly on the smartwatch are steps taken, calories burned, distance counter, alarm and timer. Additional functions can be check on the support app, such as stats and graphs and activating the remote control for camera is also on the app. Regarding the "Support App", I guess it is the weakest part of the Vibe 3, it syncs and connect with the smartwatch easily but it doesn't provide much in terms of stats and options.

Battery
With all the features of the Vibe 3, I guess it is where it excels; it is so far the longest powered smartwatch by Zeblaze, and one of the affordable smartwatch in the market with long battery life. The Zeblaze Vibe 2 has 15 months of battery life with its CR2032 button battery, the Zeblaze Vibe 3 double that with 33 months of battery life that is almost 3 years.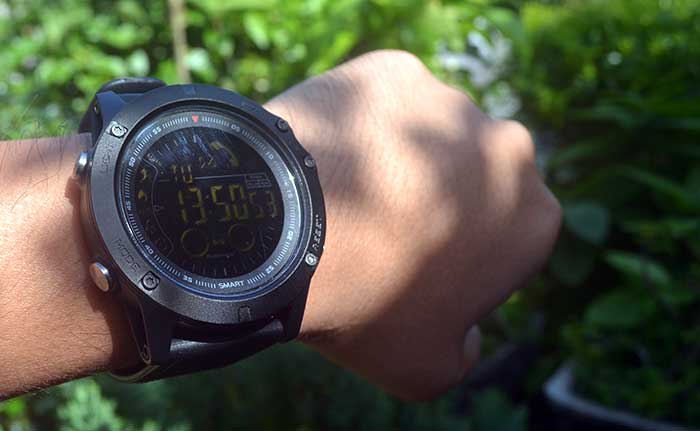 Overall
Simple notifications, long battery life and with a premium look, this is what the Vibe 3 is all about, if you are looking for this features, this smartwatch is a good pick. But if you are looking for a color screen or multi-mode sport, sorry the Vibe 3 is not in that zone. The Zeblaze Vibe 3 is a good smartwatch for outdoors especially if you are far from a power source for several weeks or months, but want to bring a smartwatch to record your steps taken as well as calorie burned.