TICWRIS GTS – A Smartwatch with Thermometer
There is a huge problem right now that the world is facing, an issue in health and I'm pretty sure you are aware of it. It's a good thing that tech companies are developing new technologies to keep track of our health status.
One of the sectors of technology that keeps improving and integrating health and fitness function is in the wearable section. Check this TICWRIS GTS Smartwatch, it has a health sensor that we seldom see in a smartwatch.
A Smartwatch Loaded with Thermometer
According to the company who developed the TICWRIS GTS, the wearable is one of the first smartwatch in the market to support body temperature testing. It has a built-in thermometer with its thermistor sensor. With this, it can provide accurate and fast reading of your body temperature. With the problem of epidemic in the world today, this thermometer is a huge help for tracking your body temp.
Aside from body temperature, the smartwatch is equipped with heart rate monitor, its HRS3300 HR sensor can detect your heart rate fast and accurately. Monitor your systolic and diastolic pressure with its blood pressure monitoring. If you are doing some exercises, especially rigorous fitness training, the blood oxygen saturation monitor can help you avoid hypoxemia during high intensity workout.
With the TICWRIS GTS smartwatch advanced health sensors, checking your health and fitness function is easy and fast with the TICWRIS GTS smartwatch sensitive sensor.
Hardware
When it comes to hardware, the GTS Is loaded with Nordic nRF52832 processor, a 32 bit Arm Cortex M4F processor. A low energy processor and long range transmission. Packed with 512K or ROM and 64 K of RAM, the smartwatch is fully loaded with good hardware for fast processing.
For the battery, it has a good standby time of 20 days in just a single charge, 5 days with normal usage with its 160 mAh Lithium polymer battery. See full specifications here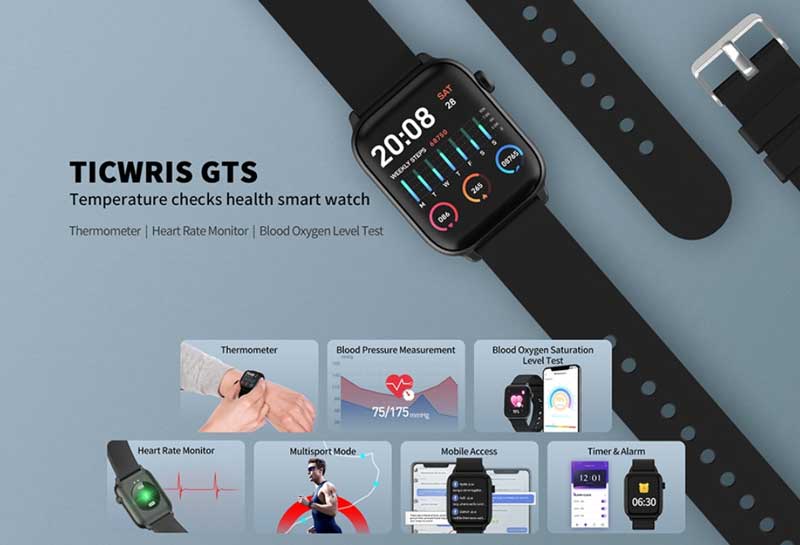 Display Screen and Other Features
The smartwatch has a rectangular screen, a 1.3″ inch OGS capacitive touch screen, it is protected by a 4D curved glass screen giving the smartwatch a trendy and stylish look. The body is a mixed of the popular Amazfit GTS and Mi Watch, giving it an Apple watch look alike.
Functions included in the device are call and message notifications, social app notification support, it also has 7 sports mode, walking, running, cycling, climbing, swimming, sports walking, and indoor walking. Of course it has the usual such as sedentary reminder, alarm, and other Bluetooth functions.