[Review] Amazfit 2 Stratos –Top Features you will Love
With the success of Amazfit Pace, Huami the company behind the Amazfit brand, introduced another wearable that has the charisma of Pace but with much improve features.
Introducing the Amazfit 2 Stratos smartwatch, a wearable similar in nature with the Pace but with much better features as well as looks. Well, we got one in our arsenal and here is our take on this new smartwatch from Amazfit.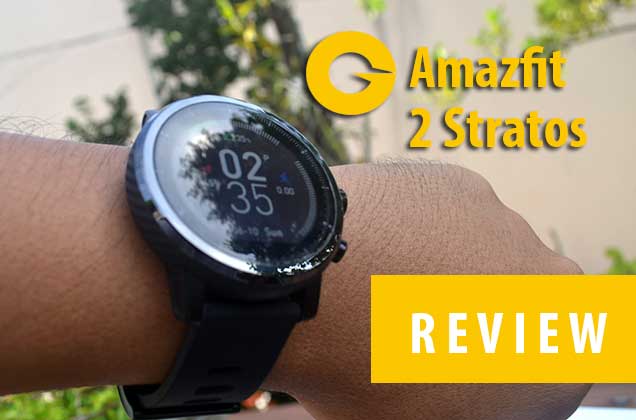 In this review, instead of stating each specs and features of the Amazfit 2 and sharing our opinion one by one, just like we used to do in other wearables that we featured here, we decided to directly state the top features that we love on Amazfit 2 Stratos.
Design
The look of the Stratos shouts premium, it has a carbon fiber body with a 2.5D glass,  the bezel is slim and glossy giving it a clean elegant appearance. With slightly curved glass, I think the issue is that it is impossible to add a tempered glass protection to the screen, instead a film screen protector is an alternative for those who would love to add a little protection on their Amazfit 2 Stratos smartwatch.
Display
Just like the Pace, the Stratos uses a reflective screen display, it performs better outdoor even in direct sunlight. Plus having a reflective LCD display has another advantage, it is a power saver, giving the Amazfit 2 Stratos twice the life of a conventional smartwatch that uses LCD display.
Always-On Display
Unlike other smartwatches that turns-off its screen display to save power or its always on display is just showing a simple time and date in plain black background. This smartwatch Stratos still shows the full watch face in static mode, still you can see the time and its trendy watch face, but at the same time saving battery power.
Multi-Mode Sport
So far, the Amazfit 2 is in the range of an affordable smartwatch loaded with sport feature, it include the basic running, walking, cycling, run indoor, cycling indoor, elliptical trainer, climbing, trail run as well as triathlon. Additional feature that set the Amazfit 2 apart from Pace is the swimming feature, it includes pool swimming as well as open water swimming feature. It is like a fitness fanatic dream for a fitness tracker without spreading too much. Please take note that some of the outdoor feature can be accompanied with GPS for accurate stats with map trajectory.
Bluetooth Music
This feature was available in Pace also, it becomes much better with Stratos as it becomes much better with its easy to add music on your Stratos. You can either add via USB connection on your phone or you can push the MP3 directly from your phone to your smartwatch. It is usually compatible with most of the popular Bluetooth handset on the market. Check out top list for Bluetooth headset.
Regular Updates and Active Community
What I like about the Pace is the regular updates that you received to your smartwatch, whether its bug fixes or additional features. Having the Amazfit 2 for some time now and so far, I received several major and minor updates, bug fixes, additional sport features and UI updates. It also has a good tech support and news updates, if you want some help there are healthy community that is willing to help you with your queries.
Impressive Battery
Despite the screen size and touch screen feature,  the Amazfit 2 Stratos is able to provide at least 5-6 days of battery life with regular usage, and 36 hours with GPS enabled which is pretty impressive compared to other popular WearOS and Android based smartwatches that last only several hours of juice when GPS is activated
OverAll
Amazfit certainly introduced a great smartwatch, it is a blend of fitness tracker and smartwatch. The wearable has some few issues such as the support app that is pretty simple in terms of graphs and stats, minor discrepancies on the results especially on the GPS part. But overall it is a good smartwatch with an affordable price.