[PDF] Huawei Watch Fit User Manual/Help Guide in Troubleshooting- Download
Got the Huawei Watch Fit? This new smartwatch from Huawei is a different league of its own. It has a different design far from other rectangular smartwatch. It is a bit odd looking but nevertheless its design serves a purpose. If you have this wearable I guess you already know what we are talking about.
The smartwatch has a lean design, it looks like a smartwatch and a fitness tracker blended into one. Huawei Watch Fit It has a 1.64″ inch AMOLED with 456 x 280 pixel resolution. Available in black, silver, and rose gold the smartwatch has a durable polymer fiber watch case that is light.
It has 4 GB of storage space and packed with sensors such as 6-axis IMU sensor (Accelerometer sensor, Gyroscope sensor), Optical heart rate sensor, Capacitive sensor, Ambient light sensor. It is a good smartwatch packed with fitness and health features, a good partner for your sport activities without spending too much on a wearable.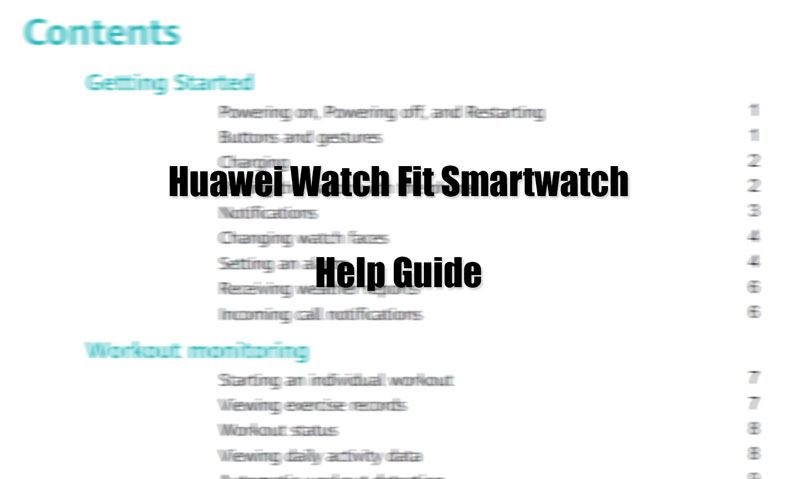 If you have one, I'm pretty sure you want to know more about your wearable, check out the in's and out's of your Huawei Watch Fit. You can download the user manual/user guide of the Huawei Watch Fit.
Download the Quick Start Guide (available in different languages) to learn on how to install the support app and pair your device with your smartphone. It is just a light simple fast guide on getting started with your smartwatch.
Quick Start Guide, contents includes Charging, Pairing your Device with your phone, downloading Huawei health instructions.
But if you want a comprehensive guide on your smartwatch, we advised you to download the "Huawei Watch Fit Online Help" Guide. It is more complete with details on
It is a 24 page user manual/help guide with the following tutorial on:
Restarting your phone, powering off, changing watch faces, receiving weather reports, call notifications, automatic workout detection. There is also a tutorial on health management such as tracking your sleep, measuring your heart rate and blood oxygen levels, setting low heart rate alert, breathing exercises, cycle calendar, setting factory settings, updating your smartwatch and more.
Check out the links below for the Huawei Quick Start Guide and the Huawei Watch Fit Online Help