OshenWatch Smartwatch – Review of Features – Scam or Legit?
There are a lot of messages that we received from our readers asking about the OshenWatch smartwatch. Well, we tried to take a look at these new smartwatches from Oshen and here is what we found out.`
To be honest, its our first time to check this new smartwatch, they currently offering two wearables, a circular smartwatch OshenWatch Luxe smartwatch with a sporty, rugged look. And a rectangular smartwatch, the OshenWatch smartwatch with similar design to that of an Apple Watch. We will first tackle the OshenWatch smartwatch, check out our review of if features below.
OshenWatch Smartwatch Design
One of the latest wearable to hit the market these past few months is the OshenWatch smartwatch. It is marketed by Oshen as a watch, phone and health monitoring device. Checking out the wearable it looks like an Apple watch with a simple design.
Plain body without any physical buttons(based on the graphics) partnered with a soft silicon strap with sporty design similar to Apple watch. (update: Several videos on Youtube showing a review of the device, to our surprise the smartwatch that they are showing do have a crown button on the side similar to Cupertino's popular wearable.
You Might Be Interested: Best Apple Watch Clone 2020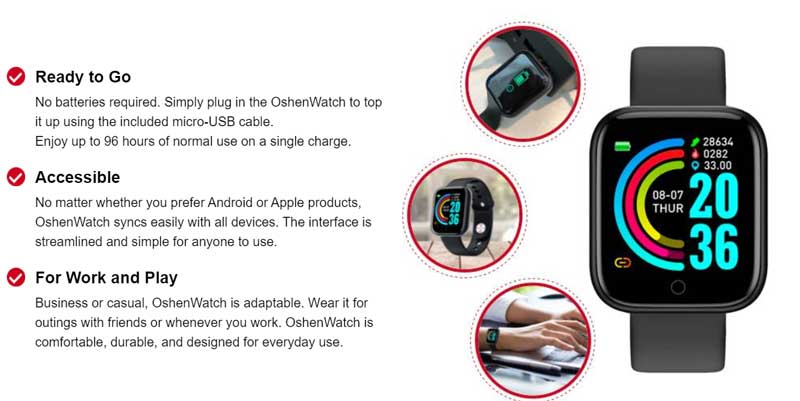 More on the design and the quality of the device, the smartwatch has a rectangular design with aluminum body. It has a glossy finish, looking sharp and sporty but still having a durable body with its impact resistant material. It is waterproof with its IP67 waterproof rating, it is splash proof, rain proof, it can even survived for 30 minutes under water (3 feet).
Please take note that with this rating it is not advisable to wear it while swimming. Nevertheless it has a good waterproof rating which is often the standard rating for most smartwatches in its category.
We are not sure on the quality of the device, whether it is a rebrand of a Chinese brand smartwatch or the device is smartwatch on its own. Well, we check on its features and functions and so far here are our review of the features of this affordable smartwatch from Oshen.
Featured Packed Health and Fitness Smartwatch
Again we don't have the device on our arsenal, so we can't give you a definite review of its features. The brand Oshen is new to us, so we can't really say that it is what it is. Right now we will just rely on the promotional graphics provided by Oshen on its smartwatch. Check on the reviews first of the wearable, before deciding whether to get one or not.
The OshenWatch smartwatch is advertised as a three in one smartwatch. Checking on its health features, the device based on the images, the smartwatch can track heart rate, blood pressure, oxygen saturation even ECG. Just like other so called all-in one wearables. The accuracy is not 100%, yes it can provide details on the current status of your heart rate or blood pressure but it is just for reference only and should not be the basis for medical diagnosis.
Other health features included are sleep monitoring, which provide details on the stages of sleep, such as REM (deep sleep), the time you sleep and wake-up. Stats and graphs is available in the support app, datas collected by the wearable is stored on the app when it is synchronized.
Sport Feature of OshenWatch
With its sport tracking feature, the smartwatch has an automatic step counter. It automatically count your steps along accompanied by a calorie counter as well as distance counter. It also has multi-sport mode such as running, walking, other sport function. These sport function is very useful if you are into fitness activities. And you can track your progress with the details on the support app.
Notifications on your Wrist
You can received real time notifications, get SMS, call notifications, it also support social app notifications such as Facebook, Twitter and other popular social apps. Additional functions included are alarm, anti-lost, remote control for photos.
Full Specifications of the OshenWatch Smartwatch
Below we summarized the full specifications of the smartwatch, check on the details from display to its battery life.
Dimensions:36.3 x 12.5 mm
Material: Aluminum
Display: Full Color LCD Display with Touch Screen Operation
Sensors: G-sensor, heart rate monitor, blood pressure monitor
Connectivity: Bluetooth 4.1
Battery:380 mAh with 3-4 days of battery life
Waterproof Rating: IP67 Waterproof
Compatibility: iOS 8.0 or above; Android 4.4 or above
Is the OshenWatch Legit or Scam?
Is the smartwatch good as advertised? Is it a scam? Reading the comments and reviews (on their website), it says the smartwatch has good features and quality. With a lot of scam reviews we can't really say that its the real deal, needs more checking on this new smartwatch from Oshen.
We advised you to check for Youtube reviews (not sponsored by Oshen), check on other third party tech sites. Anyways, once we got one in our collection we will provide the overall details on the device. Right now the smartwatch is available on their own website at https://www.buyoshenwatch.com/ providing free shipping.
Update: We found some article reviews on the smartwatch but so far these articles looks more like a sponsored article rather that a legit review. Its like a smartwatch promotion, more than a review.
Where is OshenWatch Made?
The company behind the smartwatch is based on Hong Kong, with the company named Strong Current Enterprises Limited. With its office based on Hong Kong and based on the looks and design of the wearable, it is safe to say that the wearable is manufactured in China although a website claims that it is made in Germany.
Our Take on this Smartwatch
Here is our take on this new smartwatch from Oshen. The wearable do have an affordable price if you you will based on the features that is offering. Sporty design, good material, the smartwatch mimics the look of the Apple watch, which makes it look cool. Health and fitness sensors is just right to keep track of your activities.
On the negative side, well, first we are not that familiar with the brand and seems like its not that well known. At the same time we can't be sure if the reviews on their website are not bias or even real, where all comments are favorable.
Right now the product is available only on their website, and it comes only in black color. There is no actual demo of the device from them, for us to verify its features, websites claiming of reviews are more like paid promotion.