OOFAY Dr66 Smartwatch – Elegant, Fashionable Wearable
Smartwatches for women are very far and few between. Even when there are new releases, only few do have that feminine, fashionable look that women are looking in smartwatch.
Here we spotted another smartwatch that women will certainly would love to have in their bling collection. Check the OOFAY Dr66 smartwatch, a smartwatch/fitness tracker for women with fashion sense.
Fashionable Design, Elegant Look
The OOFar Dr66 smartwatch has a slim design, thin, slim, body resembling a fitness tracker. The body is smartly design to give it a fashionable and trendy look. It is made from aluminum alloy making it light as well as durable. The aluminium alloy body is available in different glossy striking colors such as blue, purple, gold, silver and black color.
There are no physical buttons on the body, but relies on the touch key operation menus. The trendy body is accompanied by a beautiful, unique metal straps. That is also slim in appearance having an 8 mm width. Ideal size for women who usually have a smaller wrist.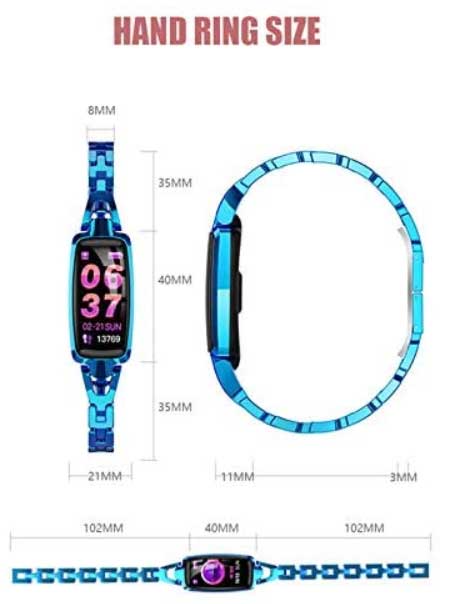 What are the Features and Display Specs of OOFAY Dr66 Smartwatch?
Designed as a woman smartwatch, the wearable is packed with functions for women. But before we dive into that, the smartwatch got the usual such as 24/7 heart rate monitoring, it also has an automatic step counter, sedentary reminder. It also has call and message functions, supports social app notifications.
Additional features included are shake to take photos, multi-sport mode, running, skipping rope, badminton, swimming, tennis, table tennis and more. The screen is rectangular, slim with full color display and having a 240 x 240 pixel resolution.
Female Features of OOFAY Dr66 Smartwatch
Here are some of the features of the OOFAY Dr66 smartwatch when it comes to womens functionality
Menstrual Period
You can set the smartwaatch to add reminder if when is the possible day if your menstrual period. No more messy day for women. Based on checking on other functions like this in smartwatches, they are not that pin-point accurate as it still depends on your body, but it can give you a date interval of a possible date of expectation for your period.
Safe Period
Don't have plans of getting pregnant? Take advantage of the safe period function of the OOFAR Dr66 smartwatch. It is based on the calendar method but you don't need to calculate as the smartwatch will do it for you.
Ovulation Period
But if you intend yo get pregnant, the ovulation feature will come in handy, Know the best day to get it on and get pregnant with its ovulation period function.
Basic Hardware
The smartwatch runs the DA14585 processor with heart rate monitoring, blood pressure monitoring as well as blood oxygen monitoring. It has 128 MB of ROM and 128 MB of RAM.
The battery is 90 mAh lithium polymer battery with standby time of about 10 days. Bluetooth 4.0 conenctivity with Android 4.4 and iOS 8.0 and above.
What is the Support App of OOFAY Dr66 smartwatch?
It is a bit confusing for the support app for OOFAY Dr66 smartwatch. If youa re downloading an .APK file for Android, just look for Flagfit 2.0 app, if downloading via Google Play, just search the GloriaFit in the app store. For iOS support, search the appstore for Glory Fit app.