Letsfit IW1 Smartwatch– Review of Features, With SpO2 Sensor
Recently, LetsFit just unveiled a new smartwatch, a wearable with a new health function, the LetsFit IW1 smartwatch.
The Letsfit IW1 smartwatch has a rectangular sport design weighing just 34 grams. Checking out the IW1, the smartwatch has an improved design, a metal body with a brush finish. Still, it has a physical button on the side, a rectangular button that goes with the look of the IW1 smartwatch. It is accompanied by a TPU strap with a stainless steel buckle. The color of the body is available in one color only, but the strap is available in different color options.
Overall body rated with IP68 waterproof rating. It is splash proof, tightly sealed you can even wear it while washing your hands. The sporty body is accompanied by a 1.4" inch TFT-LCD display screen, with full touch screen support.
The smartwatch got upgraded hardware and software, it even has the latest independently developed app just for the Letsfit wearable, providing comprehensive details on health data and sports monitoring.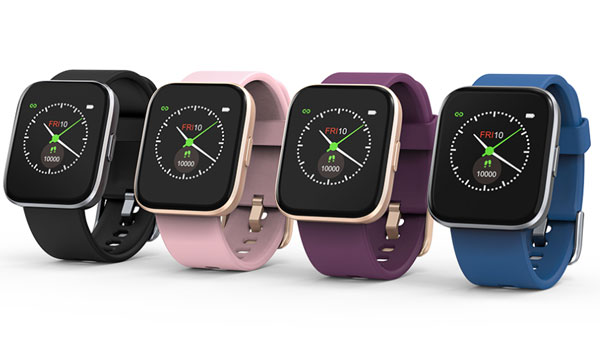 Letsfit promotes the Letsfit IW1 smartwatch as health and sports smartwatch, with this it is packed with different health and fitness functions.
One of the main features of the IW1 is its SPO2 sensor, with its advanced sensor, it can provide you an accurate data on how your body utilizes oxygen, even while sleeping. With regards to sleep monitoring, the smartwatch is equipped with a detailed sleep analysis. It provides details on light sleep, deep sleep, the REM stage as well as the time you awake and duration of sleep. If you are into sports, the wearable includes at least 14 sports mode, sport such as running, walking, cycling, and other popular sports and fitness.
It is also equipped with heart rate monitoring, checking your heart rate in real-time, s well as your heart rate during workout, and resting heart rate.
Other health functions included in the Letsfit IW2 smartwatch
It is equipped with breath training, providing you a proper way of breathing to relieve stress. Sedentary reminders, monitoring your activity and alerting you to move. Smart notifications receive real timer alerts, whether it's call, messages, or social app messages. There is also a stopwatch, alarm, timer, option to adjust the brightness.
See more details about the product here
Specifications of Letsfit IW2 Smartwatch
Model: Letsfit IW1 Smartwatch
Weight: 1.2oz(34g)
Screen: 1.4" TFTLCD Screen
Sensor: Tri-axis Acceleration Sensor
Battery Type:250nmAh Li Battery, Battery Life: 5-7Days Standby Time: 30Days
Water Resistance Rating: IP68