Kospet Magic 3 Smartwatch Full Review – Premium Look, Featured Packed
Its the latest smartwatch from Kospet with rectangular design. Kospet Magic 3, it is on sale right now at Kospet official website, and offers worldwide shipping. Regarding the details on the device, the smartwatch aims to compete with the latest rectangular sports smartwatches in the market. We have one in our collection and below is our full review of this latest smartwatch from Kospet.
Design
Kospet has introduced several quality wearables this past few months and the Kospet Magic 3 smartwatch is one of the latest, with a sporty design, with a premium look. The wearable sport a rectangular design, with its metal body frame. We are lucky to have one in our collection, and having a closer look, the smartwatch really feels that is premium. The body has a compact design and feels like a miniature iPhone 4 or 4S with its metal rim. Instead of having curved edges, the Magic 3 goes flat and with curved corners.
It shouts premium, and top-quality feel, with a single rectangular/pill shape button on the side, made also of metal (home/back button). Based on the official website of Kospet, the Magic 3 smartwatch comes in pink, blue, and black color.
We got the black color and it has a brushed finish which is much more oil and dust resistant compared to a glossy look. For its straps, the wearable has an interchangeable strap and features quick-release pin for easy changing.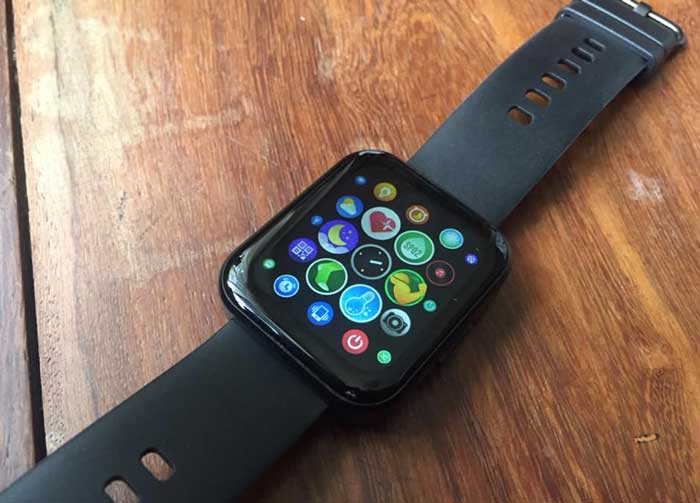 Wide Sharp, Screen Display
The Kospet Magic 3 has a widescreen display, it is much larger than the 1.54" inch that we commonly see in smartwatches. The Magic 3 smartwatch has a 1.71" inch IPS LCD screen display. Slim, black bezel and supports full touch screen operation. So far, it is bright (with adjust brightness screen), sharp, crisp color with 280 x 320-pixel resolution.
With its widescreen, more information is displayed, easier to read, and at the same time easy to use its menus. On top of the 1.71" inch, is a 2.5D tempered glass with crystal clear clarity. There are some issues with the brightness when it is outdoors, but this is expected with smartwatches in this price range.
A Smartwatch Loaded with Fitness and Health Features
20 Sports Mode Loaded
The wearable has at least 20 sports modes available in the device. See the sports available below. Each sport mode monitors the steps, distance, calories as well as heart rate. It also monitors the time duration of exercise. After your exercise routine, you have the option to save it and synchronize it with the support app.
According to Kospet, it uses AI intelligent algorithms to measure your motion. So far, based on our test, the step counter provides a close calculation of steps with the actual steps. It is also equipped with daily automatic tracking. This includes calories, distance with step chart for more details.
Sports Modes:
walking, running, cycling, badminton, basketball, football, swimming, climbing, rowing machine, rugby, golf, baseball, elliptical machine, tennis, trail running, skiing, bowling, dumbbells, sit-ups, free training.
What we Like: Variety of sport option
Option to save the gathered data
Comprehensive Tracking
Health Monitoring Functions
Although it is stated on the website of Kospet that it has only a heart rate monitor and SpO2. It also has a blood pressure monitoring included in the device.
The heart rate detects the heart rate fast, and with details on min and max HR. It also has a 24 hr heart rate graphs in the smartwatch, which is great especially if you want to see the previous results. You can see the level of your heart rate in a day. It is also similar to blood pressure, recording each BP with comparison to previous results.
Additional health function, is the sleep monitoring, checking the light and restful sleep. It also shows the graphs comparison for 7 days.
What We Like: Graphs available directly in the smartwatch, Fast Results
Please Take Note: The above health monitoring data should not be used fr diagnosis but only as a reference.
Variety of Watch Face Option
The Kospet Magic smartwatch is preloaded with several watch faces. There are at least 5 preloaded watch faces available in the device. But if you want more, there is a section in the support app where you can download a variety of watch faces. Pick from different designs, analog, digital, feminine design to futuristic watch faces. We counted the watch faces available, and so far at least 68 watch faces are available for download.
Custom Watch Faces
Everybody loves custom watch faces, it is a good thing that Kospet added this option in the smartwatch. You can add your custom background, rearrange the set-up of the time, date as well as text color.
Additional Bluetooth Functions
Take advantage with its Bluetooth connectivity, the wearable is equipped with remote camera control. You can use your smartwatch as a camera shutter, can be activated via support app or in the smartwatch.
Music control, this function automatically connects with your music player on your phone when opened. You can paused, stop, play forward or back to the next music on your list. You will also see in the smartwatch the list of current song being played.
Real Time Notifications
You can receive push notifications, in real-time. Receive SMS notifications in your smartwatch with the option to read it directly from your device. It also supports social app notifications (see some of the supported apps below). Unlike other notifications from the wearable, the Kospet Magic 3 notifications come with the actual icon of the app.
Supported Apps: Facebook, WhatsApp, Skype, Instagram, Line, Kakaotalk, WeChat, and more.
Our Take on Kospet Magic 3 Smartwatch
The smartwatch Kospet Magic 3 has a premium look, durable material with its metal case, wide-body built. It is comfortable to use, although it is much heavier compared to other smartwatches, it is still comfy to wear. It has an easy-to-access UI, and packed with watch faces for personalization.
For fitness and health, the smartwatch is loaded with 20 sports modes and health features. It has some issues, but it is very minimal only, and doesn't affect the smartwatch overall performance. What we like about the wearable is its notification function, list of watch faces as well as fully loaded sports mode.
Da Fit Support App
It is one of the popular apps for smartwatches, so far it got the basics, and easy to install and use. The support app is available in iOS and Android platforms. It has graphs, stats with additional options for the smartwatch available in the support app.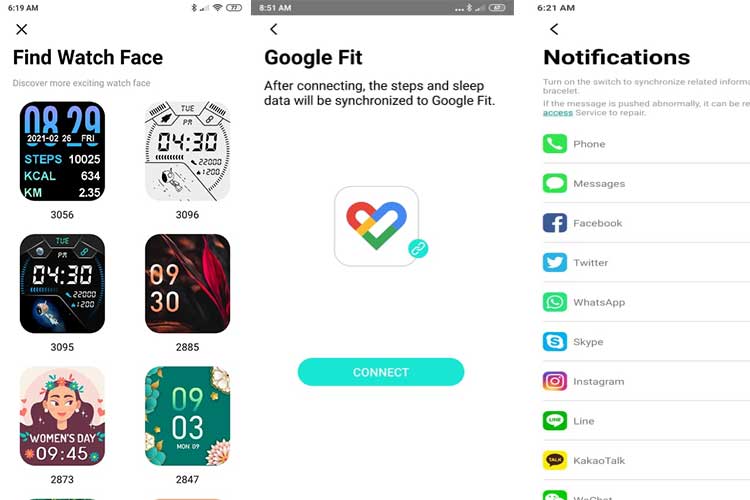 Additional options in the support app are DND mode, reminders to move, setting continuous heart rate detection, changing language settings, as well as a physiological reminder. Another option that will give more functionality to your smartwatch is the integration of Google Fit, you can store all of your health data to the Google Fit by synchronizing Da Fit to Google Fit.
Operating your Kospet Magic 3 Smartwatch
Swiping from top to down, shows the important setting functions of the smartwatch. This includes the brightness display, flashlight, weather, vibrations, Bluetooth, and Theater mode.
Swiping from left to right shows the Bubble menu, where you can access the different functions right away.
While swiping from left to right, also shows the menu, where you can access it one by one. And from bottom to top, is set for message notifications.
Accessing the different functions is pretty straightforward, tap and swipe to navigate and access menus.
Kospet Magic 3 Smartwatch Specifications
Processor: nRF 52840
Sensors: g-sensor heart rate monitor, blood pressure monitor, blood oxygen monitoring
Display: 1.71″ inch TFT LCD 280 x 320 pixels
Bluetooth: Bluetooth 5.0
Battery: 220 mAh with 35 days standby time, daily usage mode: 7-10 days
Waterproof Rating: IP68 Rating
Compatibility: Android 6.0 and above, iOS 9.0 and above