iTech Sport Fitness Tracker – Review of Features, Slim and Lightweight
We are very curious about this fitness tracker from iTech. A wearable with a trendy look, that goes with the latest fashion trend in the market.
While most of the wearable goes for a wide body and screen. The iTech goes traditional with a slim design, lightweight just what a fitness tracker should be.
Check the iTech Sport fitness tracker, a very slim fitness tracker color edging on the side giving it a trendy look. Its strap is available in different design and color. With stainless steel buckle. Checking the designs, straps are available for both sexes. There is a floral style, classic black, gray and white colors.
With the display screen, iTech did not state the actual size but based on the product page, the fitness tracker has a monochrome display with a touch button key operation. It is a simple display screen, simple watch face showing the time, date, battery life and the Bluetooth connectivity.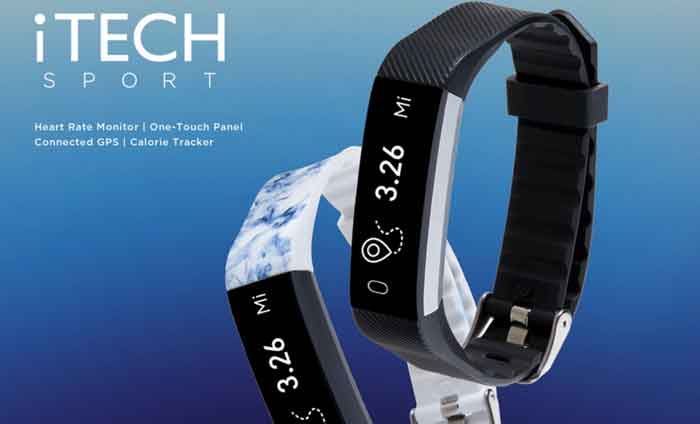 Features of the iTech Sport Fitness Tracker
Health Functions
The iTech Sport fitness tracker is equipped with heart rate monitoring. Monitoring your HR 24/7, is also equipped with step counter. Tracking your steps and accompanied by a calorie counter. Additional health sensors included are sedentary alert, and sleep monitoring..
Smart Notifications
It is equipped with real-time notifications, receive calls notifications, SMS notifications. Aside from SMS, the fitness tracker can also receive email, Facebook notifications, Twitter, Instagram and other popular apps.
Regarding the activity tracking, the wearable support connected GPS. Have a map trajectory of your outdoor workout with the map provided in the support app.
Other functions included in the device are camera remote control alarm and motion gesture. There might be additional update and functions with the support app.
Initial Review of the iTech Sport Fitness Tracker 
The fitness tracker is surely an attractive wearable for those who are looking for a lightweight, simple slim design smartband. It is minimalist in nature making it comfortable to wear especially in your workout routine. It got the basic health and fitness functions as well as notifications functions. If you don't want to spend too much on a fitness tracker but still want to get a decent wearable, the iTech Sport Fitness Tracker might be a good pick.