Arbily Smartwatch – Review of Features, Sporty Lightweight Device
We got here a smartwatch from Arbily, simply called the Arbily smartwatch. The wearable has a sporty design, simple and lightweight. But before we go with its design and specifications let us check first the feature offering of the Arbily smartwatch.
Going to its product page we are able to check some of the notable features that the Arbily smartwatch offers.
Here are the Features of the Arbily Smartwatch
The smartwatch is a smart activity tracker, it is able to keep track of your motion with its built-in g-sensor. The wearable automatically monitors the steps, the distance, as well as the calories, burned. It provides preview stats on the smartwatch and complete details on the support app.
If you are into sports and fitness, the Arbily smartwatch is equipped with multi-sport mode, it has at least 14 sports mode to keep you fit. Sports included are Riding, Running, Walking, Treadmill, Fitness, Climbing, Yoga, Hiking, Spinning. Get a comprehensive analysis of your sport activity and get your body healthy and fit.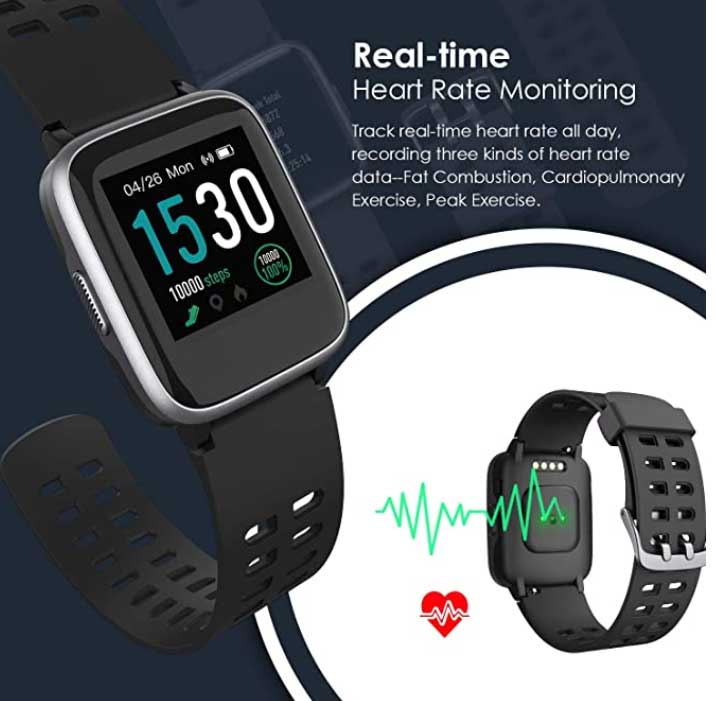 Health Features included in the Arbily Smartwatch
The Arbily smartwatch has a real-time heart rate monitoring, it actively monitors your HR, tracking the Heart rate all day recording and gathering information on three kinds of heart rate data. Data fat combustion, cardiopulmonary, exercise, peak exercise.
Another health function to keep is sleep monitoring, it monitors the sleep status, this includes light sleep, deep sleep and the duration of sleep. The smartwatch is also equipped with a breathing guide, it properly guides you in exercise breathing during yoga and after a routine exercise.
Real-Time Notifications and Alerts
When the smartwatch is connected via Bluetooth, receives SMS messages, call alerts as well as social app messages. Social app supported are Facebook, WhatsApp, LinkedIn, Instagram, and Twitter. Other notification alerts included in the Arbily smartwatch are calendar alerts, alarm, sedentary reminder. Other functions in the smartwatch are anti-lost, music control, stopwatch, preloaded watch faces.
Initial Review on its Features
So far, the smartwatch is packed with the basic functions for sports and fitness. It has multi-mode sports, activity tracking, as well a sleep and breathing guide. The Arbily smartwatch has a complete messaging notification, supporting SMS, calls as well as social apps. If you are looking for an affordable smartwatch equipped with important features, this smartwatch might be a good pick.
Design and Specifications
The smartwatch has a sporty rectangular metal body with a metal button on the side. It looks simple with a sporty feel. The smartwatch is accompanied by a breathable strap with stainless steel buckle.
With the screen display, the Arbily smartwatch has a 1.3″ inch IPS LCD screen with full touch screen operation. For the battery life, the smartwatch has 210mAh and has 10 days of normal usage and about 30 days of standby. Overall, the Arbily smartwatch has an IP68 waterproof rating, it is full waterproof up to 50 meters.