Gabb Watch 2 – Review of Features, a Smartwatch for Kids
Gabb has a new upgrade to its popular Gabb Watch. Simply called the Gabb Watch 2, a new kids smartwatch loaded with new software updates. The wearable is becoming one of the popular kids smartwatch in the market. So far, it got positive reviews from its users ( see the details). Well, we gathered all of its features offering and here are the details on the initial review.
Design and Build Quality
This kids smartwatch, Gabb Watch 2 has a similar design to that of the previous version. A rectangular body frame, PC material making it light and at the same time skin-friendly for kids. Curved corners, rounded bezel frame, minimalist-looking design. There are two physical rectangular buttons, a power button and return button on its side.
Based on its promotional images and specs, the body case is available in full black color and silver frame black bezel. It has interchangeable straps, a silicon flexible strap available in different color options, and seems like there is also an option for nylon straps.
When it comes to display, the smartwatch has a full color screen. A bright screen display with full touch support. It's a rectangular LCD screen, a 1.4" inch with a 300 x 300 pixel resolution. The wearable has decent graphics, easy to use UI that kids will find easy to use.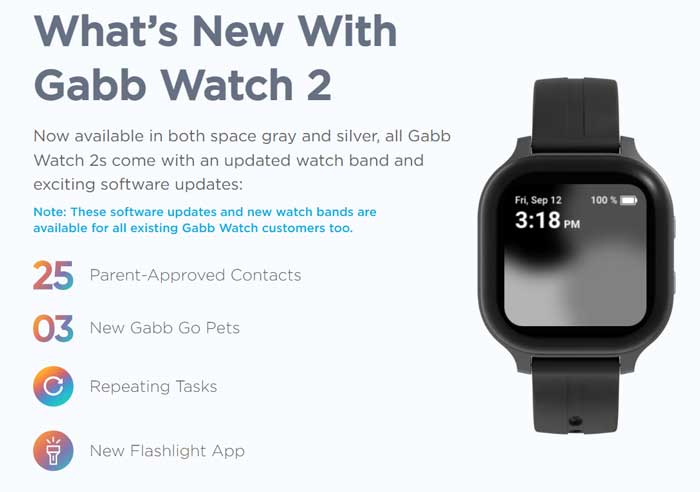 Features of Gabb Watch 2
The company describes the wearable as "The Safe Phone Kids Wear". With its previous features and added functionalities, the smartwatch gives your kids more security keeping them safe.
The Watch 2 is independent, it can receive message without the need of another device. Your kid can respond with its 15 customizable text messages, voice messages, and emojis. If a parent wants to communicate with the kid, the wearable offers unlimited text and talk with the subscription.
Regarding the messaging and contacts. Parents can add up to 25 contacts, no one can add to the phonebook unless set by a parent for added safety.
Aside from independent communication to your kid, there are several features that protect your kids, and adds security.
Active GPS Tracking and Customize Safe Zone
The smartwatch has a built-in GPS, you can keep track that location of your child in the support app, wherever you are. Plus, you can customize a safe zone, sort of like a security fence. The child leaves the designated area, the parent will be alerted with notifications.
You Might Want to Read: E23 Smartwatch – Specs Review – SmartWatch Specifications
SOS Emergency Button
Your child can send an SOS in times of emergency with an SOS button. The smartwatch will automatically call just by pressing the button, parents can set the primary contact when the button is press.
Lock Mode Option
Sort of like a DND, "Do Not Disturb" mode, parents can set the smartwatch to locked mode, this is to limit distractions to the child during class hours.
Fun and Fitness
Go Pet – have some fun, but at the same time, teaching them responsibility with the Go Pet features. Somewhat like a Tamagotchi, kids can feed, pet, wash their pet with this feature, they will learn responsibility and at the same time have some fun.
To Do List
Another feature that teach your kids how to be responsible. The smartwatch features a repeating to do list, kids can earn coins by achieving the to do list goal.
Step Counter
Another feature that kids will have some fun but at the same time help them get fit by tracking their steps, and motivate them to get fit by staying active.
Other Features
Flashlight, every kids loves a flashlight, with the new flashlight app in the smartwatch, it adds new reason for kids to live and enjoy the wearable . Personalization with the 8 new wallpapers available for the smartwatch. There are also 4 new themes. There is also an alarm, timer, as well as stopwatch.
Gabb Watch 2 Specifications
Display: 1.4" inch LCD, 300 x 300 pixels
Sensors: motion sensor
Connectivity: GPS
Battery: 500 mAh battery
Microphone and Speaker: Yes
Color: Silver and Black
Water Resistant: Yes