Fitvii Smartwatch – Review of Features, See our Fave Pick
Fitvii has several products in its collection, from accessories, earbuds, to fitness tracker, and smartwatches. And here is our pick in the lists of smartwatches from Fitvii collection.
V12C Smartwatch
A popular pick from the list due to its cool look. The V12C smartwatch has a Fitbit Versa 2 feel. There is almost a similarity in appearance with its rectangular design. Chic, trendy, square frame with a single rectangular button on the side of the body.
Available in several colors, onyx black, gentleman blue, gray/silver color, and mulberry aluminum. The wearable is light, and accompanied by a flexible silicon strap with stainless steel buckle. When it comes to durability, the wearable has a good waterproof rating. Having an IP68 rating, no worries on wearing it in your everyday activities. It is protected from rain, sweat, safe from washing hands. The screen display, is a 1.3" inch IPS LCD screen, a  full touch display with a good screen resolution. A 240 x 240 pixel resolution with bright screen, sharper screen.

Features of V12C Smartwatch
Health Functions
It is equipped with built-in optical sensor, it has 24 hour heart rate monitoring, blood pressure as well as blood oxygen monitoring. You can monitor your health anytime, anywhere with historical data available in the support app.
There is also a sleep minoring function, it analyzes your sleep pattern, and provide sleep reports. Also includes female period reminder, providing menstrual reminder, prediction, and other details regarding female health. There is also a sedentary reminder, alerting you to move and avoid sedentary lifestyle.
You Might Want to Read:Justice Smartwatch
Sports and Automatic Activity Tracking
Aside from basic sport functions, such as walking, running, cycling. The wearable support automatic activity monitoring. It monitors the steps, calories as well as distance.
V12C Smartwatch Specifications
Display: 1.3" inch IPS LCD, 240 x 240 pixels
Sensors: g-sensor, heart rate monitor, blood pressure as well as blood oxygen monitoring
Processor: Nordic NRF52832 processor
Battery: 5-7 days battery life, 30 days standby time
Color Options: Onyx Black, Gray/silver, Gentlemen Blue, Mulberry Aluminum
Waterproof Rating: IP68 rating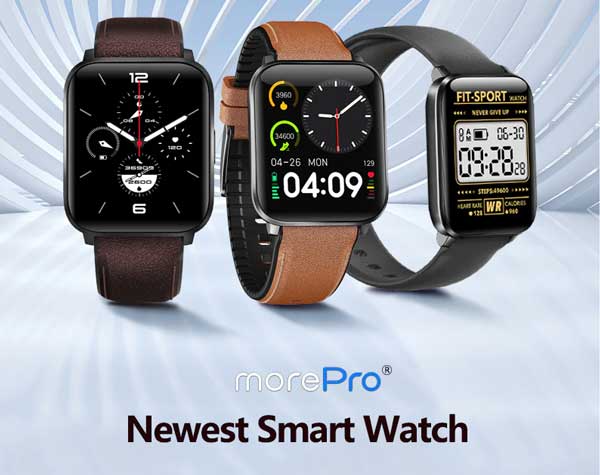 GT5 MorePro Smartwatch Model
Another rectangular smartwatch but much sleeker, and trendy. The Fitvii Smartwatch GT5 MorePro model has a zinc alloy body, measuring 44 mm x 37 mm x 10.4 mm. Unlike the V12C which is more of a square form factor. The GT5 MorePro has a rectangular form factor, and accompanied by a premium leather strap with steel buckle.
Color option for the smartwatch is black, for the frame, and straps are available in different option, black, white, blue and light brown. For its screen display, the smartwatch has a 1.69" inch IPS LCD screen with full touch support. It has a 240 x 280 pixel resolution with bright and sharp screen display.
Overall body has an IP68 rating, with its good waterproof rating, the smartwatch supports swimming, as well as surfing.
Features of GT5 Smartwatch
Similar to CV12, the smartwatch features HR, blood pressure, blood oxygen monitoring. Additional health function is the body temperature monitoring. There is also a sleep monitoring and sedentary reminder.
Sports Functions
The smartwatch has a comprehensive sports tracking, sports included are running, walking, cycling, rope skipping, yoga, mountain climbing, basketball, tennis, football and more.
Other functions available that are both available in the Fitvii smartwatch are alarm, stopwatch, music control, find phone, preloaded watch faces and more.
Smart Reminder
Supports Call and Message Notifications, read SMS messages in the smartwatch. As well as app messages, whether its Facebook, WhatsApp, Twitter, and more.
GT5 MorePro Smartwatch Specifications
Display: 1.69" inch IPS LCD, 240 x 280 pixels
Sensors: g-sensor, heart rate monitor, blood pressure as well as blood oxygen monitoring, body temperature monitoring
Battery: 120 mAh battery, 5-7 days battery life, 20 days standby time
Color Options: Black Frame