Fitnus Smartwatch for Seniors – Worth Buying?
We already tackled it here the Fitness smartwatch, a fitness tracker with smartwatch features. Well, we received some queries regarding a Fitnus smartwatch for seniors. With this, we tried to check whether it's a new wearable or an upgraded fitnus smartwatch. If you are interested, here are the details.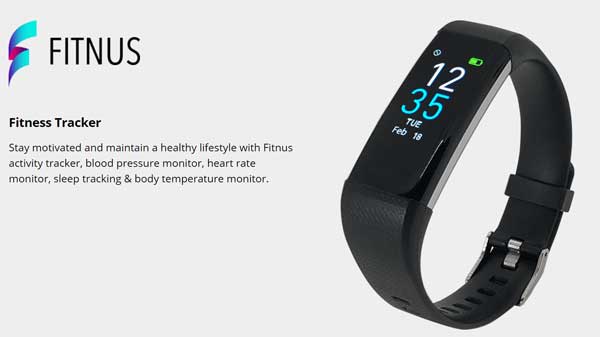 Design and Features Promoted
This Fitnus smartwatch for seniors has still the same design, with the Fitnus smartwatch we already featured here. It has that smartband design, slim, slightly curved body with metal strip on the side that gives it a premium, sporty look. The wearable is accompanied by a sporty strap with a stainless-steel buckle.
According to its website, it is now being adopted by seniors as it is comfortable to use and with easy to use interface.
For its display, the has a full color display, a high-definition display. It's a .13" inch touch button key operation with bright and sharp screen display. Overall, the body has a IP67 waterproof rating, it is splash proof, and based on the specs page, the body is available in black color only, with a scratch and impact resistant body.
What are the Features of Fitnus Smartwatch that makes it a sport fitness partner?
The smartwatch has automatic fitness tracking monitoring, it monitors the steps, calories, as well as the distance. In your everyday activities, the device records your steps automatically with detailed stats in the support app. We are not sure whether it is equipped with additional sports mode or not.
For its health features, the Fitnus smartwatch for seniors is equipped with several health monitoring function It has a heart rate monitor, checking and monitoring your HR in real time. There is also a feature for blood pressure monitoring, as well as SpO2 monitor. I guess this health monitoring function is suited for seniors that wants to check their health every now and then. Although you can use the results for diagnosis but as a reference only.
You Might Want to Read:How to Pair FitPro App
Other functions that seniors might like is the notifications for messages as well as call notifications. The smartwatch is also equipped with phone finder, Bluetooth music control, Bluetooth remote camera control. There is also an alarm, sedentary reminder, and more. We are not just sure whether there is a huge improvement of the wearable or not. But one thing is for sure, it is gaining attention.