Fitbit Ionic, this sporty smartwatch by Fitbit is an all in one fitness wearable, a health and fitness device loaded with different sensors and fitness features.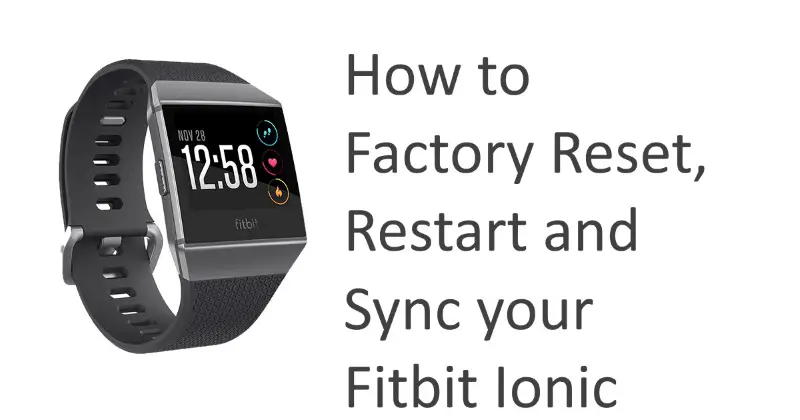 If you already have your Fitbit Ionic, and having some problems with it, there is a lot of ways to fix the issues that you are experiencing with Fitbit. Fitbit Ionic is a great device but of course just like other electronic device it sometimes it encounters some issues. Solutions like factory reset or restarting your Fitbit to put it back to a fresh state works.
If you encounter an issue, no need to return it right away to the seller or to the Fitbit Store and ask for a refund or replacement, sometimes just a simple tweaking like soft reset or factory reset will put your Fitbit Ionic back to its fresh state. In this page, we will show you the basic steps in doing a factory reset or just restarting your device and other tips to get more out of your Fitbit Ionic. But before that, let's learn some details about your Fitbit Ionic.
Things you might want to Try before asking for replacement or Refund
Sync Data to your Fitbit Account
Know your Fitbit Ionic
Fitbit is an all in one fitness smartwatch, the wearable includes personal coaching with multi-sport mode such as weights, rides, biking, running, walking, hiking or swimming with smart track technology that automatically track your workouts. It also employs accurate GPS to give you an accurate location and stats. The Ionic has smart notifications, contactless payment with its built-in NFC and Fitbit Pay, on board music and variety of popular apps.
You Might Want to Read:  BEST FITBIT IONIC STRAP – SPORT LEATHER BAND AND ACCESSORIES
Basic Specs:
Display:1.42″ inch 348 x 250 pixels, Corning Gorilla Glass Screen
Connectivity: WIFI, GPS, Bluetooth 4.0
Sensors: MEMS 3-axis accelerometer, altimeter, GPS receiver with GLONASS, Ambient light sensor, Temperature sensor
Battery: Lithium-polymer 4+ Days of battery life, 10+ hrs on GPS
Water Resistant up to 50 meters
Read the full specifications: http://www.smartwatchspecifications.com/Device/fitbit-ionic/
Sometimes a Restart is just the Simple Solution to Fix your Fitbit Ionic
Not all solution is resetting your Fitbit Ionic to its factory state. Sometimes, problems like syncing issues ( see below on how to sync), device stop responding, and other features is not working, restarting your Fitbit or Soft reset is just the answer. No need to Factory reset, by restarting your Fitbit Ionic, it refreshes the state of your Ionic without deleting your data.

How to Restart your Fitbit Ionic
Press and hold the back and bottom buttons for several seconds, after several seconds the Fitbit Logo on the screen appears.
According to Fitbit, the restart could fix the following issues:
Not syncing despite successful setup
Not responding to taps despite being charged
Not tracking your steps or other data
Factory Reset your Fitbit Ionic
If the above steps like restarting or just simple turning off your Fitbit will not work, I guess this is the next step to do when all else fails. Remember that when you are doing a factory reset, all of the data including apps will be erase/deleted on your Fitbit Ionic.
Factory Resetting your Fitbit Ionic is easy:

How to Factory Reset Fitbit Ionic
On your Fitbit Ionic
Go to Settings->
Then "About" -> Factory Reset
Remember that "Factory Reset" is also a must when you have plans to give your Fitbit Ionic away or sell it. Fitbit also recommends to Factory Reset your device when you are planning to return your device and wants a refund/ Factory resetting will erase and delete important information on your Fitbit Ionic including the Fitbit Pay set-up.
How to Sync data to your Fitbit account "AllDay Sync"
Turn your Fitbit Ionic to Sync with your account automatically
To turn on this feature:
From the Fitbit app dashboard, tap or click the Account icon ( ) > Ionic tile > AllDay
Sync.
If AllDay Sync is on, the app automatically sync the data every 15 minutes
You can also use the Sync Now option in the app at any time