This topic is about kids smartwatch please be informed on the usefulness of this wonder device.As parents become cautious in the safety of their kids, we find ways to help us protect our kids from any harm, especially for child predators ( see stats below). There are a lot of ways to protect your kids, and one of the technology wonder that has proven to be very useful and help our mind put at ease is the GPS enabled Kids Smartwatch.
It's a wearable device to help parents keep track of their kids, call or learn updates about their current situation. It's a pretty good device, to monitor your kids. But please take note that these devices is just merely a tool to help you track your kids where about every now and then, your presence with your  kids is still the best way to keep your child safe.
Ok let's go back to the question, what is the best smartwatch for kids with GPS and SOS alert? First we have to understand that there is no perfect smartwatch for kids, every device do have their own pros and cons, it's up to you if what features will be your best priority.
Anyways I will just give you a starting guide in buying the appropriate smartwatch for you. Here are some of the things that you have to consider.
Features: In choosing a smartwatch for kids, ask yourself, what do you want for your kids? A smartwatch that focuses solely on kids safety or it is a combination of fitness or fun and games?
The Watch Strap: Is the material suited for your kids skin? Is it hypoallergenic? Please take note that there are some watch band that is food grade material, hypo-allergenic as well as sweat proof. To make sure, always read other reviews of parents regarding the smartwatch swatch strap.
GPS: A lot of smartwatches for kids features GPS, but are they reliable? Always read first its features on GPS, and if there is other additional features that track your kids location when GPS fails to work, in times of emergency a reliable and precise GPS is a must for smartwatches.
Compatibility with your Phone and Network – a sim enabled smartwatch should be check first if its compatible with your current network, also check whether there is an app support for your mobile OS, currently most smartwatch support Android and iOS platform.
See also our list of smartwatches for kids with special needs
Kids Missing Report and Statistics
This section for missing kids and related statistics is not about giving you worries or creating panic about the current situation of the environment right now for our kids, but to show you the reality of life, to educate the parents that these things really happen and in order to avoid to be a victim, it is necessary to learn and know these things, the precautions, the solutions, we have to be alert, be vigilant for the safety of our kids. As a parent it's our duty to protect our kids from harm, as a parent I think it's my duty also to educate my fellow parent, to share the things that I know could help protect our kids.
These reports and stats are taken from the latest report about child abduction and related reports about missing children.
In 2015 alone, according to FBI, 460, 699 NCIC entries for missing children, from NCMEC assisted law enforcement with more than 13,700 cases. Cases varies from endangered runaways, which is about 86 percent, family abduction is about 10%  etc. According to NMEC one in five in endangered runaways is likely a victim of child sex trafficking. source:NMEC From CyberTipline report, in 2015, there about 4.4 million reports about child endangerment , from sexual abuse, sex trafficking, sexual molestation.  Source:CNN Report
If your child is missing, report it right away to authorities, as authorities works with other agencies, the chances of finding your missing kid is much better. Here are some programs and agencies where you can ask for help.
Please share by Tweeting/Liking this page on social media sites such as Twitter, Facebook to spread the word that there are some tools that could help us parent, protect our kids from harm.
Association of Missing and Exploited Children's Organizations (AMECO)
c/o Jacob Wetterling Foundation
32 First Avenue NW.
St. Joseph, MN 56374
320-363-0470
320-363-0473 (Fax)
National Center for Missing and Exploited Children (NCMEC)

2101 Wilson Boulevard, Suite 550
Arlington, VA 22201-3052
E-Mail: [email protected]
Internet: www.missingkids.com
CyberTipline: www.missingkids.com/cybertip

Office for Victims of Crime (OVC)

U.S. Department of Justice
810 Seventh Street NW.
Washington, DC 20531
202-307-5983
202-514-6383 (Fax)
Internet: www.ojp.usdoj.gov/ovc/

Federal Bureau of Investigation

Child Abduction and Serial Killer Unit

Federal Bureau of Investigation
Quantico, VA 22135
540-720-4700
540-720-4790 (Fax)
Success Story:
Is investing in a smartwatch for kids worth it? Is it practical? To answer these questions, let's take a look at the recent event that help a kid survive abduction with the aid of a smartwatch, let's take a look at the experience of Aiden the Utah boy who manage to survive the attempted kidnapping with the help of a smartwatch, then it's up to you to decide whether to get one or not for your kid. According to Aiden he used his Gizmo watch to call his mom and get help, when a stranger with an SUV tried to kidnap him. His step father was the one who was able to answer it and drove to his location to help him. Well his recommendation, parents "get a Gizmo watch (smartwatch) for your kids" Read the full story here.
SpaceTalk Kids smartwatch
If you want a more reliable smartwatch for your kids, especially with the subject of security, the SpaceTalk Kids smartwatch from Sky might be a good contender. This smartwatch for kids is a 3G smartwatch/GPS tracker to keep your kids safe and at your radar all the time.
The smartwatch has that kiddy design and with material that is safe for kids. When it comes to features, the SpaceTalk features 2 way calls and receive and make calls on the smartwatch. Your kids can also receive SMS messages with option to limit sender with the aid of GPS, parents can view the location. There is also a dedicated SOS alert button, it can be programmed to call a sequence of guardians, you can also set safe zones, somewhat like security fence. It is a fully loaded kids smartwatch with safety and security of your child in mind.
Features
3G mobile High & Low band support
Data protected by Australian privacy and security laws
dedicated SOS alert button
Safe Contact List
Safe zones can be set up with customisable alerts
GBD-GPS Smartwatch for Kids
With a very kiddie design this smartwatch for kids aims to protect your kids from harm, as well as monitor his fitness activities.

The smartwatch priority is safety for your kids, equipped with a SIM card and GPS, you will be able to track your kids location, it uses GPS and LBS double/triple location to accurately track your kids position, a real time position tracing.
Aside from tracker, the watch is also equipped with SOS, emergency call, you can set SOS to family members in contacts or telephone numbers in the app. What we also love about the GPD-GPS tracker smartwatch for kids is the security fence that alert the parents whenever the kids is out of the designated area. Don't worry about compatibility the GBD-GPS smartwatch is compatible with iOS and Android platform.
Features:
GBD GPS location tracking: GPS+ AGPS+ LBS
Real Time Position Tracking
Two Way Calls
SOS Emergency Call
Other Features Voice Chat, remote Alarm, fitness Tracking
SinoPro Q50 Smartwatch for Kids
Here is a multi-function smartwatch with several features for the safety of your kids. "SinoPro Q50 smartwatch", it's a waterproof smartwatch with eye friendly screen.
The smartwatch supports a micro SIM card, with it parents can receive messages from their kids or call them (two way call). Safety features of the SinoPro Q50 are SOS emergency call, there is also a security fence to secure your kids in a specific area and there is also an alarm that alerts the parents when the kids is out of the designated area. It uses a GPS + LBS (Based Station positioning) to get real time location tracing.
Aside from the safety features, SinoPro Q50 also do have some health and fitness features, a pedometer to make your kid more active, a watch exercise tracker, other features includes  are voice chat on app. The smartwatch has a user friendly colorful design, your kids can pick the right color for them. The band is made from high quality material that is comfortable to wear and friendly to the skin.
Features:
SOS Emergency Call
GPS Tracking
Security Fence
Anti-Lost
Pedometer
LG GIZMOGadget Watch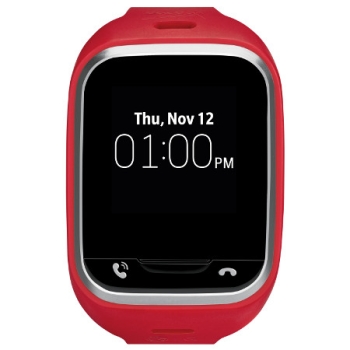 This smartwatch made its way to our list due to its proven track record read Utah boy saved by a smartwatch. And at the same time having several safety features. The smartwatch features a two way communication, the parent can call to the kids and vice versa, up to 10 contacts can be stored, it can also send text messages, voice clip or preset messages. It also has a built in compass to point to the direction of the users, quick check in to send a location check in notification, auto answer function.
The LG GIZMOGadget has a fitness tracker, app support with do-event notifications, the smartwatch is compatible with iOS and Android smartphone.
Features:
GPS Tracking ( AGPS/WPS)
Location Tracking
Two Way Calling
Auto Answer to audibly monitor environment
Tencent QQWatch Kids Smartwatch
Here is a cool smartwatch for kids from Tencent, the QQ Watch model PQ708, the smartwatch do have a 1.22" inch screen with a 240 x 240 pixel resolution. Available in yellow, blue, and pink color, the smartwatch is 2G capable with SIM functionality.
The parent can add up to 5 families and 16 friends on the app allowing the kid to call and receive calls as well as other notifications.
Tencent added several safety features for the watch, a GPS tracker that according to Tencent it is able to precisely track your kids location within 3 meters. You can also set-up a safety zone and if something goes wrong, your kid can easily activate the SOS button sending text messages to family members.
Features:
SOS Button
GPS Tracking
Safety Zone
IP6 level waterproof
Voice calling feature
Well it's not just all about safety for this Tencent smartwatch, the QQ watch has some fitness and fun features. It includes a gravity sensor, pedometer to track steps, weather info, alarm and group chat. Compatible with Android and iOS, the smartwatch can provide up to 3-8 days of battery life.
iGPS Kids GPS Smartwatch
iGPS kids GPS smartwatch, one of the smartwatch for kids that is loaded with cool features and safety features that other kids smartwatch don't have.
Available in blue and pink color, the smartwatch has a unibody design with a silicon watch strap and physical buttons for easy access by your kids. The smartwatch is built with the kids safety in mind, it also does have some features that makes it easy for the parent to monitor their kids.
Well enough talking let's enumerate the safety feature of the iGPS kids GPS smartwatch, the wearable for kids has a GPS tracking feature, as well as GEO fencing, see live GPS tracking in real time on a map using your smartphone or computer. There is also a safe zone alert, receive instant text messages when your kid is out of the safe zone that you set. If you are not comfortable and feels uneasy thinking whether your kid is in safe place or not, why don't you listen to your kids surrounding with iGPS kids smartwatch, you can certainly do that with its listener mode feature.
Well if something goes wrong unfortunately, there is an SOS button that automatically calls up to 8 preset phone numbers. Another feature that you can seldom see in kids smartwatch os the "removal sensor" a feature that alerts you when the watch is removed from the wrist of your kid. Anyways those are just some of the features of the iGPS Kids GPS smartwatch for kids, additional features are two way voice calling, low battery alert. It is also water resistant and compatible with iOS and Android OS.
Features:
SOS alert
Listener Safety Call
GPS Tracking
Wearing Sensor
GEO Fencing
Doki Smartwatch
Doki Smartwatch started as a kickstarter project and was funded successfully. The smartwatch claims to be the worlds most advanced 3G Kids smartwatch.
Doki has been in the forefront of the "3G capable smartwatch for kids", it features and specs is one of the top in the kids wearable section. So what are the features and specs of Doki Watch why it is one of the best smartwatch for kids?
Well aside from the warranty and technical support which is easily accessible in its website. The smartwatch is a watch phone, meaning the child and parent can do voice calling, video calling with its 2 mega pixel camera, both can also receive messages as well as text messages.
Safety features for kids includes, smart locator, where you can track your kids location by combining three technologies, GSM, WIFI and GPS. It is also has an "Alert Area" a perimeter fence where it alerts when the kid is out of the designated area. The child can also send SOS messages included with location status and recording to the predefined contacts.
Doki smartwatch also features fitness tracking with built in accelerometer, able to track your steps and other fitness activities.
Features:
Smart Locator
SOS
Class Mode
Fitness Tracking
FiLIP Smartwatch for Kids
Another smartwatch with focused is on the safety of children, the FiLIP watch employs several security features. Instead of just relying on GPS, the FiLIP watch combines GPS, GSM and WiFi to accurately locate your child's location with map support to see the exact position of your child. It also has safezone, a virtual fence that alert the parents when the kid wanders out of the specified location.
Instead of just a plain SOS emergency call, FiLIP kids smartwatch  uses several options to alert the parents when SOS is activated, it can call the preset contact on the watch, if the main contact cannot be reached, it call another conatact on the list, it automaticall update the child's location and send it to the intended recipient. The FiLIP is also capable of receiving text messages from parents, features time and date both numeric and alphabet type.
Features:
Safe Zone
Manage Multiple FiLIP devices
Intelligent Emergency
Smart Locator
3G GPS Tracker Kids SmartWatch TURNMEON Wristwatch 
Another smartwatch for kids  with GPS and SIM capability, the smartwatch is already included with SIM card, the watch is 3G capable, with GPS+WIFI+AGPS+LBS features.
The TURNMEON watch has a 1.54 inch with 240 x 240 resolutions plus it has a rotating camera (2 MP). The smartwatch features electronic fence, a key SOS, curriculum, voice chat, multiple alarm clock (Analog clock face/12hour/24hour system optional,remote monitoring.
What I love about this kids smartwatch is the rotating camera, it can be used to have a face to face conversation with your kids, plus it has an electronic fence features, one key SOS feature. It is also has a takeoff alarm, alerting your when the smartwatch is remove off your kids wrist.
Features:
 Two-way calls
Multiple positioning(GPS+WIFI+AGPS+LBS),
Electronic Fence
One Key SOS
See Reviews and Deals on TURNMEON Smartwatch
AmbyGear Smartwatch Safety and Security for your Kids
This smartwatch for kids was under our radar, but recently we are surprise that a lot of users are looking for reviews and specs of the AmbyGear smartwatch, these lead us into thinking that maybe this is a popular smartwatch. Searching the web, we found out that it is a new comer in this area and so far seems like the features are amazing, it also has a dedicated site which is good. So we decided to include this watch in the list of best smartwatch for kids
So what are the features of this new kids smarwatch? The smartwatch is an activity and fitness tracker, it is packed with sensors and smart algorithm to provide activities to your kids. It also includes feature to message the parent with predefined messages. As a parent it is good to know that your child is in a safe place, have a peace of mind with the "SafeZones" feature of the smartwatch, you can designate safe areas for your child and get notifications if he wandered outside of the safe zone. It also has a built-in GPS that provides accurate location to parents.
Features:
 Messaging (send/receive messages from the smartwatch)
SafeZones (Electronic Fence)
You can Set alert if the watch is remove from your kids wrist
                                                                                                 Oaxis WatchPhone
The newest in the list of smartwatch for kids, the Oaxis Watchphone is equipped with several safety features for kids. The Watchphone has a touch screen display, a 1.54" inch display with  320 x 320 pixel resolution. This kids smartwatch is has a kiddie design, having silicon body and band that is comfortable to wear and light weight, it is also IPX4 splash proof. According to Oaxis the Watchphone is a hybrid wrist phone with 3G functionality and GPS. Additional features that your kid will surely love is the pedometer, calorie counter and distance counter that will surely encouraged your kids to get fit, especially with the goal settings. With large battery capacity of 600mAh the smartwatch last about over 2 days in just a single charge.
Features: One-touch SOS
Real-time GPS location tracking
Geo-fencing
Blocks out calls from unknown numbers
Article: Updated May 2017