Sleep is one of the most important activities in our life, lack of sleep leads to unproductive day, and lose of concentration, as well all know it is very vital in our overall health. Most of us neglect the importance of sleep, this is due to our busy schedule, and with this we are often deprived of longer and adequate sleep time.
According to the report, the lack of sleep or what we call sleep deprivation leads to several chronic illnesses. Some of the health problems that occur due to lack of sleep or high blood pressure, heart disease, stroke, diabetes, and that's not all, it also makes us look old and dull.
There are many causes of sleep problems, one of the most number one cause in today's age is technology, looking at your smartphone, PC or laptop before going to bed, contributes to sleep problems. Other reason might be due to stress, too much work and among others. If you think you are suffering from sleep problems, I guess technology can also help us improve, why don't you try to download a sleep tracker for your Apple watch and record your sleep pattern. It might not be the solution but at least it can provide you with information on your nightly sleep behaviour, it might help you solve the problems if you know where to start.
Its a good thing the Apple Watch has a comprehensive list of health apps, And of course it is official Apple watch is the most popular smartwatch in the market, it has cool features, specs and most of all comprehensive number of smartwatch apps, from independent developers to a well known company.
Thousands of app do have a support for Apple Watch, from social apps, notification apps, gaming apps to health and fitness. One of the section where we are interested the most is the health and fitness apps, specifically in the sleep monitoring section. So far only a handful of sleep tracker and monitoring app for Apple Watch is available, here are some of the best app that you can download if you want to monitor your sleeping using Apple watch.
Best Sleep Tracker app for Apple Watch List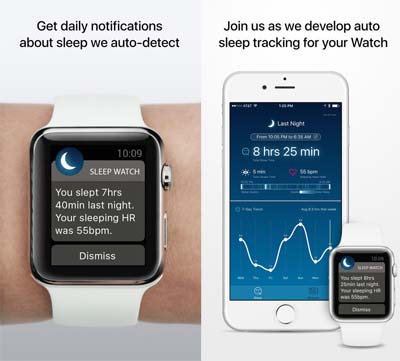 Sleep Watch – Auto Sleep Monitor using your Watch – the sleep monitor app by BodyMatter, has an auto detect feature, it automatically estimate your total sleep time, but you can also manually adjust it. It has a smart algorithm to track your sleep and notifies you about the status with several minutes after you wake-up with 7 days sleep trend graph. It also calculates the average heart rate during sleeping time.
Features:
7 Day sleep trend graph
Average Sleep for a week
Auto Detect sleep start
Sleep Pulse 2 Motion – the first sleep tracker for Apple Watch, the watch app track your sleep by taking advantage of the motion tracking features by Apple Watch. The Sleep Pulse 2 motion provides information on the time you sleep, awake, light sleep and information on deep sleep stages. The sleep pulse 2 motion is a native app for Apple Watch, no need to use your phone to activate the app.
Features:
Sleep Graphics on Apple Watch
Analysis of motion and heart rate
Power Nap with Health Sync – track your sleep, nap times when you wake up or when you go to bed. It is able to tell your whether its quick nap, light nap, mild nap with time details. It also shows a graph in your Apple Watch, at least several naps will be graph so you can check the previous details.'
This app has a simple UI but provides useful information to the user. It does not automatically track the sleep instead it is user activated. Just press the virtual button to track when you are about to sleep, and the Sleep++ with the aid of motion tracking on your smartwatch will track and analyse your sleep and provides a detailed breakdown of your nights activity. The UI will shows you're the number of hours you sleep, the full rest, the restless hours. It provide you the details that you need, the app is also integrated with health kit that provides a complete data with other fitness apps.
Here are the other apps that monitor your sleep
Sleep Diary – here is a another sleep monitor for your Apple watch,  the app simply record the duration of your sleep, it's a log app for your nap with all of the data can be integrated also to Apple Health Kit.
AutosSleep Track – automatically track your sleep, no need to activate it or press any button. The app automatically detect the moment your sleep, it also analyse your sleep quality. It can score quality of your sleep and provide Sleep Data Recorder for Health comprehensive nightly analysis.
Sleep Data Recorder for Health – it monitor your sleep pattern and progress with health kit app on your iPhone, with just a tap, the app records and total the time that you spent sleeping.