Best Fitbit Sense Screen Protector (Updated)
Fitbit Sense is one of the most popular smartwatch from Fitbit. The wearable is full health, and sports wearable packed with different health sensors. Just like its sister smartwatch, the Versa 3. The device has a sporty look, durable make and with sport features ideal for those who are into sport and fitness.
Here in our article, we will tackle the best accessories for your Fitbit Sense particularly the screen protector accessory. Previously we published an article pertaining to the best third party strap for your Sense. Check it here.
This time it's all about screen protectors, protect your investment with a simple cover to the display of your smartwatch, whether it's tempered glass or film. A basic screen protector will save you a lot in the long run. Screen protectors can at least protect the screen display of your smartwatch from scratches and bumps.
Here are the best screen protectors for your Fitbit Sense
RinoGear Screen Protector
It is one of our favorite brands when it comes to screen protector. The RinoGear, it has a durable make with military-grade material, ensuring the protection of your Sense from scratches, bumps, and chipping. Rinoskin series screen protector is easy to install with its "wet application" feature, it also has an anti-bubble feature, anti-yellowing. It has an advanced polymer adhesive making it adhere perfectly to the screen of the smartwatch.
Features
Military Grade Material
Invisible Ultra Clear
Impact and Scratch Protection
The RinoGear Screen protector for Fitbit Sense is an 8 pack screen protector. It comes with detailed instructions on how to apply, application card, microfiber cloth.
IQ Shield Screen Protector for Fitbit Sense
Fully compatible with Fitbit Sense, the screen protector from IQ Shield provide an edge to edge covering for your wearable. The screen protector is a protective film providing full protection to your device. According to its specs, the screen protector is tough, durable, thin with crystal clear clarity. It has an anti-scratch feature, with this the screen protector will revert back to its original state when it suffers minor scratches, abrasions, and dents.
Features
Crystal clear film with "True-Touch" technology
4 Layers of Protection (UV Protective coat, Thermoplastic Urethane, Strong Protective Liner, Advance Adhesive)
Lifetime Replacement Guarantee
Classified as Smart Film
ArmorSuit MilitaryShield Screen Protector
Another durable screen protector for your Fitbit Sense, the ArmorSuit as the name suggests has a military-grade protection for the display of your Fitbit Sense. It provides maximum full protector, edge to edge coverage of your wearable.
It is a scratch-proof screen protector that is ultra-tough made from a flexible thermoplastic urethane film. Aside from being durable, the screen protector is features oil, and fingerprint smudges with self-repairing technology.
Features
Edge to Edge Perfect Fit
Premium Anti-Glare Fingerprint Reduction
5 Protective Layers
Self Healing Technology
Spectre Shield Screen Protector for Fitbit Sense
Here is a maximum protection for your Fitbit Sense, it has a precise cut that will fit your Fitbit sense including the curves and edges. The smartwatch has a crystal clear transparency and with 100% touch accuracy that will not decrease the touch sensitivity.
The smartwatch has a durable make, it has a military-grade film shields theat provide maximum protection.
According to its specs, the Spectre Shield is a "Smart Film" providing protection with self-healing properties. The screen protector can be easily installed with its "wet method" feature. It has anti-bubbling feature, no yellowing.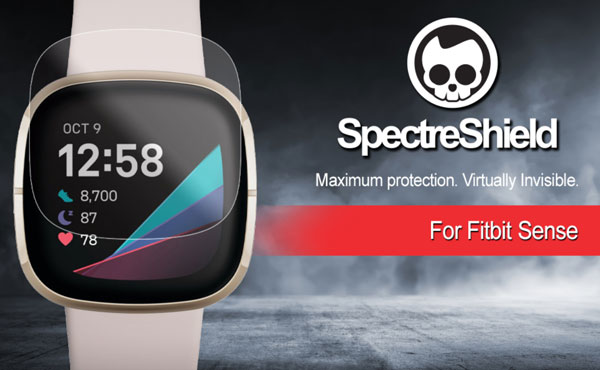 Features
Self-healing properties from scratches
100% Touch Screen Accuracy
Easy Installation- Bubble Free
Invisible High Clarity Screen Film
The screen protector comes with Spectre Shield film, Microfiber Cleaning Cloth, Smoothing Assist Card, Lifetime Warranty voucher, detailed Instructions.