Best Fitbit Charge 5 Third Party Straps – Steel, Silicon, Nylon Straps
Fitbit Charge 5 is the next generation fitness tracker from Fitbit. The wearable has a sporty design and is packed with the latest health and fitness functions. As expected with the Fitbit brand, the wearable looks good and with premium materials including the band.
Although Fitbit offers a variety of personalization to the fitness tracker with its band offering. There are also third-party straps available for your Fitbit Charge 5, below are some of the options available in Amazon store.
Silicon Strap Options for Fitbit Charge 5
KakuFunny Silicon Straps
 I think this is the most affordable strap for Fitbit Charge 5. It is a 4 pack strap band compatible for the Charge 5 from Kakufunny. Available in different color options such as black, white, dark blue and grey color. It is only for Fitbit Charge 5, and with easy attachment to the device.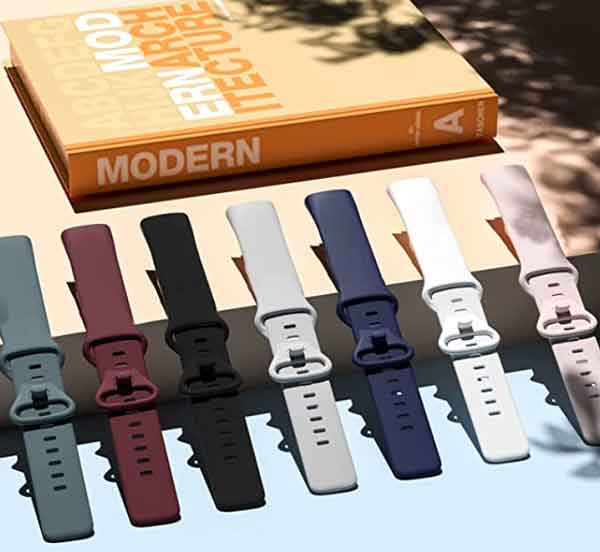 Features:
Premium Design
Washable and Waterproof
LightWeight and Durable
See More Details about the band
TopPerfekt Sport Band
Available in 4 color options, such as black, white, blue grey and orange pink. If you do sweat more than the usual, this strap might be the best for you. It is from TopPerfekt, and it is compatible with your Charge 5. The strap is breathable, having a series of breathable porous holes, making it easy and much faster to dry due to your sweat.
It is made from high quality materials, ergonomic, and features quick release pin for easy installation.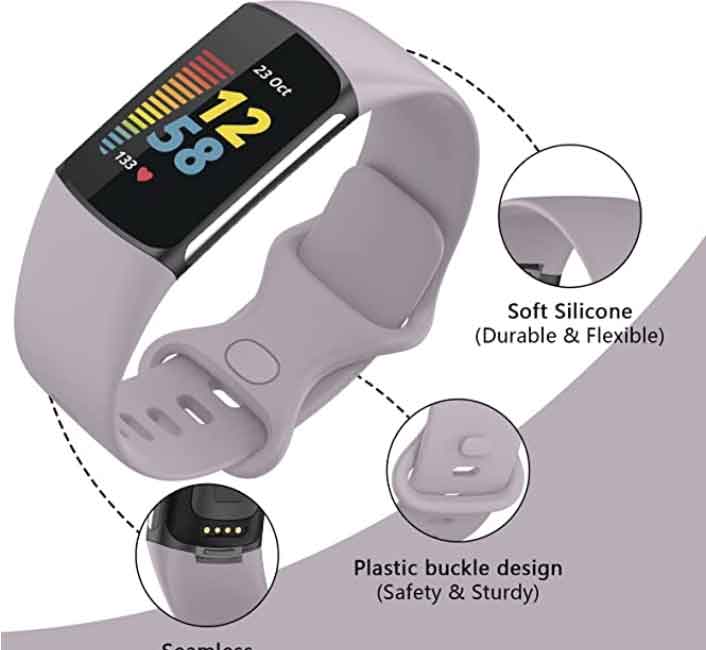 Features:
Metal Buckle Design
Seamless integration of strap to the band
High-Quality Silicon material
See more details about the Strap
Surundo Fitbit Charge 5 Strap
Among the above options, this is the unique one. Instead of just a strap, this band comes with the Charge 5 case, which works as a protective case for the band.
This strap with a case is a professional rugged armor for the band. If you are into outdoor activities, a protective case is what you need for your Fitbit Charge 5. The silicon strap with case, protects your wearable and works as a rugged bumper and shock-resistant case. Now your band is not just for indoors but for outdoors also.
Features
Rugged Outdoor Design, shock proof
Multiple Color Options
Available in different color combinations
See more details about the strap
Nylon and Steel Straps for Fitbit Charge 5
Bangyee Elastic Band
For a sporty strap with a variety of color options, the nylon strap from Bangyee might be a good pick. The strap is for those who have an allergic reaction to silicone straps. The strap is made of high-quality polyester material. It is lightweight, breathable, and at the same time elegant. It gives your wearable a sporty-elegant design.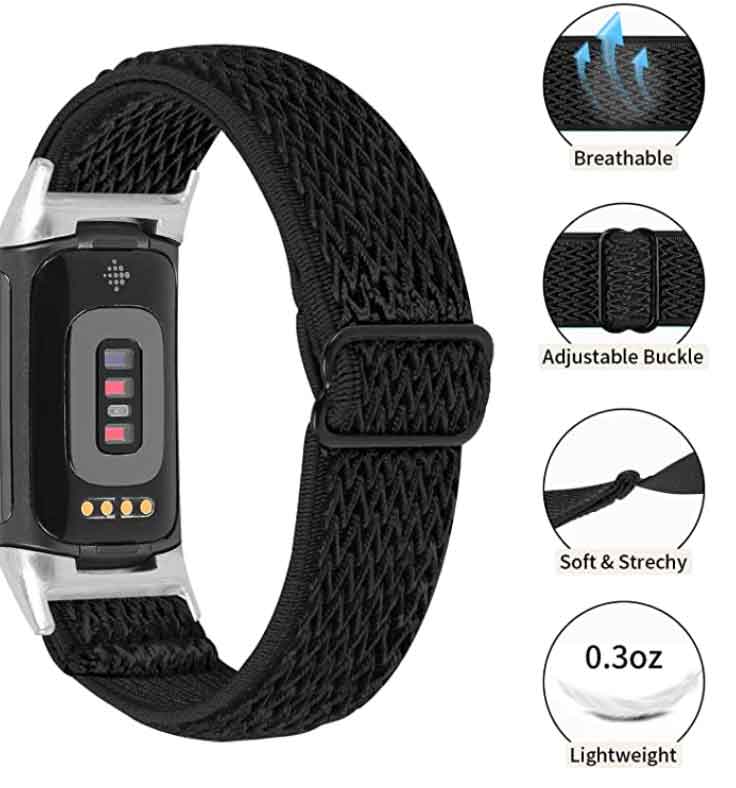 Features
Elastic durable polyester material
Available in different color options
You Might Want to Read: How to Install Yoho Sports App
ManaCube Metal Bands
If you want an office look for your Fitbit Charge 5, here is a stainless steel metal band for your wearable. It is a bit heavy but certainly, it will give your band a classy premium look. Based on its description, the strap is comfortable to wear, it is a polished edge as well as elegant. The strap has a double button folding clasp that is easy to lock and unlock at the same securing the band to your wrist.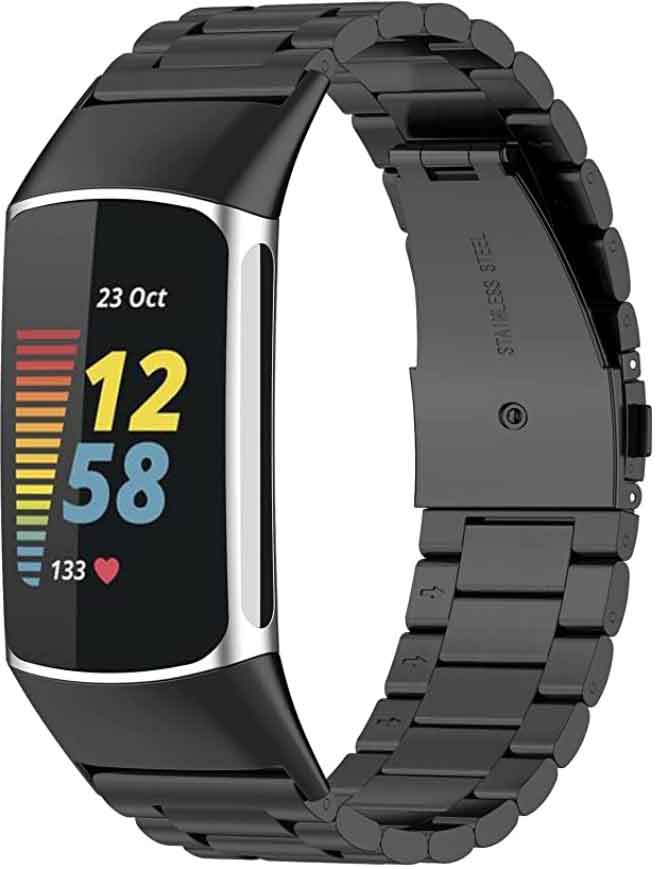 Features
Durable Stainless Steel Material
Tightly Secured with its Metal enclosure
See more Details about the Strap
MTOZON Bling Band for Fitbit Charge 5
I think this is more of a womens strap for Fitbit Charge 5. It is a metal strap adorned with Rhinstone jewels. It is beautiful, it is a bling band available in pink gold, black, silver and luxurious gold color. The strap looks chic, and is intended for women who loves to have a bling strap for their Charge 5. The strap is a bit pricey compared to the silicon strap but will certainly give it a fashionable look.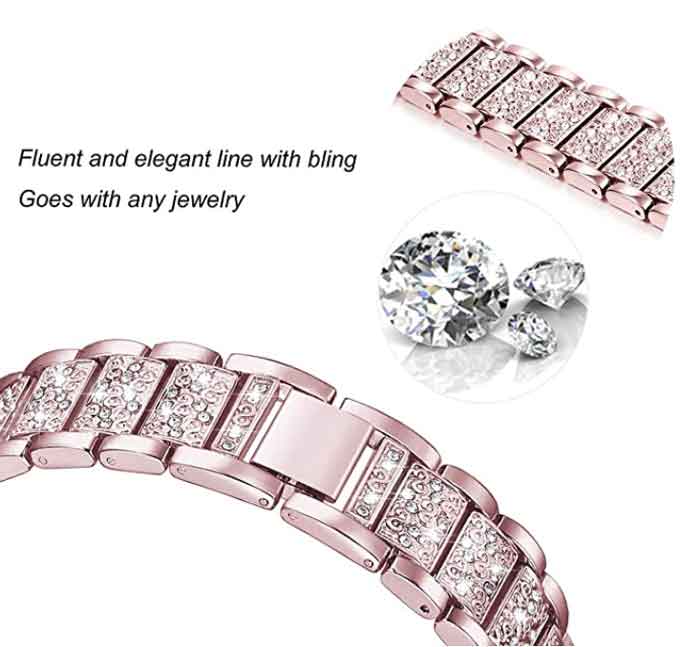 Features
High Quality Metal and Rhinestone
Folding Clasp Design
Fashionable, Trendy Look