Best Apple Watch 7 Clone – Table of Comparison Worth Buying? (Updated)
This year it's a hunt again for the best clone for the series 7 smartwatch. These past few months, several model of the Apple Watch 7 copycat appeared in the market saying it's the best, or the cheapest Apple Watch 7 clone. Well, here at smartwatchspecifications we keep ourselves updated with the latest wearable especially with the series 7.
We have here some lists of series 7 clone, the collection here has almost the same design just some minor differences with regards to some specifications, and features.
T100 Plus Smartwatch – Most Affordable
Say goodbye to the popular T500, and say hello to the T100 Plus smartwatch. The wearable has the latest design, flat body similar to series 7. It is available in a wide range of color options, pick from pink, classic black, white, red, blue, light green, dark green and purple color.
It's the affordable version of other series 7 which has twice the price of the T100 Plus. The same with other expensive version, the T100 Plus smartwatch has 1.75" inch IPS LCD screen with full touch support. Health features included are heart rate monitoring, to blood oxygen monitoring. For its connectivity, it has Bluetooth 4.2 and with 195 mAh battery.
IWO 7 Smartwatch 2021 – Big Battery, Capacity Wide Screen Display
If you want a more premium version, the IWO 7 2021 version should be in your radar. Bigger, wider screen display, lighter screen resolution. The IWO 7 2021, has the same 44 mm body case, also available in different color options (5 color options) and with brushed finished.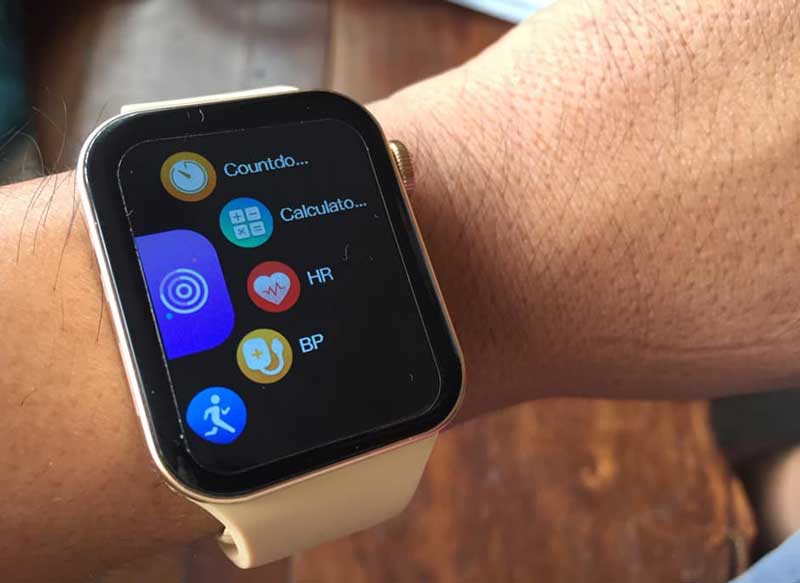 Despite having a 44 mm case size, the smartwatch has a much wide screen display. It has a 1.82" inch TFT LCD screen display with 320 x 380 pixel resolution with full touch screen support. Based on our review, the wearable has a loud speaker. Over the air update with health sensors. It looks good, looks premium but the only negative issue with this is the limited watch faces available in the support app that is FREE.  The wearable has also a big battery life with 230 mAh battery with longer battery life.
N76 Smartwatch – Wireless Charging Feature + High Resolution Screen
Several brands are marketing the N76 smartwatch. Among the lists, this is the wearable with premium specs. The N76 smartwatch has a similar make with that of the IWO 7 smartwatch.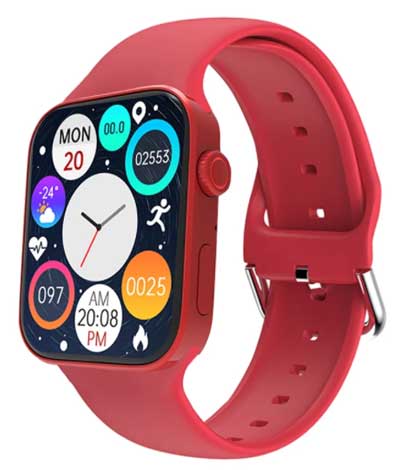 The wearable has a zinc alloy body, and available in black, pink, blue, red, and silver color. The 1.75" inch screen display with high resolution screen, a 385 x 385 pixel resolution. Sharp, crisp bright display with full touch support.  It also supports Bluetooth calling with support for dial keys, phonebook and more. I guess one of the main features of N76 is its wireless charging, its easy to charge, with its 200 mAh lasting 3-6 days of battery life.
IWO D7 Pro Smartwatch – Built in GPS Positioning
Another premium looking smartwatch in the series 7. The IWO D7 Pro runs the RealTek 8762D chip and packed with variety of feature. Among the list, this smartwatch has a lot of customization option in terms of watch faces. Still, it has good display screen, having a 1.77" inch full screen with 320 x 350 pixel resolution. Stable Bluetooth with dual Bluetooth connection.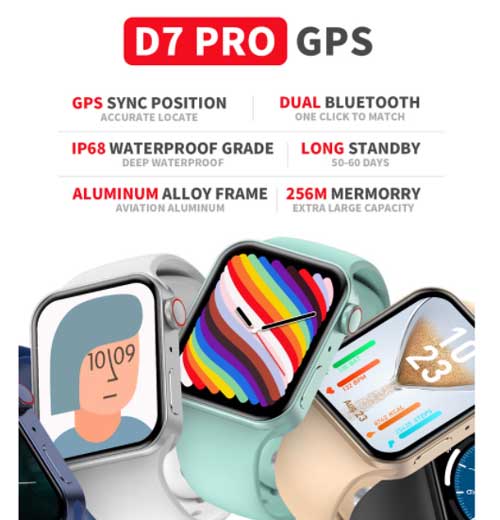 It also supports several payment or QR code screen, Alipay, WeChat, and Paypal. Based on the connects, the D7 Pro smartwatch might be the best Apple Watch 7 clone. Another thing that makes the wearable attractive specially to sport fan is the built-in GPS, yes the smartwatch supports GPS for its sport tracking.
Z36 Smartwatch – With Body Temperature Built-in
The Z36 is one of the first model in series 7 to be available in the market. Sporty series 7 design available in black, dark blue, and green color. The smartwatch is durable, light as well as sporty. The screen display is 1.75" inch TFT with 320 x 386 pixel resolution. The Bluetooth version is Bluetooth 4.0 but with support for Bluetooth 3.0. It has multiple sports mode, health functions as well as with support for wireless charging also. It is the affordable range with variety of features.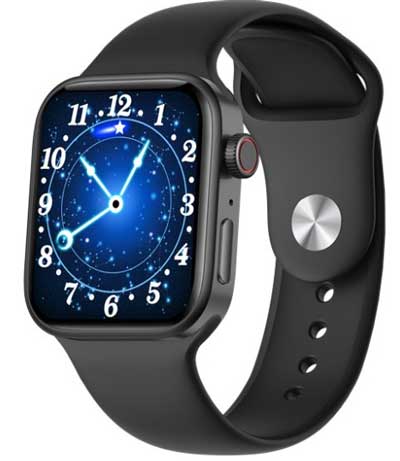 W17 Smartwatch – Infinity Wide Screen Display
This 1st quarter of 2022, we have seen some new breed of Apple Watch clone, improved screen display, better hardware. One of the latest is the W17 Smartwatch, a series 7 smartwatch, available in different color options, black, blue, silver and gold. Beautiful semi-glossy finish available in steel strap option and nylon strap.
One of the main features of the wearable is the full color screen display, it has a high definition wide screen display. A 1.9" inch IPS LCD screen with a very slim bezel, full touchscreen support. The smartwatch has a decent pixel resolution having a 320 x 320 pixels.
When it comes to hardware, it runs the Jieli A66954 processor with different sensors such as g-sensor, heart rate, blood pressure and blood oxygen monitoring.  With regards to its features, it has 6 UI menu, sports tracking functions. It is also loaded with sports functions, smart notifications, and other basic features for series 7 smartwatches.
Chipset:Jieli A66954 processor
Display: 1.9″ inch IPS LCD
Resolution: 320 x 390 pixel resolution
Bluetooth Version: Bluetooth 5.0
Battery: 380mAh Li-ion battery
Sensors: g-sensor, heart rate monitoring, blood pressure, blood oxygen monitor
Notable Features: wide display screen, multiple UI menus, 8 types of weather forecast
Support App: MActive Pro
Waterproof Rating: IP67 Waterproof
Table of Comparison for Apple Watch 7 Clone Smartwatches
| | | | | | |
| --- | --- | --- | --- | --- | --- |
| Model | T100 Plus Smartwatch | IWO 7 Smartwatch | N76 Smartwatch | D7 Pro Smartwatch | Z36 Smartwatch |
| Chipset | SY08810 + FR3028 | HS6621 | HS6621 | RTK8762D | SY08810 + FR3029 |
| Display | 1.75" IPS LCD | 1.82"inch TFT LCD | 1.75" TFT LCD | 1.77" TFT LCD | 1.72" IPS LCD |
| Resolution | 320 x 385 pixels | 320 x 380 pixels | 385 x 385 pixels | 320 x 385 pixels | 320 x 380 pixels |
| Bluetooth Version | Bluetooth 4.0 | Bluetooth 5.0 | Bluetooth 5.2 | Bluetooth 5.2 | Bluetooth 4.0 |
| Battery | 195 mAh | 230 mAh | 200 mAh | 280 mAh | 280 mAh |
| Sensors | g-sensor, heart rate monitoring, blood pressure monitor, blood oxygen monitor, body temperature | g-sensor, heart rate monitoring, blood pressure monitor, blood oxygen monitor | g-sensor, heart rate monitoring, blood pressure monitor, blood oxygen monitor | g-sensor, heart rate monitoring, blood pressure monitor, blood oxygen monitor, GPS | g-sensor, heart rate monitoring, blood pressure monitor, blood oxygen monitor, body temperature |
| Notable Features | Affordable + with Body temperature monitoring | Wide Screen Display | Wireless Charging + High Resolution | Built-in GPS, Multiple Payment support | Wireless Charging + Body Temperature |
| Support App | HRYFine | WearFit Pro | WearFit Pro | VFit | HRYFine |
| Waterproof Rating | IP67 | IP67 | IP67 | IP68 | IP67 |