AIKELA Smart Watch – A Fashionable Fitness Smartwatch
Check this inexpensive smartwatch from AIKELA, the AIKELA smart watch. The wearable as expected has a fashionable yet simple design. It is a fitness smartwatch that is light, durable and that is comfortable to wear.
If you are going to take a look at the design, the wearable has a rectangular design, with a single physical button on the side of the wearable. It has a removable strap with stainless steel metal enclosure. The body of the smartwatch is available in black/grayish color only. while the strap is available in plain black color, two-tone green/black color and red/black color. We don't have the exact details on the waterproof rating, but based on its specifications, the wearable is certainly waterproof, I guess maybe IP67 rating with its 5 ATM waterproofing. It is splash-proof, wash proof and dustproof as well.
According to the product page, it is an upgraded smartwatch. The wearable has a 1.3" inch TFT LCD display screen with 240 x 240 pixel resolution. It is a full touch screen smartwatch with sharp, crisp and with bright colors. The display screen is protected by tempered glass, 2.D tempered screen display. It is loaded with at least 4 watch faces for your personalization, pick the watch faces that suits your taste.
The Aikela smartwatch is packed with different health functions
Health functions included in the smartwatch are 24/7 heart rate monitoring, there is also a blood pressure monitoring, and blood oxygen monitoring. It provides stats and graphs on the support app, Again, the results cannot be used as basis for diagnosis but only as a reference.
For sports and fitness, the Aikela smartwatch has an all-day activity tracking, it automatically monitors the steps, calories as well as distance of your daily activity. Aside from that the wearable also has a sports mode, it has at leat 9 sports mode. Sports functions are walking, run, biking, spinning, treadmill, hiking, yoga, climbing and fitness. Of course, each sport function can track, steps, calories and distance.
Real Time Notifications, Messages and Calls
The smartwatch aside from sport and health functions is also equipped with information notifications. It supports message notifications particularly with SMS messages and social app messages such as Facebook, Twitter, Instagram, Linkedln, Email.
Other health features included in the smartwatch are Breathing Exercises. It has a tutorial for deep breathing training, has a guided breath training, to keep you relax and refresh from the daily stress,
Additional health function that women will surely love is the Female physiological tracker. The smartwatch can keep track of your menstrual cycle, ovulation reminder and other functions. There is also a sleep monitoring, checking your sleep status such as deep sleep, and sleep timer. Extra functions added to the smartwatch are sedentary reminder, music control, stopwatch as well as alarm and timer.
VeryFitPro app, the support app for Aikela Smartwatch
The wearable uses the VeryFitPro app, it is a very popular app for a variety of sport smartwatches. It has comprehensive details on the stats and graphs for the smartwatch. Know some of the details and issues here. The support app is ok with all the details and functionalities for your smartwatch, Compatibility requirements for the smartwatch are Android OS 4. 4 / iOS 8. 0 or above.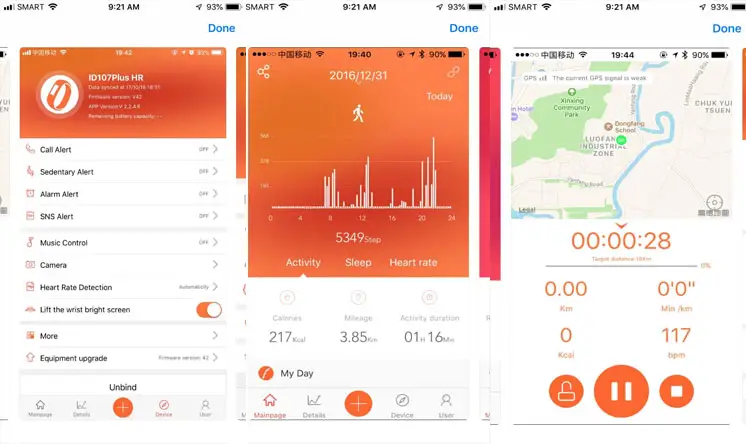 Hardware specs for the Aiekla smartwatch are:
The smartwatch lasts up to 30-40 days of standby time, and 8-10 days of normal usage in just a single charge. It has Bluetooth 4.2 connectivity, compatible with iOS and Android. Full touch screen 1.3" inch TFT LCD screen,