[PDF] Xiaomi Mi Band 6 User Manual Download (English Language)
Although it is similar in appearance at first glance, there is still a lot of interest on the Xiaomi Mi Band 6. Its display and added functions make it irresistible for some with the previous version of the Xiaomi Mi Band. With a much wider display, for some, it's time to upgrade.
It is now a full-screen display with its 1.56" inch AMOLED screen, with 152 x 486 pixel resolution. No more wide bezel, the Xiaomi Mi Band 6 has a much slimmer bezel with its almost edge-to-edge screen. It adds at least 50% screen display with the new design. The wearable has a full touch screen support and with sharp, bright screen display with its 326 PPI. On top of it is a tempered glass screen with an anti-fingerprint coating.
Still, it has that capsule-like body that is available in black color only, the strap is removable, replaceable. Its stock strap is available in several color options such as black, orange, yellow, olive, ivory, blue.
Features included in the device are, call and message notifications, it has 30 fitness modes with auto-detection of six fitness modes according to Xiaomi. Aside from heart rate monitoring, it also has SpO2 tracking. Aside from sleep tracking, that monitors the sleep duration, deep sleep, light sleep, and REM sleep.
It is also combined with sleep breathing quality, to provide an accurate quality of your sleep status. Other functions included are Personal Activity Intelligence, stress monitoring, breathing exercises and female health tracking.
Xiaomi Mi Band 6 Specifications
Display: 1.56″ AMOLED display, 152 x 486
Display color depth: 326 PPI
Sensors: 6-axis sensor and PPG heart rate sensor
Bluetooth: Bluetooth 5.0
Battery life: 125 mAh, 14-day extra-long battery life with magnetic charger
Net weight: 12.8 g
Dimensions: 47.4 × 18.6 × 12.7 mm
Waterproof rating: 5 ATM
System language Supports: English, German, Italian, French, Spanish, Russian, Traditional Chinese, Simplified Chinese.
Supported systems: Android 5.0 or iOS 10.0 and above
If you want to know more about your Xiaomi Mi Band 6 user manual, we provided a link below for the Xiaomi Mi Band 6. The complete user manual is about 16 pages, but we only included at least 12 pages to cover only the most important aspect of the Xiaomi Mi Band 6. Download and check out the user manual below and learn some of the details of your smartwatch especially the NFC, AI as well as the QR code for the smartwatch.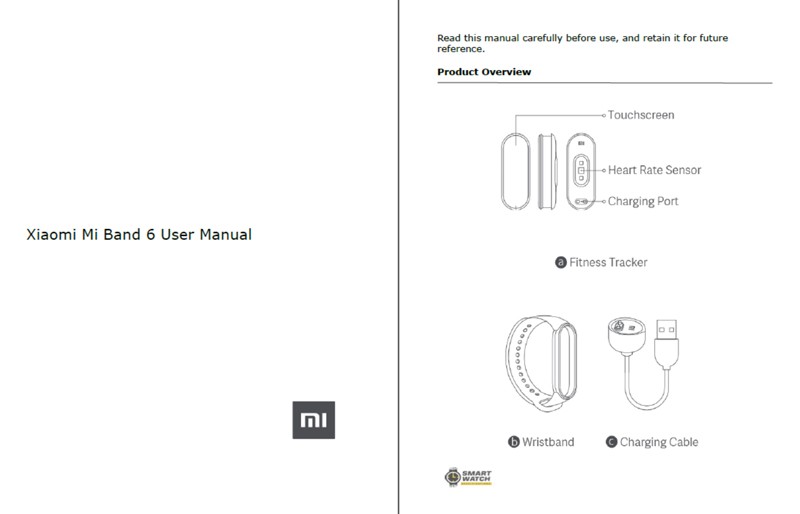 Again the user manual is in English format already, we translated the Chinese version where the links is also provided below. It is a 12 page user manual only with contents on installation, wearing your band properly, disassembly and more.
Xiaomi Mi Band 6 User Manual
Table of Contents
Front Cover
Product Overview
Installation
Wearing
Connecting
Usage
Open NFC Bus Card
Xiao AI Assistant
Dissassembly
Charging
Precautions
Specifications
Most Asked Questions about the Xiaomi Mi Band 6
Does the Xiaomi Mi Band 6 measures blood pressure?
No, it doesn't have a blood pressure monitoring
Is there a built-in GPS in Mi Band 6?
No, there is no built-in GPS
Is the Xiaomi Mi Band 6 Waterproof?
Yes, it is waterproof up to 5 ATM
How to Install the support Mi Fit app for Xiaomi Mi Band 6?
Download Mi Fit app by searching Mi Fit in iOS app store or Google Play Store or you can download the app by scanning the QR code below.
After successfully downloading, Turn on the Bluetooth connectivity, open the app, log-in or sign-up if you don't have an account yet. Look for the + sign, usually located on the upper right corner of the app.
Tap on it, select "Band", it will search for the Xiaomi Mi Band 6, if the wearable shows in the app and, tap on it to connect. Tap on the band for pairing requests.
PDF Format for the Mi Band 5 smartband
[PDF] Xiaomi Mi Band 5 User Manual English Download -Trouble Shooting,