The Xiaomi Mi Band 2 was unveiled last June 2016, when it comes to technology this is old already, but still it is a popular device,  it's a fitness tracker in a small package but big in features. The fitness tracker has become an icon when we talk about a fitness band that is affordable but has a lot of health and fitness features, it set the bar high when it we talk about affordability, ease of use and fitness features.
Well if you have one and want to learn the ins and outs of your wearable, you might want to download the Xiaomi Mi Band 2 user manual. Get to know your wearables fast by reading the user manual of Xiaomi Mi Band 2. The user manual is a only three pages covering the basics of the Xiaomi Mi Band 2 such as :
Xiaomi's Fitness-Bracelet (Mi band) assembling
Mi band App installing
Mi band synchronization
Mi band usage
Charging the battery
Basics of the bracelet
Faults:
the initial configuration function is not working
indicators fail to light
vibration does not work
wrong definition of steps
occurrence of cracks due to the material or
construction apparatus
Usb Cable: improper bracelet charging
Make use of other Features of your Xiaomi Mi Band 2
Enable Flip to Wrist Feature: To enable the List Wrist to View Information, go to àProfile, Select the Mi Band 2 in My Devices, and turn on the Lift Wrist to View Info.
Set the Display Settings: go to àProfile, Select the Mi Band 2 in My Devices, Select Mi Band Display Settings.
Here are some issues regarding the Xiaomi Mi Band 2 and the solutions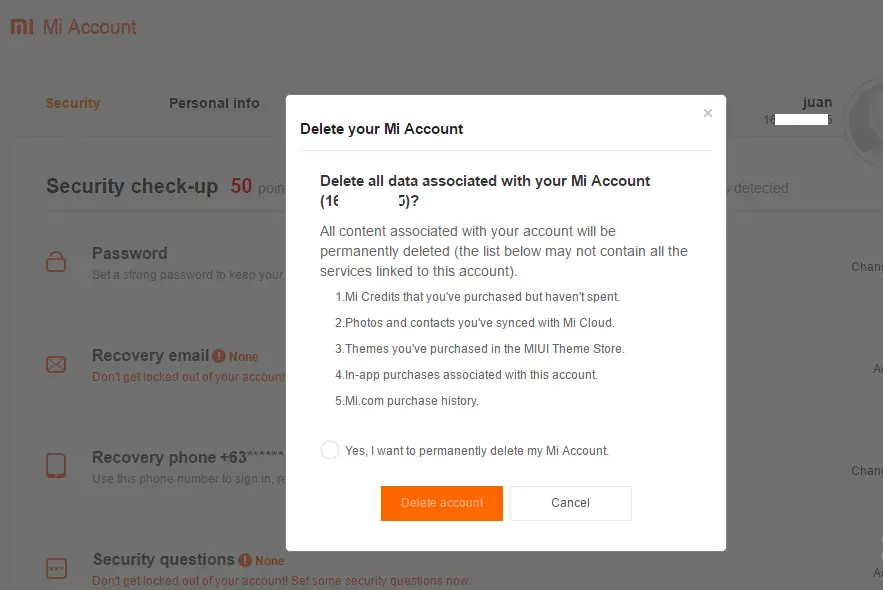 How to delete your Xiaomi account and pair it to other phones: if you want to use other smartphone with your Xiaomi Mi Band 2, try to remove your account first in Mi Fit App (unpair), before uninstalling the app, or else you cannot use your Mi band 2. If you have problems pairing the smartband to other smartphone , that is maybe due to the smartband is paired or connected to your previous account.
To make it easy for you try to use a laptop or desktop PC and login to https://account.xiaomi.com
To delete your account go to https://account.xiaomi.com/pass/del
Please visit: https://account.xiaomi.com/pass/del and sign in
For whatever reason you forgot your email address or your phone number in your account and can't even remember the security questions that you set. You can email and ask for support at : [email protected]
See the screenshots below:
Lost USB Charging Cable for Xiaomi Mi Band 2
You can buy other an extra USB charging cable it is available for 1 or 2 dollars. See the Product here