[PDF] Samsung Galaxy Watch 3 User Manual – Download
Samsung Galaxy Watch 3 smartwatch is out in the market. It is the next generation smartwatch from Samsung. This new smartwatch is much lighter, slimmer, it is available in LTE model and Bluetooth model. If you want to know more about your new device, you can download the user manual below. The manual is for the LTE version and the Bluetooth version, complete with all the contents you need for your device.
The user manual is a comprehensive 79 page document, covering different areas of your Galaxy Watch 3.
The Samsung Galaxy Watch 3 manual covers some of the following topics:
Setting up your Device- charging the battery, wireless power share
Using your Device- lock or unlock, turning on the device, quick panel notifications, theater mode
Apps -navigating the apps screen, Samsung pay, Stopwatch, PPT Controller, Voice Recorder, Bixyby
Settings – Disconnection alerts, Airplane mode, connecting to a new phone, set the screen time out, optimize the battery, set a screen lock
Accessibility- screen reader, visibility enhancements, advance settings, text to speech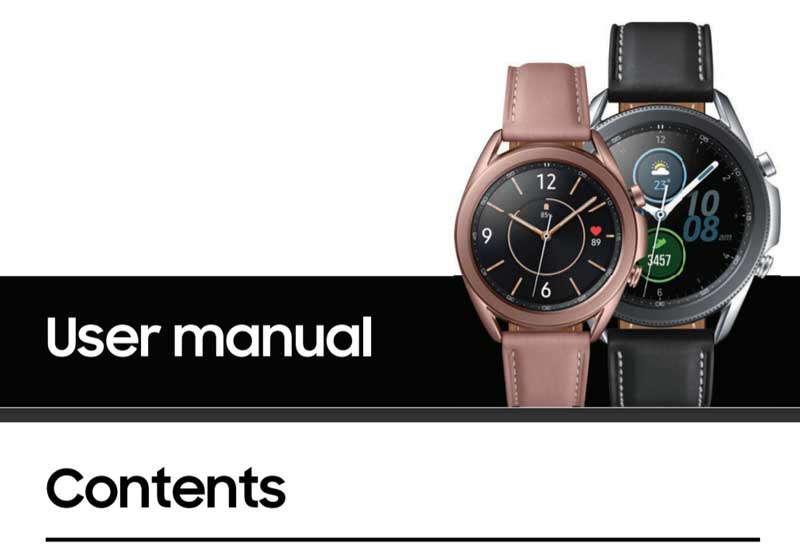 Download the User Manual for Samsung Galaxy Watch 3
If you want to know more about your device fast by downloading the Quick Start Guide. Learn the parts and how to start your device fast with this guide.
Quick Start Guide
Topics on the quick start guide includes on how to charge your wearable, connect, activate, navigate, calls and customize.
Download the Quick Start Guide for Samsung Galaxy Watch 3
About Samsung Galaxy Watch 3
Samsung Galaxy Watch 3, Samsung branded the smart watch as the most advance health monitor smartwach. Available in 45 mm and 41 mm and available in mystic black, mystic silver and mystic bronze hues. The smart watch has a physical rotating bezel, classic and sporty look.
Both version has an AMOLED display screen with full touch screen control. It runs the Samsung Exynos 110 Dual Core 1.15 Ghz and powered by Tizen O.S 5.0 a homegrown OS by Samsung. The wearable has 8 GB of storage space, 1 GB Of RAM. Sensors included are accelerometer, gyroscope, barometer, optical heart rate sensor, ECG, ambient light sensor.
Frequently Asked Questions about your Samsung Galaxy Watch 3
How to use the Wireless Power Share to charge the Galaxy Watch 3?
1. Open the notification panel of your smartphone, tap/select Wireless to enable
2. Place your smartwatch on the back of your smartphone to charge, you will get notified by slight vibration and sound when the connection charging is connected.
How to Back-up the data of your Galaxy Watch 3
The Samsung Galaxy Watch 3 can only work with one device at a time. Every time you connect it to a new phone, the phone will automatically reset, losing all your fitness data. To avoid losing your data, you can back up your Galaxy Watch 3 to your support app.
1. From Galaxy Wearable, tap the Home tab.
2. Tap Account and backup > Back up data.
Is Samsung Galaxy Watch 3 Waterproof?
The smartwatch is water and dust water resistant rating. It has water resistant rating, it is waterproof up to 5 ATM. The device has a military grade durability, able to withstand extreme weather and temperature.
How to add Widgets to your Home Screen of Galaxy Watch 3?
Adding widgets to your home screen is easy, just navigt
To add more widgets on the Home screen:
1. Navigate to the end of the Widget screens, and select/tap Add widget.
2. Select the desired widget.