Wow these smartwatch has potential, its cool! These are the words that came out of my mouth when I initially tested it for an hour or two after unboxing and checked a few details about it. Looking at the product page it may look like a regular common smartwatch, but using the wearable it is much more than it looks like.
Design
The smartwatch sport a rectangular design with a measurement of 4.25 x 3.65, thickness is about 0.97 cm it weighs 0.039 kg, it has an aluminum alloy body with interchangeable strap. The smartwatch comes in with a strap that has a quick release pin, if you are planning to change it to other strap, you can just make it sure its .20 mm to be compatible.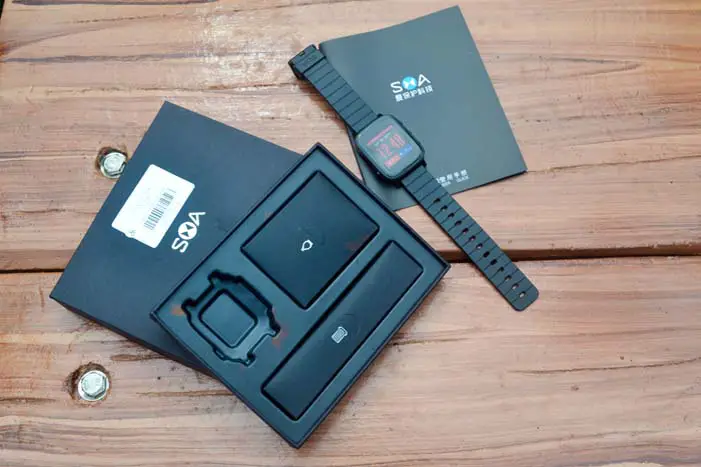 Regarding the display of the SMA-TIME, instead of using a conventional LCD, IPS or TFT with a much better color, SMA goes with the color memory LCD display, a similar display used in Pebble smartwatches, just marketed as an e-paper display. It's a super low power consumption display, especially on static mode, it is no wonder why the smartwatch last up to 40 days (standby time). The SMA Time is now being tagged as an alternative to Pebble, but I think right now it is far from that level especially on the software side.
On the display, yes it's like Pebble, it might not be HD but you gotta love the display technology of this wearable, it is good especially on the usage of power. Just like Pebble, the SMA-TIME Q2 did not apply a touch screen technology to its wearable but instead relied on a button type operation, take note, it might take sometime before you will figure out the sequence of the buttons on the watch. The smartwatch has three physical button on the right side…..on the left side is a button for home/power.
 Hardware & Sensors – the smartwatch do have some basic features such as pedometer and heart rate monitor, other health features include run training, sedentary reminder and sleep monitoring that you can set on the smartwatch support app, no menu options for the smartwatch UI. Other features in the watch includes anti-lost, an alarm, time, stop watch and a don't disturb feature.
Regarding the heart rate monitor, it is dynamic monitoring with option to set a specified interval on the app, it works ok and was able to detect our heart rate fast, if you are going to ask me for the accuracy, well it is close to the HR count by other wearables based on my test.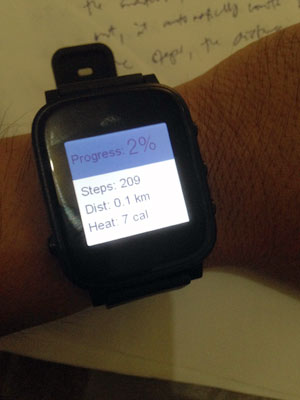 For the pedometer, it is a bit off, just like other fitness wearable we already reviewed, but I like the activity training option in the watch, you can activate it when you are working out, and it automatically counts and provides details on your progress, the steps ( on my test, the pedometer was accurate), the distance, as well as the calorie burned. With the battery, this is where the SMA-Time shines, with the power saving feature display, the smartwatch last up to 40 days (standy time), that is amazing compared to other smartwatches in the market right now that only last up to 5 days max.
Additional Features, Support App 
the SMA-TME has a dedicated smartwatch app that is available for iOS and Android platform, I downloaded the iOS support app, "SMA Care", so far I did not encounter any issues regarding with the smartwatch app, it is very easy to use and I did not experienced any syncing problems at all.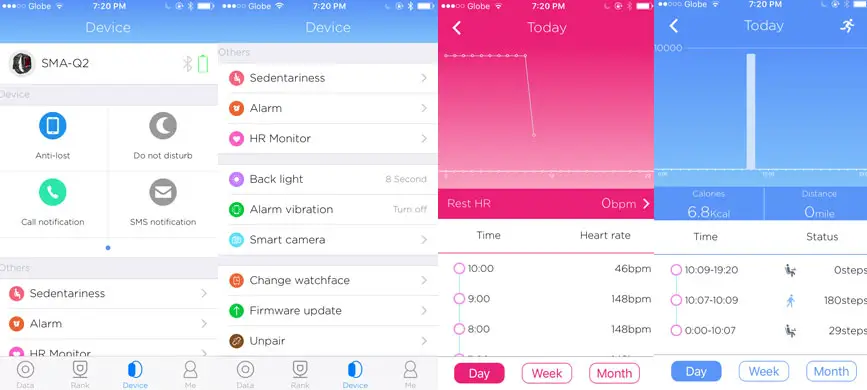 The message notifications is good, you can read the information right on your smartwatch, you can cycle from different messages sent to your wearable, whether it's a social app notifications or text messages. At first I was confused, I thought it was a WeChat notifications that I have received, well the message section uses a generic message icon that look similar to Wechat.
In the support app, you can set if you want to received call notifications or sms noticifications, other options are alarms, backlight settings. You can also set the smart remote camera features, or change the watch face, please take note that you can only load three watch faces at a time, the app is loaded with different types of watch faces, from animated to static format. If you want to add one to your smartwatch, you have to replace the watch faces loaded preload in the SMA TIME. Another feature that I like with the wearable is the ranking section, compete with other fitness users in the top spot, see if you achieve your goal with your number of steps achieve, it gets you motivated to move more.
OverAll – the smartwatch has similarity to Pebble on its display technology, the long battery life is also a thumbs up, a feature that you seldom see in a smartwatch even in latest wearable in the market. On the software side, it got the basic options, menus and graphs to track your statistics. It might be far from Pebble in fitness and health tracking options, but it has the basic options that you need. If you are looking for a smartwatch with basic notifications and fitness tracking, longer battery life, the smartwatch might be a good pick for you.
[envira-gallery id="1775″]