[Review] No.1 F18 Smartwatch
It's time again to bring you the latest smartwatch from No.1, the No.1 F18. This new wearable from No.1 is packed with new features as well as it is a fully waterproof smartwatch with its IP68 waterproof rating. With it, No.1 F18 added a swimming feature to its multi-mode sport, a nice feature for those who are into this kind of fitness routine. Another notable feature for No.1 F18 are its  precise GPS as well as the clear 3D spherical display. Anyways, we go the No.1 F18 and here is our take on this sport smartwatch.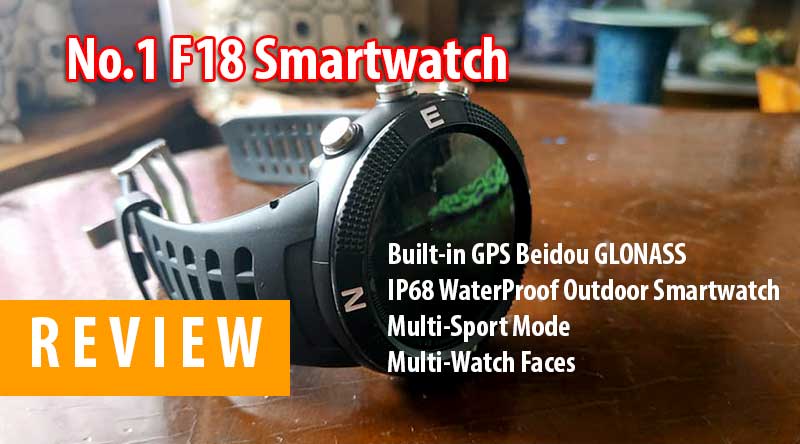 Design and Display
The No.1 F18 smartwatch has a similar design concept with that of the No.1 F13 and F7. It has a rugged body that is fully waterproof and with sporty durable silicon strap. The F18 has a much larger body compared to the No.1 F5 and F13 and has a much durable design, its IP68 rating makes it ideal for who are into outdoor activities.
But I think one of the best features of the No.1 F18 is its clear and crisp LCD colour display, 1.3" inch screen with 240 x 240 pixel resolution. On top of it is a crystal clear scratch resistant 3D sapphire glass making the display much clearer and sharp even outdoors. It also supports touch screen method of operation aside from three physical buttons on the side.
Hardware and Features
Just like the previous outdoor /sport smartwatches of No.1, the No.1 F18 is fully loaded with health and fitness options. Powered by the Nordic 52832 processor and connected to your smartphone via Bluetooth 4.2, the No.1 F18 smartwatch has the basic step counter accompanied by a calorie and distance counter; so far it automatically tracks your steps and record with the option to synchronize it with the support app.
It has also a good design watch faces that shows the above data besides the date and time.
Multi-mode Sport Feature
| | | | | |
| --- | --- | --- | --- | --- |
| Walking | Climbing | Swimming | Basketball | Football |
| Running | Cycling | Treadmill | Badminton | |
Some of the outdoor sports requires the use of GPS which is now more precise, each sport records your heart rate as well as calories burned, with the cycling it has a distance as well as map trajectory that you can synchronize in the support app, all of the activities has an option to delete or save it. There is also a built-in compass for those who love to have an adventure outdoors.
Notifications
You can read the messages directly on the smartwatch but there is no option to reply directly on the wearable. Other options in the smartwatch include option to set the beeping sound to mite as well the option to turn the vibration off.
Battery
The No.1 F18 is packed with a 350 mAh Lithium battery, so far charging it is pretty easy as it uses a proprietary magnetic charging cable (pogo) and the charging time is also pretty good, it takes only 1.5 hours to fully charge the smartwatch. Despite its huge screen and color touch screen feature, the device is able to last up to 25 days of standby time. Based on our test, seems like it will reach that stated number of days or more.
OverAll
No.1 has comes a long way on its wearables, with the No.1 F18 we see a lot of improvements on its display as well as the UI. There is only minor difference on the design of the body, but the IP68 waterproof rating is a plus. Overall the smartwatch is good with multi mode sport as well as the affordable price. See the full specifications here