If you are following smartwatchspecifications.com for some time, I'm pretty sure you have watched or read some of our articles on fitness bands. So far these past few months we have reviewed popular affordable fitness band from Xiaomi to No.1 F1.
In our quest to bring you the best smartband in the market, we have here in our arsenal the first smartband form the tech giant LENOVO. Yes this company also ventured into fitness band with the LENOVO HW01 smartband.
Before we go with the design, features and hardware related stuff, this smartwatch has an affordable price tag, it is one of the branded fitness band under $30 dollars. We even spotted this band, go as low as $20 dollars during sale. If you are going to buy one check out at Geekbuying.com, they have one in stock right now and available in black and red variant.
Design and Display Screen
This review is just based on my 1 week of using the smartband not that comprehensive but enough to provide you a sneak speak on the features of the band. Just like other fitness band in the market, the Lenovo HW01 uses an OLED display screen, its 0.91" inch display screen sport a 128 x 32 pixel resolution. If I'm going to compare it with other smartband that we have reviewed in this site, the HW01 has one of the brightest and sharpest display screen. I must admit I was impressed with the display quality; it is much better compared to other smartband under $30 dollars, it is good and readable outdoors, and twice better indoors.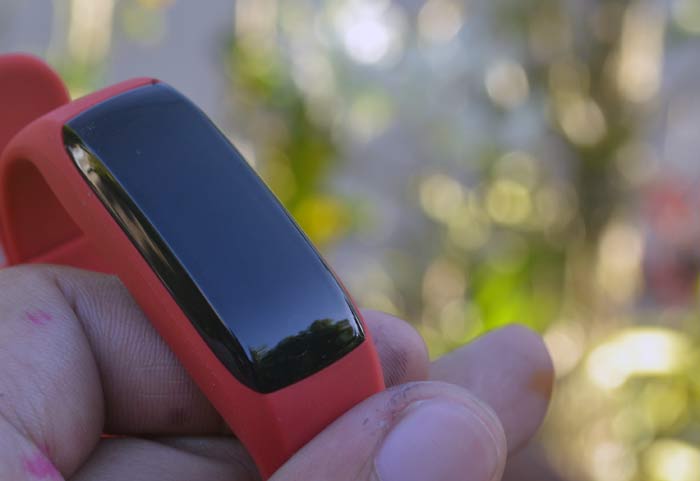 Specs page in shopping site state that it's a touch screen operation, but it is not. It is more of a touch button key technology where you have to touch a certain point on the screen to navigate through the options, so far it is pretty responsive during my test.
The Lenovo HW01 smartband body is embedded-integrated to the silicone rubber strap, just like the Mi Band 2. But I am not just sure if it's removable/replaceable similar to Mi Band 2. Speaking about the silicon strap, it is soft and comfortable to wear with stainless steel buckle that is adjustable. When it comes to durability, due to the softness of material for the band, I'm not just sure whether the strap is durable or not but knowing Lenovo, I guess it's they have use a premium material for the band, especially that it is their first entry to fitness band.
When it comes to charging, the Lenovo HW01 is far different from the charging method that we used to see in smartband that have reviewed. Instead of a contact charging (magnetic), the Lenovo HW01 goes with the traditional micro USB port, under its belly there is a micro USB port covered with a rubber cap. There is an obvious advantage with this tech, you can charge your band right away by using a standard micro USB cable that you used in your smartphone, compared to using a proprietary cable which if you lose it, will be a dilemma to get a spare charger especially if your band is not available anymore in the market. Even with this benefit, I'm am not a fan of it, I think with the micro USB port in wearables it removes the waterproof feature of the band, it might be splash proof and dustproof but swim proof is a big no, no, meaning your Lenovo HW01 is not suitable to be submerged under water which I think is a must have feature for a fitness band.
Hardware and Features
The Lenovo HW01 smartband is a companion device to your smartphone, it is connected to your phone via Bluetooth 4.2 connectivity. So far there are no issues with the connectivity, syncing with the support app is easy. The smartband has main features, the pedometer, heart rate monitor, sleep monitor and distance calorie counter. Sadly there is no dedicated activity or fitness section similar to the MGCool Band. Anyways ,I have a brief insight below on the above features.
Pedometer – the pedometer is ok, so far it accurately count the number of steps during brisk walking just -5/5+ misses during running. I guess, if you want me to give it a rating its 4/5. The pedometer works side by side with the calorie counter and distance counter. The two automatically calculates based on the number of steps you have taken.
Heart Rate Monitor – again with this one, it works ok, I compared it with other fitness wearable and so far it is not that far from the likes of Mi Band 2, and a certain brand of smartwatch that I compared it to. Well for the accuracy, I'm not an expert on this , I guess let's leave it to the experts.
Regarding the heart rate monitor, when synchronize with the app, you can check the details with graphs and your previous stats of the BPM, it's not that fully detailed but enough to provide you an insight on your BPM. You can also set the HRM to auto-measure, meaning it will automatically measure your heart rate every 15 minutes.
Sleep Monitor – the sleep options, automatically start monitoring based on your behavior, it is able to detect when you are already on a sleep mode or not. But sadly in my case it's a total failure. The device did not record any sleep stats at all, despite wearing the band overnight. I guess it warrant a second test on this one to check why it failed. I will update you on the matter when I am done. Update: second test works, It is able to detect the number of hours in deep sleep, in light sleep even the time I woke up. I just did not activated the auto heart rate detection, but there is an option for it showing the average BPM during your sleep. The details about your sleep is not that comprehensive but hopefully in the next update more details will be provide regarding sleep patterns.
SUPPORT APP
Most of the cheap smartband in the market failed in this area, they could have the best feature and hardware put into their band but they still fall short when it comes to the support app. It's a good thing that Lenovo has a dedicated app for its HW01 band. I'm not going with the full details on the support app, instead highlight the important parts and features of the app.
In the app, you can set alarms, change units as well as set the app to other languages. For notifications, here are the options that you can set on the app.
Goal  Reminder
Calling and Message Reminder
Find My Phone
Anti – Lost
Firmware Update

 Control Music on your Smartphone
Remote Photo Option
Locate Band
Set Flip Wrist to Display
Sedentary Alarm
For social app notifications, Lenovo HW01 support variety of popular social apps here are the list:
WeChat
QQ
Email
Facebook
WeChat

Twitter
Instagram
Line
Skype
For more details on the app watch our video review for the support app
My Impression
The Lenovo HW01 smartband has several impressive features, good display screen, light weight and comfortable to wear. Good health and fitness options and a good support app, although it is far from perfect. I think it is still worth a buy considering the price that is just $28 dollars as of this writing.
If you are looking for a Xiaomi Mi Band 2 killer, I guess the HW01 could be the one, a few updates , a few additional features and it's on the top fitness list for a must have affordable fitness band. It is not a fully featured band and its features are limited, but this band got a lot of potential, it has already a good app, the band is also good with just few issues. So far positive features of the band outweighs the negative, making the band a must have for those looking for an affordable fitness band.
[envira-gallery id="2491″]