We got another No.1 wearable in our arsenal, so far this is the first rugged smartwatch with segment code display that we reviewed here in smartwatchspecifications.com. It is different from what we have reviewed before, this one don't have a touch screen or touch key, no fancy colour screen, but it doesn't mean that it is inferior to other smartwatches with touch screens. This wearable does have a feature that you will surely want for your wearable, it is tough rugged smartwatch and it has a long battery life, how about that. Well let's get to know more about the wearable, check out the No.1 F2 smartwatch.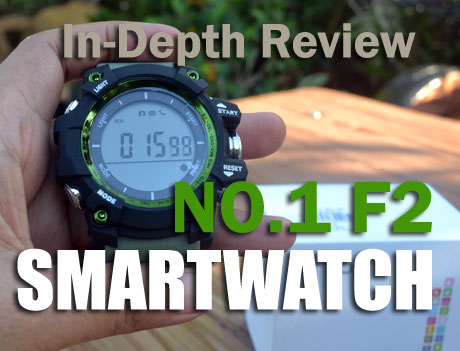 Design
the No.1 F2 has a  nano silicone material protecting the metal case inside as well as the overall circular body of the smartwatch. It has a thick wide body with 4 physical buttons on the side, the start, reset, light and mode. The smartwatch has a wide TPU strap and stainless steel buckle. Built for tough activities, it's bulky but I guess it is designed this way to make it tough and survive some bumps and crashes during your rugged activities.
Instead of an IPS LCD, the smartwatch uses a power saving segment code display, with a 1.1 inch screen, it's not touch screen but instead the wearable relies on four buttons to operate, it is also waterproof and dustproof with its IP68 rating which is good for outdoor activities
Features and Specs – the smartwatch is connected to your smartphone via Bluetooth 4.0, it features include a pedometer, altimeter, thermometer, distance calculator, UV measurement, if you want to check on this you can cycle through these options with the mode button. Other features include call and message, notifications, remote control for smartphones camera, sleep monitoring.
But what I like about the smartwatch is the long battery life, instead of a rechargeable battery, the No.1 F2 uses a replaceable battery, a CR2450 button battery. I am used to 48 hour life span for battery but this No.1 F2 has 1 year battery life, a standby time of 2 years, which I think is amazing. See the overall specifications here
Notifications 
Going back to notifications, instead of text notifications that appear on the screen, the No.1 F2 notifies you via vibrations and icon blinking. It doesn't provide much information on this but it's a battery saver, it's a perfect way to notify you in this type of smartwatch.
App and Smartwatch Operation –  Just like other wearables, the smartwatch receives notifications via Bluetooth 4.0,but of course you need to download the support app which is compatible both with iOS and Android. The user manual has a QR code or you can just search the Fundo Bracelet app in the store. To be able to connect to your No.1 F2 smartwatch the device requires you to sign-up, a preliminary requirement which I am not a fan of, it's tedious and time consuming I think. After that, just search for the device to connect which is easy and fast.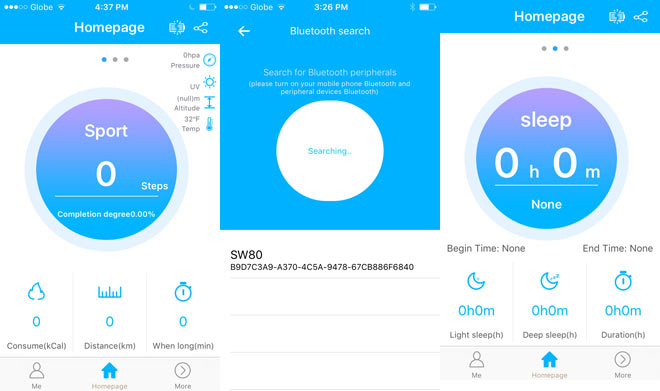 There are three dashboard for the No.1 F2, the Steps Counter, the Sleep Monitoring and the Heart Rate monitor which is pretty weird as the No.1 F2 doesn't have an HR monitor, practically it is useless. The app again is a disappointment, it is pretty basic and doesn't provide much information about your status, it is very far when it comes to the dedicated app that No.1 released for the No.1 F1 smartband, I hope No.1 could have created one or just upgraded the No.1 app for the F1 with the settings for the No.1 F2, it could have been better I think.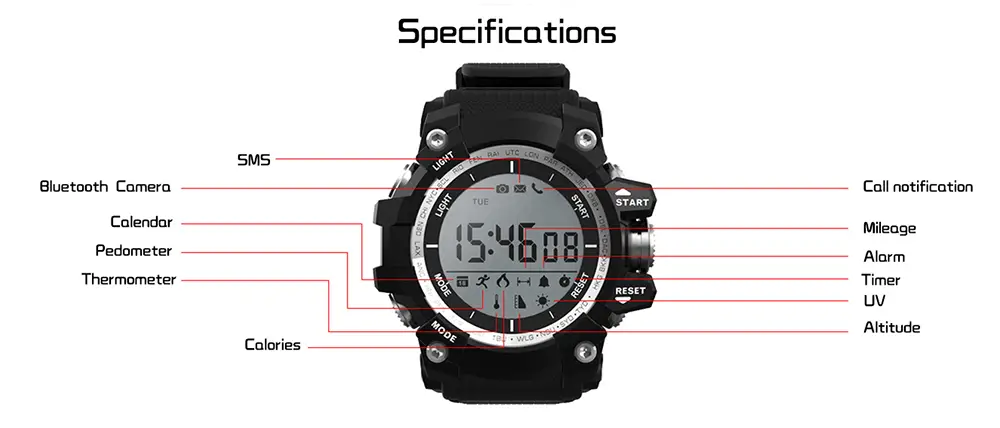 Using the Smartwatch – as I have said earlier, there are four buttons on the smartwatch, the light button, to lighten up the screen at night time, the start button as the name suggest to activate options like timer, reset (do I have to elaborate more?), and the Mode button which is the main button or the button with a lot of functions.
The Mode cycle you to different options like pedometer, altimeter, alarm and other features, other options like setting the watch to 24 hour time or 12 hour time can be set with a combination of several buttons. Though it is not a touch screen smartwatch, using the watch and changing the settings is pretty easy with the button, it is responsive so far.
OverAll – the wearable is sporty, rugged, it is similar with other popular rugged watch like Casio's G-Shock and similar watches. The features are good, as well as the battery life, a good smartwatch for outdoors, like biking, hiking or running. Again the weakest point on this smartwatch is the app, it is barely an app I should say, it doesn't provide much data to the user, although it is compatible it lack options and additional features to make the No.1 F2 much more useful. Hopefully No.1 could fix this and at least have their own dedicated app for its wearables.