Microwear H2 3G Smartwatch – Coupon Code
The Microwear H2 is the perfect trend with its sporty yet classy and pure, it fits in any occasion. It is not just a smart watch but is a running Android 5.0.
You can get this @gearvita.com and checkout for lesser price using this COUPON CODE: MH2watch.This smart watch is perfect for those who are looking for an android based smart watch with a unique design.
The Microwear H2 has a sporty design with a stainless body with two physical button on the side adds up to its authenticity. The strap is of proprietary TPU material and for the buckle made of stainless steel. The whole look though a bit sporty has a touch of pure elegance.
This Android smartwatch runs on MTK650 processor with a huge storage capacity of 16 GB internal memory and 1GB RAM  and is equipped with a 2.0 MP camera on the side, it is really an ideal android smart watch.
Like any other android this smartwatch supports Nano SIM with support for GSM + WCDMA. When it comes to connectivity and sensors include, it is Bluetooth 4.0 enabled and ready to connect with any Android and iPhone.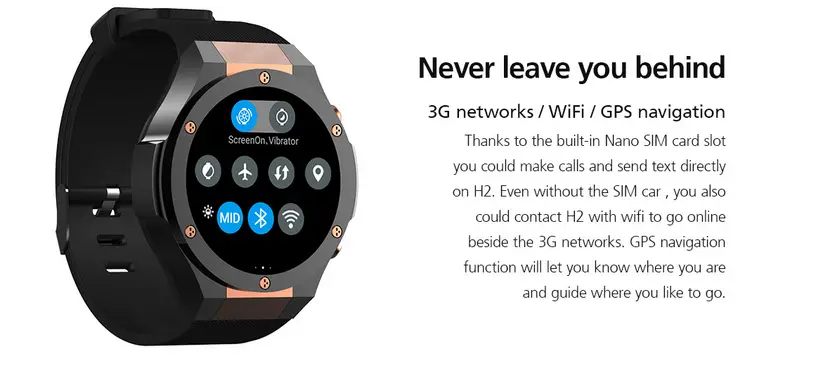 The Microwear H2 is packed with amazing features like heart monitoring, which uses Pixart 8001 heart rate monitor sensor to give you real time feedback and collect hear rate data accurately 24/7, so you could keep your lifestyle healthy.
Exercise with the H2 and record your steps in real time, sync to your phone and see your progress. The H2 is able to download sports App like Nike plus it supports voice call and you can use earphone thru Bluetooth connectivity.
The H2 follows the latest trend of changing watch face which leads to a fashion statement. It supports vast of watch faces in various in design, choose that satisfy your mood, and update your cloud to get more watch faces. All these features are possible with H2's battery capacity of 400 mAh battery. The smart watch can lasts up to 2 days for a standby time.