LEMFO LEMP Smartwatch – Review of Features
Here is another 4G smartwatch from LEMFO. The LEMFO LEMP smartwatch. A smartwatch with dual system. It is a much advanced smartwatch compared to the other 4G offering smartwatch by LEMFO. Here we have an initial review of the LEMFO LEMP smartwatch, check the details on its features, specs below.
Design
The LEMFO LEMP smartwatch has an outdoor sports look, metal body, and bezel. It has two physical buttons on the side and with dual camera. It looks sleek, sporty with flexible silicon strap with stainless steel buckle.
Regarding its camera, 5 MP on the upper front side and another 5 MP on the side. The nano-SIM card slot is also located on the side. A convenient sim card slot design making it easy to install the nano-SIM. It has a similar attachement method with smartphone tray.
Display
With regards to display, the smartwatch has a 1.6" inch IPS LCD screen display with full circular screen. The display screen has a full touch screen with 400 x 400 pixel resolution, sharp color screen. It has a slim black framing for the display screen expected with LEMFO, still quality looking wearable from LEMO with good display screen. On top of the display, is a mirror surface tempered glass material that scratch resistant and wear resistant.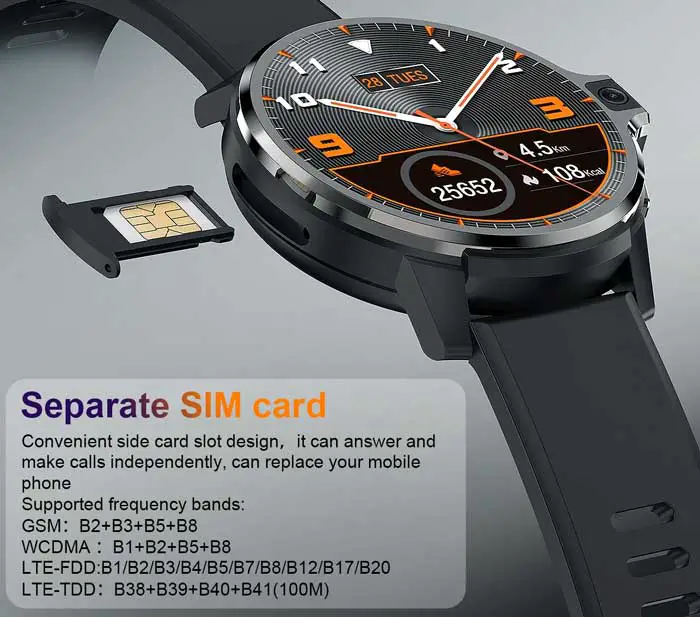 Hardware
For its hardware, the smartwatch has a dual system with SC9832E + nRF52832 processor. This feature is integrated to the smartwatch to process information fast and at the same time save power.
On top of the dual system chip is the Android 9.1 operating system. The wearable has a large memory, a 64 GB storage space and 4 GB of RAM. Connectivity includes Bluetooth 4.0, WIFI 2.4G, built-in GPS, and 4G connectivity with its nano SIM support. The SIM support GSM/WCDMA/LTE connectivity.
Details on the Frequency Bands:
GSM: B2+B3+B5+B8
WCDMA: B1+B2+B5+B8
LTE-FDD: B1/B2/B3/B4/B5/B7/B8/B12/B17/B20
LTE-TDD: B38+B39+B40+B41(100M)
Sensors included are g-sensor, VC32S ultra-low power consumption with blood pressure and blood oxygen monitoring.
For its battery, the smartwatch has 1050 mAh large-capacity battery with an intelligent consumption algorithm. It has 2-3 days of normal suage, 5-7 days in bracelet mode time.
Features of the LEMFO LEMP Smartwatch
The smartwatch with its nano SIM, has independent call and messages. Dial calls directly in the smartwatch, have a video call with its built-in camera.
According to LEMFO, the smartwatch has a variety of equisite dials, personalized your smartwatch with colorful watch faces.
For its health features, have an accurate heart rate and blood oxygen monitoring with automatic heart rate measurement.
9 Sports Mode
The smartwatch is equipped with professional sports such as outdoor running, outdoor walking, outdoor riding, basketball, football, badminton, table tennis, and skipping.
For security, the wearable is also equipped with Face Recognition with its front camera. You can the camera to unlock your smartwatch.
Download a variety of apps with the preloaded Google Play, with the large storage space, you can store popular apps in your smartwatch.
LEMFO LEMP Smartwatch Specifications
Display: 1.6″ inch IPS LCD, 400 x 400 pixels
Processor: SC9832E + NRF52832
Operating System: Android 9.1
Heart Rate Sensor: VC32S Ultra Low Power Consumption
Memory: 4 GB + 64 GB
Camera: Front Camera 5 MP + Side Camera 5 MP
Bluetooth: Bluetooth 4.1
GPS: GPS, BeiDou, GLONASS
Battery: 1050 mAh 2-3 days battery life
Waterproof Rating: IP67 Waterproof
Initial Review of LEMFO LEMP Smartwatch
This 4G wearable smartwatch from LEMFO has a sporty design, and equipped with dual chip. It makes it faster but at the same time, power-friendly. new hardware, optimize OS as well as triple navigation positioning system. The wearable is one of the latest 4G smartwatch in the market with good software and hardware. Still, affordable and with loaded with a variety of apps and functionalities