Fitnus Smartwatch/Fitness Tracker – Cheap Smartband
Affordable, cheap, this fitness tracker is back again but rebranded with a different name. We already tackled this fitness tracker here and now it is back, branded as Fitnus Smartwatch/ Fitness Tracker.
It is available on their website fitnus.com, as well as the popular Amazon.com. We check this wearable again whether, it has the same functions and features, here are the details.
Design and Display
The Fitness Fitness Tracker has a PC body, slim design and with a silicon sporty strap with stainless steel buckle. Based on the specifications of the wearable, the fitness tracker has an IP67 waterproof rating. It is splash proof, wash proof as well as dustproof. For its display, the Fitnus fitness tracker has a 1.08" inch TFT LCD screen display. It doesn't support touch screen operation, but instead, it has a touch button key operation. The wearable has a color screen display, with ok color, and graphics.
Features of Fitnus Fitness Tracker
When ti comes to features, the Fitnus wearable is loaded with health sensors. It has heart rate monitoring, blood pressure as well as blood oxygen monitoring. Additional health monitoring function includes sleep monitoring, tracking your sleep time as well as stages of sleep.
Regarding heart health, the wearable can monitor your HR 24/7 with the details available in the support app.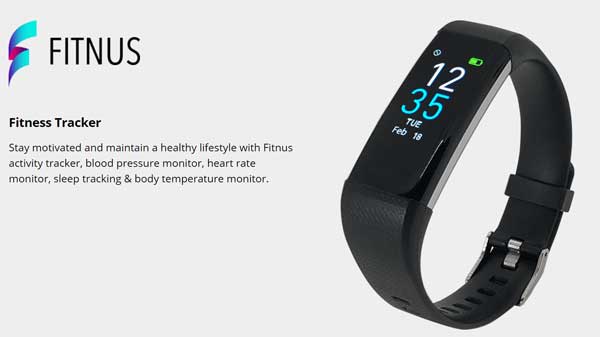 Activity Monitoring
The Fitnus Fitness Tracking monitors, your steps, calories as well distance. We are not sure, whether the device has several sports mode. If there is a sport mode, it is possible that is has at least several sports functions such as walking, running or cycling.
Smart Notifications
When it comes to notifications, the Fitnus Fitness Tracker is also equipped with real time notifications, receive call notifications, SMS notifications, as well as social app notifications like Facebook, Twitter, WhatsApp and more.
Additonial Features
Although it is not detailed on the feature page, we are pretty sure that the wearable will be equipped with alarm, timer, as well as sedentary reminders.