Chrono Watch Smartwatch – Review of Features
Here is another wearable with a familiar look, the Chrono Watch smartwatch. The wearable is like a copycat of the popular Amazfit GTS smartwatch. If we are not mistaken, the wearable might be another variant of the P8 smartwatch, with a few tweaks to suit the brand of the company.
Available in rose gold, teal, earl black and fog gray color. The smartwatch has a stainless steel body with single physical button on the side. It has a silicon watch strap with stainless steel buckle. The design of the smartwatch is very popular, I have seen several brands of smartwatches with the same style, materials, and features, they just differ in the color options that they are offering.
The Chrono Watch Smartwatch has a 1.4" inch IPS LCD screen with 240 x 240 pixel resolution. It has a full touch screen with a sharp, crisp display. The display is protected by a 2.5D tempered glass screen display.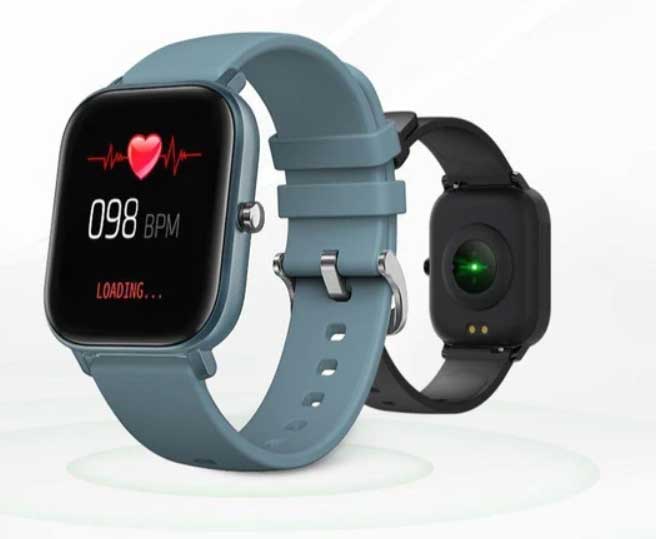 Health Features Chrono Watch Smartwatch
The Chrono Watch smartwatch has a heart rate sensor, blood pressure monitor as well as blood oxygen monitor. These health sensors provide real-time results, with stats and graphs especially on the dynamic heart rate monitoring.
Additional health feature includes automatic sleep monitoring, checking the number of sleep hours, deep and light sleep. It also has sedentary alert, monitoring your activities and alerting you to stand-up to from too much sitting.
Sports Monitoring
It got sport functions such as cycling, running, football, basketball to name a few. The sports function is accompanied by distance, calorie, and steps tracking. Just like other smartwatches, it has automatic activity monitoring, tracking your steps, calories, and distance.
Real Time Notifications
Receive real-time notifications, from social apps such as Twitter, WeChat, WhatsApp, and Facebook. Get alerts on SMS messages, calls.
Additional Features
stopwatch, alarm, weather, music control, find watch, preloaded watch faces, remote photo capture, find watch and more.
The smartwatch is available in different languages such as l Chinese, Korean, German, Spanish, Japanese. It uses the Da Fit support app available in iOS and Android platform.