Best Xiaomi Mi Band 4 Replacement Straps, Charging Cables
Finally the wait is over, the most awaited fitness tracker is here, Xiaomi Mi Band 4 is here. The next generation Mi  Band, the successor to the Mi Band 3.
As expected, the Xiaomi Mi Band 4 features a much bigger display screen, having a 0.95" inch display, it's a full color AMOLED capacitive display with bright, sharp and colourful screen. Unlike, the Mi Band 3 which has a monochrome display, the Mi Band 4 display is a huge improvement which will surely attract Mi Band fans and wearable fans alike.
Regarding the design, still Xiaomi goes for minimalist design, a capsule like body similar to Mi Band 3. It's removable from its elastomer wristband, the strap is available in different colors.  But if you are not a fan of the strap that comes with it, there are already a lot of third party strap available online. (check out list below).
The Xiaomi Mi Band 4 automatically detects activities, it is able to track your steps and it is accompanied by distance and calorie counter. It also has other sport features such as walking, running, cycling and more. Regarding payment features, there are at least two versions, the non NFC and with the NFC which I think is for China released only.
There is also a huge upgrade to its inner hardware, it has now a Bluetooth 5.0 which is less power hungry, much fast and with stable connectivity. Sensors include triaxial accelerometer + triaxial gyro, PPG heart rate sensor, capacitive wear monitoring sensor. (see full specs here)
As for battery life, the Xiaomi Mi Band 4 sports a 135 mAh battery compared to the Mi Band 3 which has 110 mAh only. The 135 mAh gives the Mi Band 4 20 days of standby time.
Taking about the strap, the Xiaomi Mi Band 4  has a lot of third party strap option that you can purchase online. We search the web and here are some of the best Xiaomi Mi bands 4 straps available in popular shopping site.
Here are some of the best straps that you can buy online
Silicon Strap for Mi Band 4
Bakeey Double Color TPE Strap
Here is a double TPE strap for Xiaomi Mi Band 4, it's a two color strap available in red/white, pink/white combination. There is also a black/yellow combination that is very popular for smartwatches. At least 6 color combination for this strap from Bakeey. The strap measures 24.5 x 1.8 x 0.5 in size and with TPE material. It is durable, waterproof as well as  with a good design, a perfect combination for Xiaomi Mi Band 4.
Multi-Color Strap for Xiaomi Mi Band 4
If you are tired of having a conventional color for strap, pick this multi-color strap for the Mi Band 4. The Multi-color strap is available in floral design, fruity, checkered, animal print, techno design as well as a strap with design for music lovers.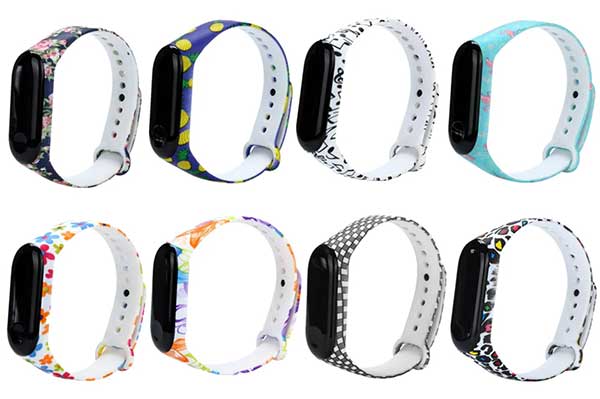 At least 12 designs to choose from different motifs that will surely suit your personality.
Camouflage Strap for Mi Band 4
Go military style with camouflage design for the Mi Band 4 strap. Pick from ACU camouflage Navy camouflage or digital woodland camouflage, digital desert camouflage. It is a cool trendy strap for Xiaomi Mi Band 4, made from high quality material that is sofr yet tough and comfortable to wear.
Steel Strap for Xiaomi Mi Band 4
Stainless Steel Strap (Classic)
If you want your sporty Mi Band 4 to have a feel of classy fitness tracker, go for a steel strap or leather strap. Here is the Bakeey solid stainless steel, a strap replacement for the strap that comes with the Mi Band 4. The design of the strap is similar to a steel strap from a classic wrist watch, having a glossy steel finish with metal clasp. You have at least 3 options, black, silver, and rose gold which is very popular.
Tamister Milanese Strap for Xiaomi Mi band 4
Another steel strap that will surely look good on your wearable, the Milanese steel strap from Tamister, it is a popular steel strap for women.
The strap is sporty, classy as well as giving the Xiaomi Mi Band4 a unique look. The strap is also available in black, silver and rose gold colors.
Leather Strap for Mi Band 4
If steel strap is not your thing, a leather strap will surely fit your taste. This leather strap add a classic/classy taste to your wearable. This version of strap has a metal frame, it serves as a frame/protecting cover the mi bands body. According to its specs, the molding is sturdy as well as durable.
The strap is available in variety of colors, pick from pink, green, brown, deep blue, light blue and other attractive colors.
Screen Protector for Xiaomi Mi Band 4
If you want to protect your Mi Band 4 screen from scratches and chipping, here is a screen protector from Tamister. It is an ultra thin and clear HD glass, a 2.5 D curve edges that is durable and with anti-finger print features. The screen protector comes with 2 TPU films and a dry wet wipes for application.
Original Xiaomi MI Band 4 Charging Cable
If you lost the charging cable of the Mi Band 4, luckily you can purchase the original charging cable. It is an authentic charging cable for the band made from ABS material anc compatible with any version of the Mi Band 4.