Best Smartwatch with Menstrual Period Tracker 2021
It's important to know thyself that tracking your menstrual cycle and taking record of it can be extremely useful. Know when it will come from month to month. As crazy as it may sound, it's really important to be ready, every woman experiences this menstrual cycle differently. Tracking it is important. The data could be used as a reference if you want to understand hormonal changes, especially ovulation and fertility. This could help in terms of conceiving and just being prepared of "the red day".
With the aid of technology it takes less than a minute in a day to click on an APP as period Tracker on your smartphone and it can alert you that your period is coming. Things get more conveniently with just the use of smartwatch , it will alert you right away right on your wrist.
Good news everyone especially to the Ladies, we have found our best pick of the most fashionable, awesome design and budget-friendly smartwaches with Period Tracker. So women or ladies take a look at these Best Women Smartwatch with Menstrual Period Tracker 2021.
Garmin Lily Smartwatch
When it comes to women's smartwatch, the Garmin Lily smartwatch is the latest this 2021. This smartwatch by Garmin is certainly intended for women with its elegant feminine lightweight design. If spending more for a smartwatch is not an issue for you, the Garmin Lily is a good pick.
The Garmin Lily is a 43 mm smartwatch with a stylish, and small form factor. Options available are class and sport design with interchangeable straps.
Just like other women's smartwatch here, the Garmin Lily smartwatch has a feature for women's physiological health. With the aid of a Garmin connect app, you can track your menstrual cycle or pregnancy. The support app logs the symptoms and other useful data regarding women's health.
Additional health sensors that women will surely appreciate are body battery energy monitoring, sleep monitoring, breathing guide, Pulse OX sensor, stress tracking, hydration and respiratory tracking. Similar to other Garmin products, the Garmin Lily has activity and sports monitoring with detailed information on the activity available in the Garmin Connect app.
For its specs, here are a few details, it has a 1.0" inch TFT CLD with 240 x 201 pixels, sensors included are Garmin Elevate heart rate, accelerometer, ambient light sensor, pulse OS sensor.
Features
Dedicated women and health functions
Light ad premium design and materials
Variety of color options
Good technical support
Fitbit Sense and Versa 3
The Female health tracker can be accessed in the Fitbit app and made available in Fitbit Versa and the latest wearable by Fitbit. As we all know, the new Fitbit Sense and Versa 3 has improved health tracking adding more precise sensors to the smartwatch. Still, female health tracking is available in the latest smartwatch by Fitbit. The smartwatch especially the Fitbit Sense becomes a much more holistic health-tracking smartwatch with the addition of female health monitoring.
Regarding the menstrual tracker, the feature in the support app provides detail in fertile window as well as ovulation, providing an accurate prediction of your fertile window. Aside from this, it also predicts the cycle period. The Fitbit smartwatch provides notifications on your female health status.
Features
Comprehensive data and information in the support app
Accurate and improve prediction
Female health tracking is more useful in a combination of other Fitbit health sensors
DT No.1 DT86 Smartwatch – Beautiful Women's Smartwatch
Here is the smartwatch from DT No.1, the No.1 DT86 smartwatch. It is a smartwatch for female with beautiful feminine look. The wearable has a very feminine design with its bezel looking like a diamond, crystal-looking design with single physical button on the side. The beautiful diamond-looking design is accompanied by an elegant milanese steel strap available in silver and rose gold color.
The display screen is a 1.09″ inch LTPS LCD screen with full touch operation. Beautiful screen with preloaded watch faces designed for women. It is loaded with female health monitoring, checking your physiological health anytime with details on the support app. Additional health sensors are heart rate monitoring, blood pressure and blood oxygen monitoring.
If you are into sports and fitness, the DT86 smartwatch is equipped with multi-sports. It has running, walking, cycling, ball games and more. For its hardware, it runs the Nordic NRF52832 processor with 120 mAh battery and Bluetooth 4.0 compatible with Android and iOS platform.
Features
Beautiful Feminine Design
Loaded with multi-sports mode
Female Menstrual Management
F80 Smartwatch – Minimalist Female Smartwatch with Period Tracker
If the No.1 DT86 smartwatch design is not your taste, here is a much simpler design but with a classy look. The F80 smartwatch has a steel glossy body with slim bezel. Based on the promotional page, the smartwatch looks elegant, looks premium. It has interchangeable straps, pick from silicon straps or elegant milanese steel strap.The smartwatch has a 1.3″ inch IPS LCD screen with high definition display screen with full touch screen operation. The wearable runs the Nordic NRF52832 processor with LSR3300 heart rate chip, and STK8321 accelerator chip.
Other health sensors included in the device are blood pressure monitoring, blood oxygen and body temperature monitoring. And of course, there is a female health-tracking, monitoring the ovulation, period and other physiological tracking. For sports tracking, the smartwatch has walking, hiking, running, badminton and more.
Features
Simple, Elegant, Minimalist Design
Health and Multi-sports functions
Affordable and comfortable to use
Bakeey B80 Smartwatch with Period Tracker
Why you'll like it: Designed elegantly with its own charm, the craftsmanship of this smartwatch, the Bakeey B80 smartwatch is exquisite with its brick mirror texture for the shell a personality trend, it has fashionable metal dial color IPS display clear picture quality and genuine leather strap. This bracelet is made from strong quality with anti-scratch and wear resistant fine steel buckle for easy wearing.
This smart bracelet will help you understand the female cycle with its period tracker. It can understand physiological cycle, record period, safe period, dangerous period it was made to take care of a woman's physical health.
Pros:  It has heart monitoring feature 24 hours to monitor your heart rate in real time-feedback. Put on this bracelet and use it to check on not just heart rate but blood pressure directly. You can also check history of heart rate and blood pressure on your mobile APP.
Additional features include sleep monitor, smart remote camera, enjoy more functions like water drink remind, taking pills remind, meeting remind, pedometer, different sports mode like running, hiking, cycling, table tennis and even swimming. It can be used in water sports because it has IP67 waterproof design so it will be safe to use it.
Bozlun B36 Smartwatch with Period Tracker
Why you'll like it: This one has a simple design with the band made from silicone and aluminum alloy for the case material. It's just a fashionable smartwatch with dynamic colorful UI which the design team of Bozlun made sure to meticulously crafted to give it a dazzling effect, giving the Bozlun B36 smartwatch a unique look.
This is made only for you with its Physiological Period prediction think of it as a notepad or a memory reminder. The Physiological reminder will give you meticulous care of your period anytime at any place. It can also predict ovulation day which could be used as reference for intimate and accurately used for pregnancy.
Pros: It can be shake and take a picture function in the phone APP just shake it and take photo right away. Understand your health using an imported green light sensor that can check your heart rate and  give real-time monitoring feedback. Record all your data from your exercises, walking steps and calorie burned. It supports IP68 waterproof which is safe to use even when doing water sports. You can charge without the need of cumbersome insertion and removal only with magnetic charger, it can last up to 20 days with a stand by time.
Y2L Ladies Smartwatch
Why you'll like it: This one is designed elegantly and has a luxurious business vibe to it. It's made from leather and the arc shaped glass is scratch resistant and high transmittance. It's also IP67 waterproof that you can use not just for indoors but outdoor activities.
This one is designed meticulously to cater both women and men.  The King size touch colored screen is masterpiece design.  You can see the UI beautifully  and looks beautiful on your wrist.
Pros: It has a sharp 0.96″ inch LCD screen with touch key support, Female physiological reminder includes safe perio, menstrual period, ovulatory period and ovulation date. Of course it also includes phone calls reminder, SMS, Facebook, Twitter message reminder and content delivery, calorie calculation, stopwatch
LEMFO H2 Smartwatch for Women
Why you'll like it: It is one of the stylish smartwatch for women with period tracking. The LEMFO H2 smartwatch has an elegant look with crystal clear flower design glass and with zinc alloy available in feminine color such as white silber, bright purple, rose gold and the trendy sky blue.
The H2  has several sparkling jewels attached between the strap and the body. This trendy look is accompanied with a magneti strap, a Milanese strap that will surely look good on women.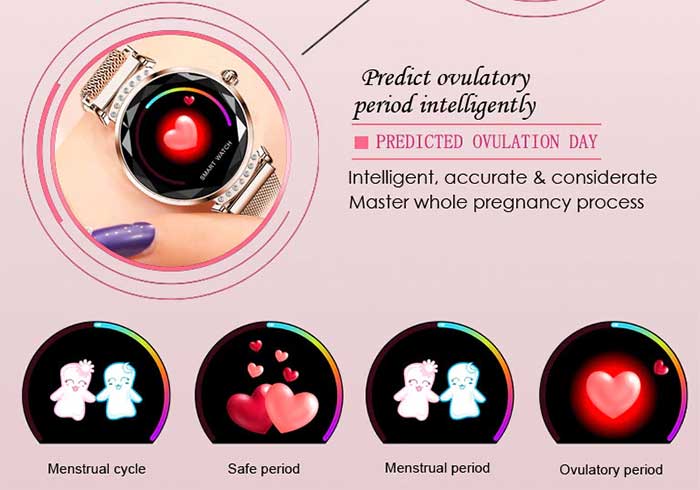 Pros: The LEMFO H2 is packed with features for women such as prediction of menstrual cycle, reminder for safe period, it can also predict the days of your ovulation. Of course it has the common features such as heart rate monitor, pedometer, call and message reminder, calendar, social app notifications and more.