Amazfit 2 Stratos English  Italian Firmware Update!
Amazfit 2 is already out in the market, even though that it is in Chinese language, Amazfit Pace fans cannot be stopped from purchasing this good looking smartwatch in the hope that eventually a firmware update or somebody will be able to figure it out and change the ROM of the Amazfit 2 to English language.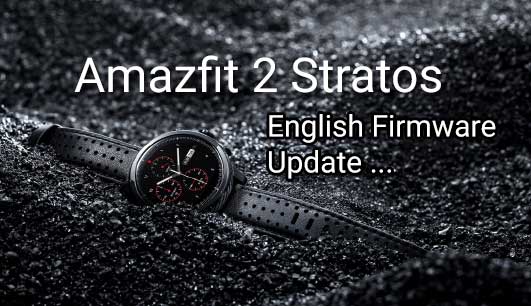 Just like the Pace, some developers will always be able to figure it out and find a way to update the ROM of the Amazfit 2 and change it to English. Right now, a developer/programmer Nicola Sagliano was able to translate the Chinese firmware of Amazfit 2 to Italian language with the use of a special tool that he developed. Hopefully an English version will also be available.
Anyways, the developer created a step by step guide on how to download and update the firmware of your Amazfit 2 Stratos. Before you can update the firmware you will need the script for updating your Amazfit 2. For Windows, .bat file and for Linux according to Nicola is the .sh file.
You will also need the ADB and Fastboot for your system if it's not yet available in your system, check the step by step guide here.  Then download the require files for your Amazfit 2 smartwatch here, the file is about 254.7 MB. Download the files here
See the instructions below:
for a clear information and instructions please visit the website of http://nicolasagliano.com
We already asked the developer of the software if it's available for English firmware, so far we are waiting for his confirmation, right now Italian language is confirmed, so please stay tuned as we bring you're the updates on the English Language Firmware download for the Amazfit 2 Stratos.
UPDATE!: The English firmware is now available for download, check it out at XDA Forum 
Note: Update the firmware of your Amazfit 2 at your own risk, read first and be sure that you have prior knowledge on updating your device or else you will accidentally brick your smartwatch. For those who want to buy the Amazfit 2 but want an English version, there will be an available International version of the wearable that will be release March 2018.